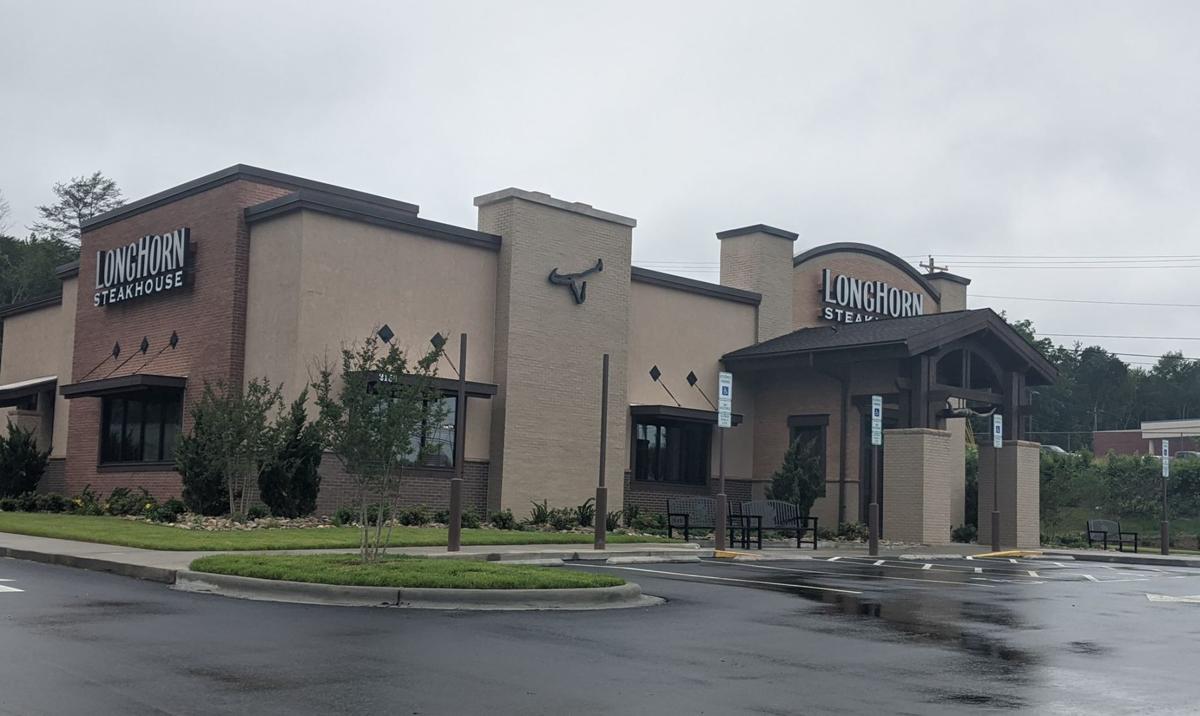 Just shy of four months after the original target, Morganton's new LongHorn Steakhouse finally has its opening date set.
After hoping to open April 21 but being delayed due to the ongoing COVID-19 pandemic, the restaurant will officially open for business Tuesday, Aug. 11, according to the recorded message by managing partner Wayne Mueller that callers can hear when they dial the new number for the steakhouse.
"We look forward to serving you starting at 3 p.m. on opening day, Aug. 11," Mueller says in the message. "We will be open for lunch and dinner every day beginning at 11 a.m. on Aug. 12. We invite you to come in, relax and enjoy our always-fresh and expertly-grilled steak, chicken and fish, served with a warm, friendly setting of a rancher's home."
Morganton's LongHorn was hiring servers, cooks, dishwashers, bartenders and hosts in March before orders by Gov. Roy Cooper limited restaurants first to takeout, curbside or delivery only, and now to those options plus 50% dine-in capacity.
LongHorn Steakhouse is back in the hiring swing now to fill positions ahead of opening day.
"If you are interested in becoming part of our LongHorn Steakhouse team, please apply online at longhornsteakhouse.com/careers," Mueller says in the message. "We have positions available on our service, bar and culinary teams. We'd be happy to meet with you and discuss how you can help us become Morganton's favorite steakhouse."
'Hospitality corridor'
Morganton's LongHorn sits at 2156 S. Sterling St. on the original site of Abele's Family Restaurant, which was demolished to make way for the pristine new steakhouse. The next-door building that formerly housed Pizza Inn also was knocked down to make way for a new road, Albert Tron Boulevard, that runs beside the new restaurant and connects to West Parker Road. It opened for traffic in early March.
The city of Morganton has designated the development as a "hospitality corridor." It said in March that new road paves the way for further development in the area of additional hospitality businesses, and that it will expand the local tax base and create jobs.
LongHorn was the first development in the corridor. There also are plans for a hotel; a developer has purchased land along Albert Tron Boulevard to build it behind Sonic Drive-In, the city previously said.
When it opens, the steakhouse is expected to have seating for 274 people and have 125 parking spaces.
To speak to Mueller or other members of his management team about the restaurant or employment, call 828-438-3838.
To view the steakhouse's menu, which LongHorn says includes "expertly-grilled steak uniquely seasoned in our secret signature spice blend, ice-cold beer and beverages, freshly baked honey wheat bread, hand-chopped salads, seasonal sides and signature desserts," visit longhornsteakhouse.com/menu-listing.