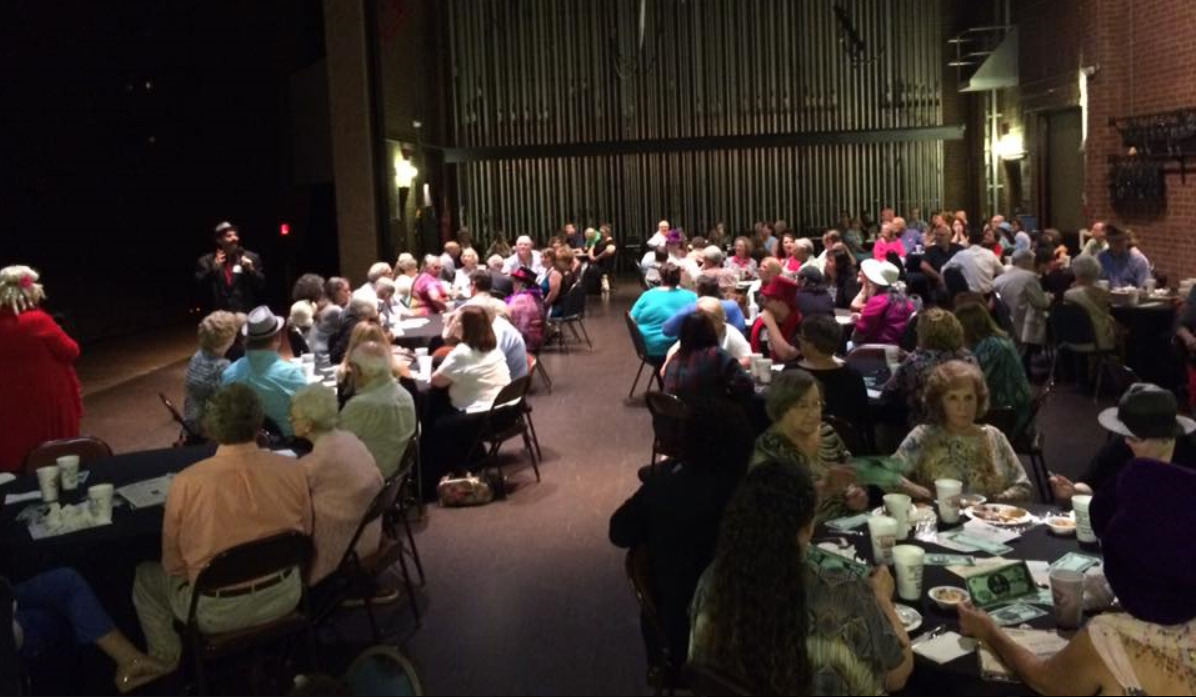 Those who love a good mystery are in for a treat.
The Burke County Public Library will host its second murder mystery dinner theater experience at 6 p.m. Friday, April 27, at CoMMA. The show, called, "Totally '80s, Totally Murder," promises to be a "rockin' radical night of mystery," according to a flyer advertising the event. Visitors are encouraged to dress in 1980's attire to get into the spirit of the drama. 
The show, which will be performed by the Murder Mystery Company Inc., is interactive, according to Rebecah Bova, the adult program coordinator for the library.
"Before the meal, the actors will mingle and meet guests in character," Bova said."During the meal, the performance will begin, and the audience will be pulled into the game by the actors, and guests will interact with them and each other.There are clues to be uncovered, insiders to be 'paid' for information, questions to ask and a mystery to solve."
The Murder Mystery Company Inc. is a national theater production team with crews in 20 states, according to its website. Each state has its own director and a cast of local actors. 
Tickets are $20 each, plus tax and fees, and can be purchased ahead of time at www.commaonline.org or at the CoMMA box office at the start of the event. Attendees are asked to arrive no later than 5:45 p.m. to expedite seating.
The library held its first murder mystery dinner theater last year as part of its adult summer reading program, with great success.
"The library's first production sold out and many people who wished they could have attended, those that enjoyed it so much and wanted to participate in another one, and people who missed knowing about the show in time asked for another show," Bova said.
She thinks people will enjoy the '80s theme in this year's production.
"The '80's theme is one most can relate to," Bova said. "I mean, who doesn't remember the teased hair, leg warmers, Members Only jackets, slap bracelets, mixed tapes, VHS, Kaboodles and Trapper Keepers? It was a totally tubular time. The '80 ' s theme was one of several, but it stuck out because it is something totally unexpected and different. It will be rad."
The meal, which will be catered by Countryside BBQ of Marion, will include smoked chicken breast, hashbrown casserole, green beans, rolls, a choice of two desserts and beverages.
Bova shared how the event aligns with the library's mission.
"The Burke County Public Library encompasses far more than just books and story times," she said. "Promoting the arts, partnering with other local agencies to hold enriching community events and spread awareness of other venues, as well as offer well-rounded programs that bring families into an atmosphere that will expose them to an eye-opening experience, illustrates our libraries offer more than just a quiet place to read or do research. The Burke County Public Libraries are a place for enrichment, enhancement, education and enjoyment. The Murder Mystery Dinner Theater is just one of those programs and a fantastic way to bring the community together in the spirit of good fun."
She encouraged people to attend and enjoy the experience.
"The program is family-oriented, so all ages are welcome to come," Bova said. "It's great fun watching everyone get up and mingle, play along with the actors and work out the 'whodunit.' I hope each participant will come away remembering a good time. I hope it will encourage them to look at the other programs the Burke County Library has to offer for children, young adults and adults. We offer so much to all ages and truly have something for everyone."
For more information on the murder mystery dinner theater, contact the library at 828-764-9260.