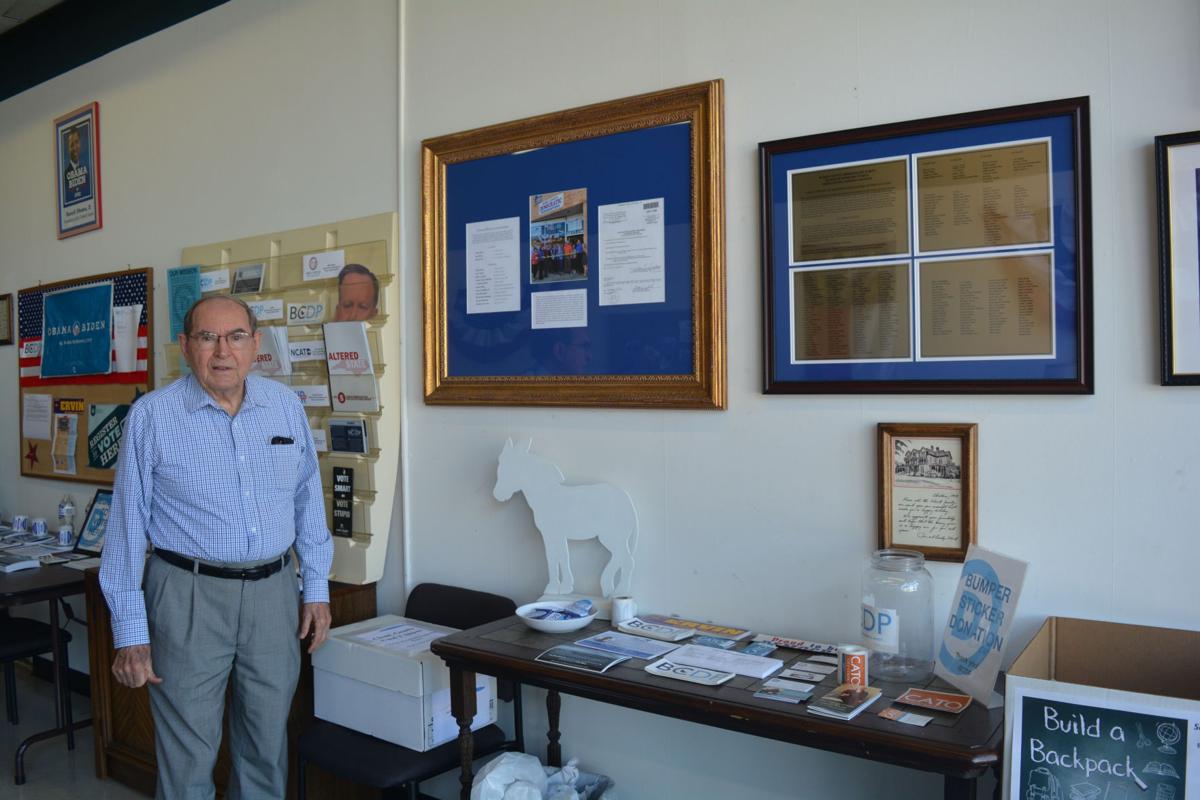 The Burke County Democratic Party is getting ready to honor a member who has done a lot to help the group promote democratic principles in the community.
The party will officially dedicate its headquarters at 310 S. Sterling St. in Morganton to Marcus E. Key, former BCDP two-term party chair and now chairman emeritus, on Tuesday, July 18 at 6 p.m., according to current BCDP chair Mark Vitrone.
The fundraising event will feature visits by various state elected officials and party leaders, such as N . C . Sen. Terry Van Duyn (D-49), N . C . Rep. Graig Meyer (D-50), former state representative Joe Sam Queen, former North Carolina Democratic Party Chairwoman Patsy Keever and former CD-11 Chairman Luke Hyde.
BCDP Second Vice-Chair Lorenzo Pedro said the dedication will include the unveiling of a portrait wall featuring Key and other state party leaders.
Tickets for the fundraiser are $20 each and can be purchased in advance or at the door.
Vitrone said Key was involved heavily in the efforts of the party to purchase the headquarters building.
"Marcus Key has always championed accountability for lawmakers of both parties and has worked hard to get good Democrats elected so they can fight for working people," Vitrone said. "He organized and helped to finance the purchase of a permanent headquarters for the BCDP with the hopes of encouraging young people to get involved. It is because of these efforts, and many more, that the party has decided to dedicate and name the headquarters after him."
Key, a native of Alabama, moved to Cincinnati, Ohio, after graduating from Michigan State University to work in the buying department at Proctor and Gamble. He met his future wife, Cornelia, a Burke County native, at MSU. The couple married in 1952 and lived in Cincinnati until they moved to Grace Ridge in Morganton in 1993 so she could be cared for after having a stroke. She died in 1998.
Key has been a lifelong Democrat, inspired by his family members' political beliefs. He said his father made a contribution on his behalf to former President Franklin D. Roosevelt's campaign in the mid-1930s. Marcus volunteered with the Democratic Party in Cincinnati for about a decade and served as the local precinct chairman.
"At that time, precinct chairs were actually on the ballot," Key said. "You had to be elected. Fortunately, I didn't have any opposition, so I won in a landslide."
Once in Morganton, friends asked him to run for chair of the No. 5 Democratic precinct in 1995. He served in that position for a number of years until becoming the BCDP party chair in 2012.
Key considers establishing a permanent headquarters for the BCDP a major victory for the group. They no longer have to rent spaces to meet and store records and materials. He and BCDP member Dan DeHart found the property on S outh Sterling St reet , which the group rented while Key negotiated an option to purchase.
"We considered it for a while, and then we took it to the county party's executive committee, and they authorized the purchase," Key said. "We're very proud of the fact that we paid for it in three years, which was part of the original agreement."
He said the party established a sustaining fund drive to raise the money for the building, which they finally purchased last year. The BCDP installed a plaque in their new headquarters acknowledging each donor.
"A lot of good people in the party contributed to it," Key said. "There were contributions from $5 to $20,000, with some sizeable contributions in between. They deserve a lot of credit for our owning the building."
Key hopes party members will find ways to benefit the community with their headquarters facility going forward. He said he envisions the party establishing a library there and hosting non-partisan civics classes to keep residents informed about how the government works at the federal, state and local levels and what their rights are as citizens.
"In view of what has happened in this country over the last two years, it appears to me that there's a great need for more education about civics and public issues," Key said. "I'd like people to know that this country, its Constitution, the Declaration of Independence and that sort of thing (were written to ensure) that the people are supposed to make major decisions in elections. People need to understand issues and put people in office who will vote based on what's good for most of the people in their district or state, and not be beholden to any major financial contributors to their campaign efforts."
He said he has been encouraged to see more young people actively participating in the BCDP and establishing the Young Democrats group.
"They pretty much came of their own accord," Key said. "They contacted us, wanting to get involved, and we welcomed them. Now we have much younger leadership, and I think that bodes well for the future of the party."
When asked how he felt about having the BCDP headquarters dedicated in his honor, Key was quick to emphasize that it took a group effort to see that dream realized.
"I feel honored and thrilled about it," Key said. "There are a lot of people other than me who deserve a lot of credit for us having that building, people whose names are on that plaque in our headquarters. There are people who worked in other ways to help get that going. I'm hopeful that it will continue for many years."
Vitrone shared his excitement about the upcoming dedication.
"We look forward to celebrating a fine Democrat and a leading figure in our community," Vitrone said.