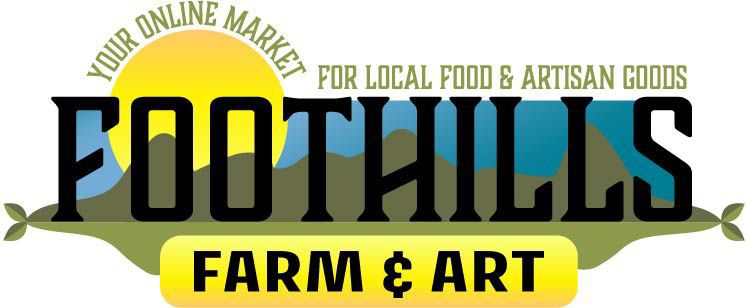 The Foothills Online Hub, a local online farmers market, has gone through some changes over the past year, including its name.
The new Foothills Farm and Art has a revamped platform and a new website, foothillsfarmandart.org, which will launch Friday, according to Stephanie Price, social media and public relations representative for the market.
Foothills Farm and Art will still act as a bridge between local farmers and artisans and their customers. People can shop the website, where vendors will have virtual storefronts set up, purchase items and then pick them up in person at a local site.
"Our board of directors adopted our new name and logo that will reflect who we are for the community we serve," Price said. "Our new name helps define us as an organization that connects local farmers and artists with our community and surrounding areas. Changing our name to reflect who we are, a collaboration of local farmers and artisans, would help potential customers know what we offer and how we can serve them, and vendors know if our online marketplace is appropriate for their business."
The market received a grant from Resourceful Communities, a specialized program of the Conservation Fund, to hire a marketing consultant, who suggested using Shopify as the best way to reach the community through an online marketplace.
"Vendors must be from Burke and surrounding counties, produce what they sell, and not have a brick and mortar store for selling their products," Price said.
Items for sale will include local produce, baked goods and snacks, such as kettle corn, pork skins and fudge, as well as art, including woodwork, quilts, handmade jewelry, essential oils and other gift items.
People can shop online from Saturday to Tuesday, then pick up their items anytime between 10 a.m. and 5 p.m. the Friday after they place an order at St. Matthews United Methodist Church at 201 Shady Rest Road, Morganton.
"The new website will launch Friday and is much more user friendly, which will provide customers with a smooth shopping experience," Price said. "Shopping at FFA enables customers to purchase quality, fresh, local produce, art and other food items with curbside service. Consumers have the convenience of online shopping and the satisfaction of supporting local small businesses, all while providing locally produced products for their families. New vendors are always welcome, so customers are encouraged to check the website often for new items and new vendors."
She elaborated on the benefits of the online marketplace.
"It is a win-win situation for our customers: your family can eat quality, fresh, local food while you are supporting local farmers. In turn, money goes back into our community. Local farms grow, local education is funded, our community builds relationships and everyone benefits. All because you ordered fresh sourdough bread, local produce, a ham for the holidays, a quilt for a Christmas gift, a special cake for a friend or honey for your tea to help your sore throat, all with the convenience of curbside pickup."
For more information on Foothills Farm and Art, contact info@foothills farmandart.org.
Be the first to know
Get local news delivered to your inbox!