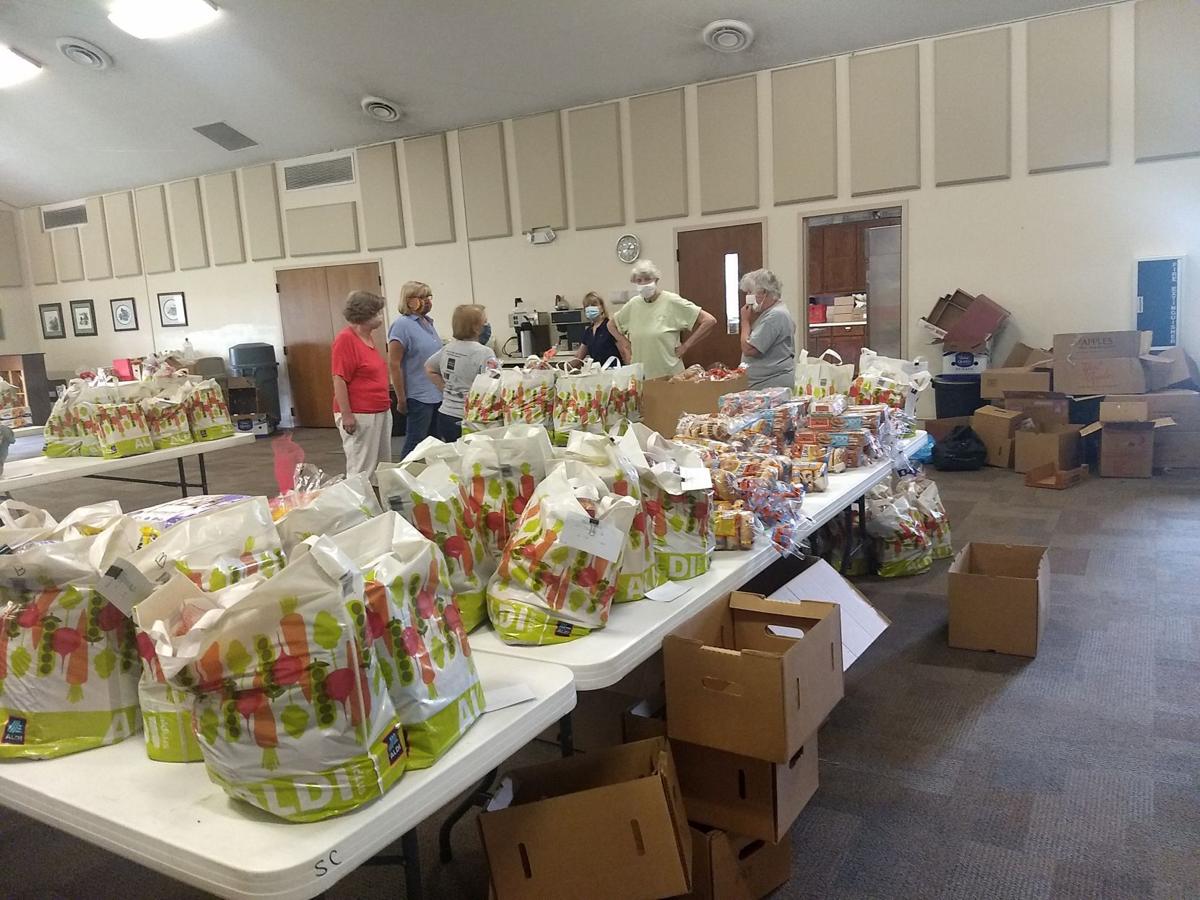 A Morganton interfaith group is working to provide food and other necessary items to local families who have fallen on hard times during the ongoing COVID-19 pandemic.
In April, a local group called United in Faith and Peace launched its COVID Relief Program in response to recent economic hardships. Since then, the program has provided food, diapers and other necessities to more than 200 people in Morganton and Burke County.
United in Faith and Peace was founded in 2017 by Burke County residents Francisco Risso and Maureen Dougher to support Burke County's immigrant community, as well as other marginalized groups. As a nonprofit interfaith organization, United in Faith and Peace works to accomplish this vision by building cross-cultural relationships among residents of Burke County. Members meet at St. Charles Borromeo Catholic Church, where both Risso and Dougher are members. According to Dougher, however, it has been an interfaith group since its inception, with members from several churches in Morganton.
"This is not a St. Charles thing," Dougher explained. "We have members from several different churches, as well as some members who are not particularly religious."
In March, St. Charles closed its food pantry due to concerns associated with the virus, leaving the group with two related problems.
"We had food," said Dougher. "We also had people that were hungry, so I contacted United in Faith and Peace. I wanted to target people who had been laid off of work, but were not receiving any benefits."
Although the program began by focusing on people who had fallen between the cracks, it has expanded to support anyone in need.
"We'll give food to anyone who needs food," Dougher said. "We contacted the Western Carolina Workers Center in Hickory and Big Brothers Big Sisters, as well as some families we knew personally who were out of work."
According to Dougher, the COVID Relief Program began by serving 12 families during its first week in late April. Since then, it has ballooned to serve more than 40 families. As the program has grown, donations began to come in from other sources to help meet the need.
"We're using the food at St. Charles and food that's been donated," Dougher said. "Case Farms has been selling us chicken for less than a dollar a pound, and we've also received a $5,000 grant from the Burke County Community Foundation.
She said they also have been receiving regular donations from The Outreach Center, Fonta Flora Brewery and the Burke County Pregnancy Center.
"Every week, Fonta Flora brings us a box of food they've collected," Dougher said. "The Outreach Center has been giving us more than we can use, and twice a month, we're able to distribute diapers from the Pregnancy Care Center. Donations just show up daily at the church. It's been remarkable."
All the food is being distributed through contactless deliveries to limit possible exposure to the virus.
"We have about 20 people that deliver food," Dougher said. "We take the food to the porch, knock on the door and walk away. Sometimes, they'll come to the door and wave or say thank you."
Ultimately, Dougher explained that the goal of the COVID Relief Program is to do more than provide emergency assistance, but to help people get back on their feet.
Since many of the families they serve are already living on a tight budget, they will often continue to serve them for several weeks after they go back to work. This gives people time to catch up on rent and utilities rather than worrying about having to buy food.
"This is the human thing to do," Dougher said. "We are taking care of our brothers and sisters. This situation we're in right now is a challenge we all have to rise to."
To contribute to the United in Faith and Peace COVID Relief Program, donations can be made to St. Charles Borromeo Catholic Church. For more information, call the church at 828-437-3108.
Concerned about COVID-19?
Sign up now to get the most recent coronavirus headlines and other important local and national news sent to your email inbox daily.