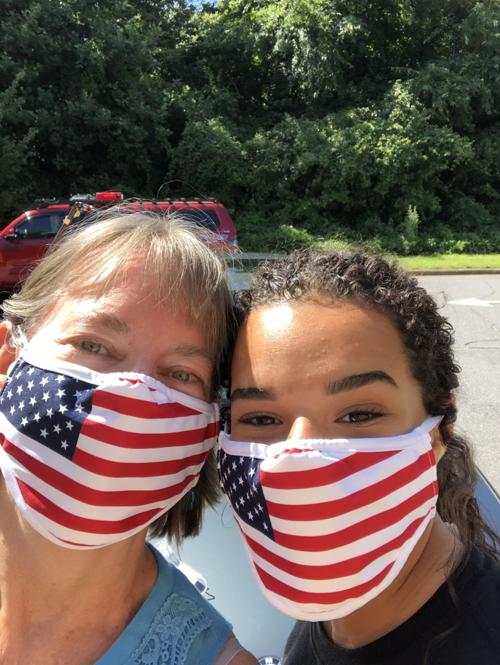 My old friend Buster came by early the other day to borrow our extension ladder. We sat 6 feet apart on the deck and watched cardinals, finches and chickadees at our bird feeder.
"So, what do you need the ladder for?"
Buster mumbled something and quickly changed the subject. I let it go.
We talked about the weather for a while, then got around to the coronavirus. My husband and I, and Buster, too, are in a less demanding position than many for the quarantine: retired, no kids at home, no family members in need of care.
"Yeah," he said. "Hasn't been too hard on a homebody introvert like me."
"It's been seriously hard on some people, though."
"Yep." Buster agreed. "Like my neighbor whose husband's health is severely compromised. She's been afraid to go anywhere since March except a pharmacy drive-thru and one nearby restaurant for takeout. Walmart delivers her groceries."
"Holy stir-crazy, Batman."
"Then at the other extreme, there's my cousin in the eastern part of the state. He plays golf, has lunch at his country club, goes wherever he wants. I spoke to him in April and he'd just had a haircut, and not from his wife."
"But," I said, "hair salons and barbershops were closed in April!"
"He said his barber told him, 'Just go in the back door.'"
"Good grief."
We talked about some of the folks we know, and how they're doing. I told him that one healthy, very fit 27-year-old of my acquaintance caught COVID-19 in March and was hospitalized for three days because she couldn't breathe.
"How's she doing now?" Buster asked.
"Would you believe that nearly four months later she still has a cough and gets out of breath when exercising? She's got an appointment with a pulmonologist next week."
We devoted a moment of silence to the pain this aggressive little virus has caused the world, then moved on to lighter topics. I confessed, "I stopped listening to the news when I get up; now I turn on the amusing "Bob & Sherry" morning show on 107.9 FM."
"I've gained a few pounds." He sighed, joining the confessional session.
"Has anybody NOT gained weight?" I shifted in my deck chair to get more comfortable in my shrinking shorts.
"My face is breaking out." He sighed again.
"Wash your mask occasionally," I said. "And speaking of masks, I'm saving money on cosmetics — haven't worn any makeup in months."
"None at all?"
"Well, maybe a little eyebrow pencil to hide the gray."
I said, "Meanwhile, my dressy clothes are hanging in the closet collecting dust, and my vow never to watch TV during the day has bitten the dust."
"Yeah, things are different."
"I have to admire a lot of people. They've taken advantage of their extra time and cleaned closets, done projects, accomplished things." I said.
"And you haven't?"
"Buster, I've discovered my inner slug."
"What are those garbage bags full of stuff on your carport? Looks like you cleaned out something."
"I did make it through one closet. That's the stuff I'm giving away."
He walked over to take a look and pulled out one of my T-shirts. "This looks almost new. Why are you ditching it?" The shirt pictured Harriet Tubman, a Black, Civil War-era activist and abolitionist.
"Oh, I somehow wound up with three Harriet Tubman shirts, and I don't need all of them."
He tossed it back in the bag and said he was going by Burke United Christian Ministries and could take the bags. Fine with me. I helped him load the ladder and clothes into his pickup.
As he pulled out of the driveway, I yelled, "Be careful with whatever you're using the ladder for!"
A few days later, I was driving by the courthouse square in Morganton and saw a small, quiet crowd gathered there lifting their phones to take pictures of the Confederate memorial statue. With mixed feelings, I thought about my great-grandfather, William G. Dillingham, a Rebel soldier who surely believed he fought for a noble cause.
Glancing harder at the statue, I slammed on brakes and nearly caused a wreck. Ignoring the horns blaring, I swerved over to a parking spot, hopped out and ran to see the statue up close. I gasped.
Someone had figured out how to get a T-shirt onto the erect soldier. It was a Harriet Tubman shirt just like mine, her stern countenance peering out from his chest. Affixed to the statue's face was a United States flag mask.
I smiled at the whole scene. It was my fantasy of a peaceful crowd and a statue updated, at least a little, for the 21st century.
Gwen Veazey is a member of the Morganton Writers Group and occasionally writes a fictional story about her imaginary friend, Buster.
Be the first to know
Get local news delivered to your inbox!