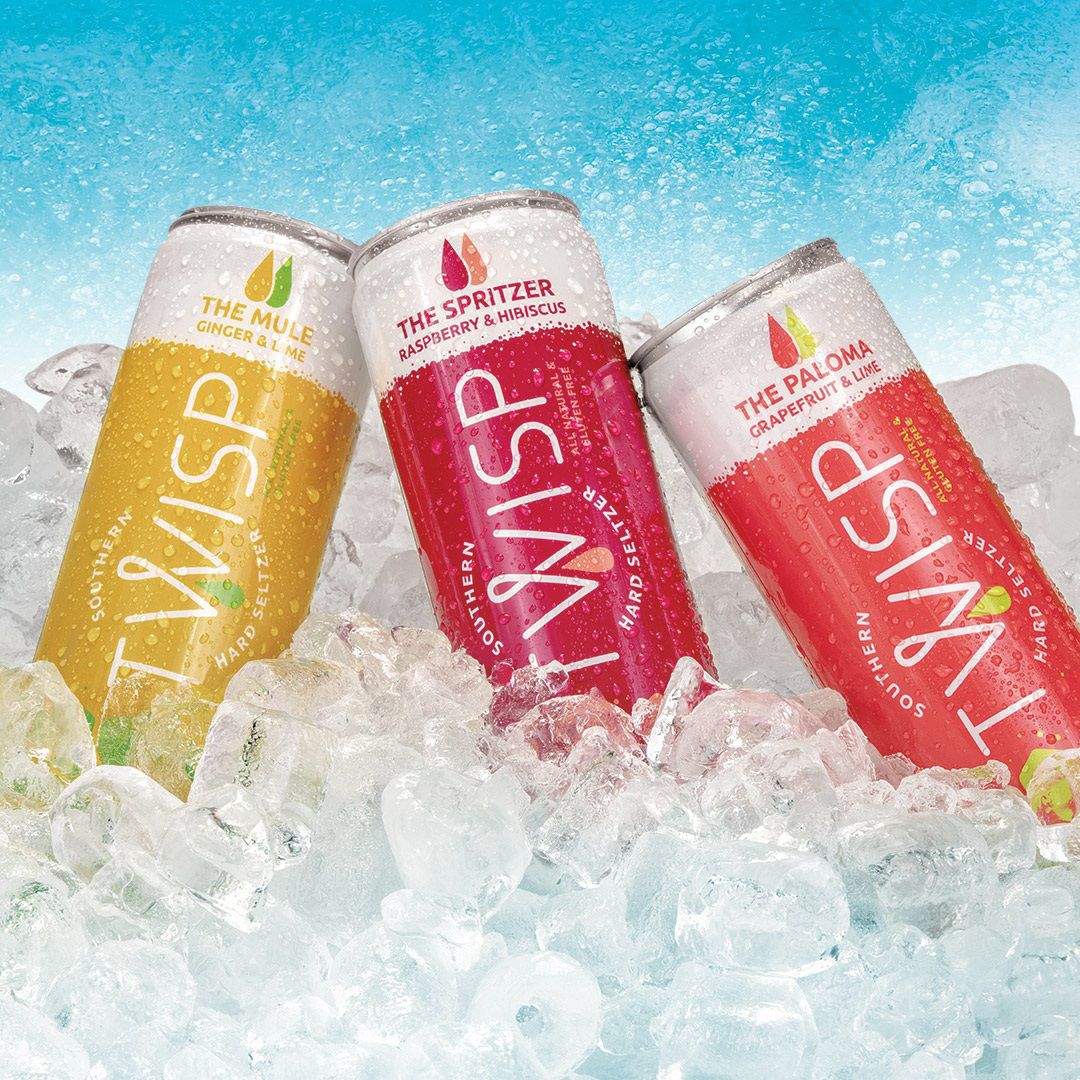 The hot months of 2019 have been dubbed the "Summer of Seltzer" by various news outlets.
Now, a Morganton-based brewery is getting in on the burgeoning hard seltzer market.
Catawba Valley Brewing Co., the parent company of Morganton's Catawba Brewing Co. and Charleston, S.C.'s, Palmetto Brewing Co., announced on Thursday morning that it is launching its own all-natural southern hard seltzer line.
The new seltzer brand is named Twisp and will launch with three initial flavors inspired by popular cocktails: The Mule, The Paloma and The Spritzer. The initial rollout of the beverages will take place in four different markets: Morganton, Asheville, Charlotte and Charleston.
Twisp will be available starting Saturday.
"With all-natural, elevated flavors blended to mirror some of the south's favorite cocktails, Twisp will provide today's consumers with what so many of them, especially the healthy, active, outdoor-loving consumers, are craving," said Billy Pyatt, CEO of Catawba Valley Brewing Co., in a release.
"We monitor our consumers closely and evolve our offerings to meet their ever-changing preferences. That's exactly why our family got into the business 20 years ago — to make people happy. So, with our entry into the seltzer market, we can quench consumers' thirst with craft beer, craft seltzer or both."
According to the announcement, Twisp will be available through 2019 in all five of Catawba's and Palmetto's tasting rooms, with an expected entry into major retailers in the south at the beginning of 2020. At the same time, the Palmetto facility will become Twisp's primary manufacturing facility.
All three Twisp varieties are available in sleek, 12-ounce cans, the announcement said. The seltzers are crystal clear, low-calorie, gluten-free, low-carb and low-sugar.
The Mule features the spice of ginger balanced with a twist of lime. The Paloma features dry grapefruit paired with the subtle sweetness of lime. And The Spritzer features sweet red raspberry with a hint of floral hibiscus.
According to a report by Yahoo! Finance from early September, sales of hard seltzer "skyrocketed" 193 percent from 2018 to 2019. The report described the White Claw brand — which claims to have outsold Budweiser in July — as a "millennial phenomenon."
Now, Carolinians can consume their own local hard seltzer brand.
"About a year ago, I was standing at a restaurant bar down in Charleston down on Shem Creek," Pyatt told The News Herald. "I noticed that a lot of the younger, much prettier than me people were drinking something out of tall, slim cans. So, I ordered one and it was a seltzer and I thought, 'Well, it's OK. And these other guys seem to like it, so we need to look into it.'
"So, we started goofing around with it, trying to figure out how to make it. … It's taken us about a year to get into this thing. In the interim, and I never knew how big this thing was going to be, we have really seen it explode in the marketplace. The two fastest-growing products out there are White Claw seltzer and Truly seltzer. They're eclipsing the growth from everybody else. In my 20 years, I've never seen anything like it."
Pyatt added that seltzer is in Catawba's wheelhouse, made with 90 percent of the same processing as beer. The company understands the alcoholic beverage and has the distribution network to get Twisp where it needs to go. The only real bet, Pyatt said, was some of the new equipment Catawba had to purchase, above a $500,000 investment.
Pyatt said entering the seltzer market is the right thing to do because it reaches both the younger customer base and the traditional beer-drinking customer base, as well.
"To us, it's just kind of a logical thing," Pyatt said.
Catawba says Twisp was carefully curated and tested in its local markets following the same rigorous testing and development process as the brewery's most successful beer releases. The line's cocktail-inspired flavors were developed with the guidance of Spencer Schultz, a popular Asheville area mixologist and owner of two beverage-related small businesses.
From there, the flavor profiles were fine-tuned in Catawba's Asheville and Charlotte breweries 15 gallons at a time. Everything from the name to the design of the can to the flavor profiles were evaluated by members of Catawba's loyalty "Passport" program, the announcement said.
There will be Twisp launch parties in Asheville (South Slope), Charleston, Charlotte and Morganton where guests will be able to taste Twisp and also enjoy a variety of activities.
According to Catawba Morganton's Facebook page, the local launch party will take place Oct. 19, the same day the product is released, from 1-11 p.m. The first 200 customers at the launch party will receive a free Twisp koozie. The party will feature live music from Andrew Massey and The Midnight Americans at 8 p.m. and food from My Mobile Bakery.