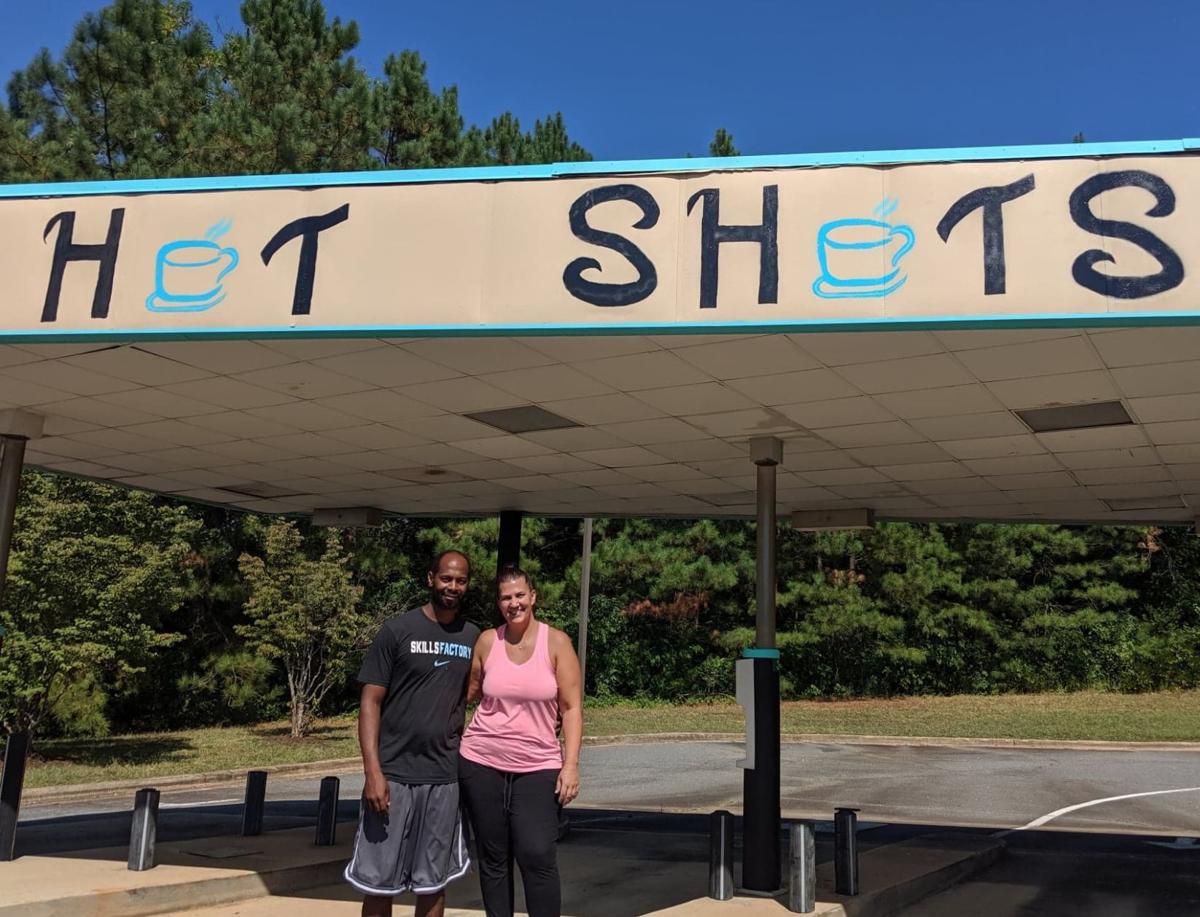 Elizabeth Largent says Oregon knows coffee.
That's why the Beaver State native, along with her locally grown husband Cory, is sharing her love and knowledge of the morning brew of the people of Morganton.
The couple's new coffee shop, Hot Shots Espresso, is set to open at 6:30 a.m. Tuesday in the building at 810 W. Fleming Drive, most recently occupied by Sam's Hot Dog Stand.
"We're getting there. We (had) our final building inspection (Friday), so as long as that passes, we plan on opening up Tuesday morning at 6:30," Elizabeth Largent said. "I'm originally from Oregon, and my husband grew up here. We moved here last year.
"In Oregon, coffee is king. It's everywhere, especially drive-thru coffee stands. All the years I've come home to visit before we actually moved here, I just thought (Morganton) needs a drive-thru coffee place. I've always had my eye on Sam's Hot Dog Stand because it's just a perfect location, and I know Java Planet used to be here. It just kind of worked out."
After the Largents relocated with their two young children, the family decided to become a bigger part of the community they love. That's when Elizabeth's plan was set in motion.
"We ended up figuring out who the owner of the property was, and I gave her a call," she said. "That was, maybe, six weeks ago. So, this has just been a crazy whirlwind of work. The owner had the hardwood floors all done, but we had to put the sink in. We painted the inside, and we are in the process of painting the outside and getting rid of the red, green and white colors."
The building's new look features black and teal, and its menu features regionally sourced beans.
"Hatchet Coffee Roasters out of Boone is who we decided to go with," Largent said. "We tried a couple of different coffee roasters, including Counter Culture out of Asheville. But we just really loved the small-town kind of vibe we got when we went to Hatchet. The owners were just so great and super-helpful.
"And we really enjoyed their coffee. So, we ended up choosing to go with them, and we think they have delicious coffee. We're going to have espresso, we're going to have regular brewed coffee and decaf brewed coffee."
Largent said the menu, which will be pretty straightforward at first, also will feature cappuccino, mocha, lattes and chai tea in various flavors. Hot Shots also will feature some specialty drinks like grasshopper, Snickers, Almond Joy, Milky Way, peppermint mocha and s'mores, along with seasonal drinks.
To start, Hot Shots' menu won't have any food, but Largent said the shop would explore the possibility of adding local doughnuts and pastries from other businesses later on.
In close proximity to both the Morganton Heights and Mimosa Hills shopping centers the location for the new coffee shop is optimal for bringing in new customers, Largent believes.
"The amount of traffic that goes by here is just a no-brainer," Largent said. "We looked at another location downtown near the train bridge, but you would have just had to modify it so much to make a drive-thru work. Here, it's just going to be easy.
"Once (customers) see that something is actually open here — I think people say, 'Oh, that place has been closed for so many years' — once they know that there's something here, word-of-mouth will get out there and do some marketing. … Our initial plan was Oct. 1, so it looks like we're going to be on time."
Starting off, Hot Shots' hours will be 6:30 a.m. to 4 p.m. Monday through Friday. On Saturday, the shop will be open 9 a.m. to 2 p.m. The business will be closed on Sundays.
"That's just starting out since it's just going to be my husband and I until we can gauge how much business we're actually going to get," Largent said. "Hopefully, we're super-busy and we can afford to hire somebody and expand our hours."
For more information about the business, follow @hotshotsespressomorganton on Instagram.
Justin Epley can be reached
or 828-432-8943.