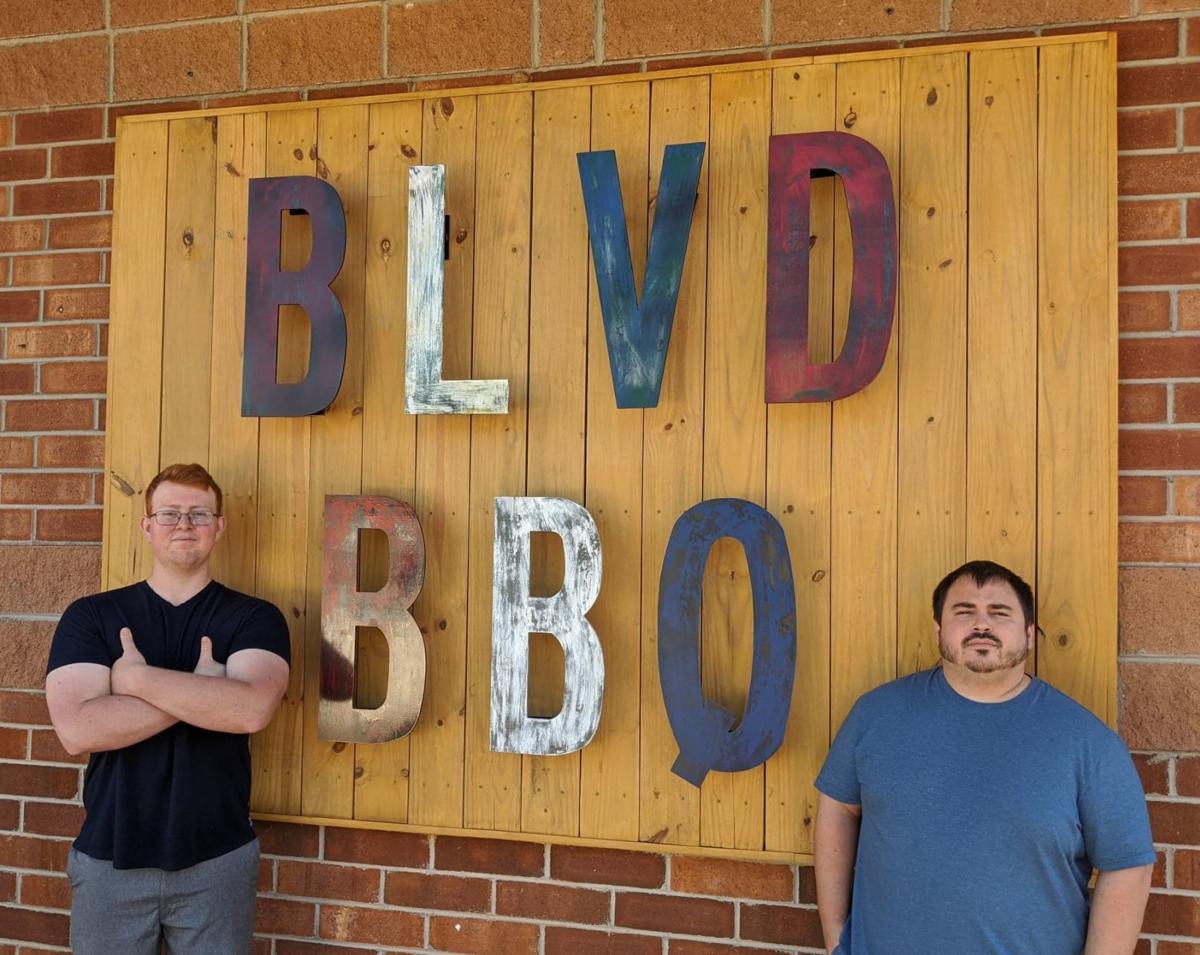 Alex Randall and Michael Samolinski know the restaurant business. In particular, they know barbecue.
The co-owners who have 20 years' combined experience in restaurants and 17 years in serving barbecue have joined forces to open Boulevard Barbeque in Unit No. 7 of Mull Tower Center at 810 S. College St. in Morganton.
Preparations are underway to get the restaurant building that most recently housed Fat Boyz BBQ and Grill ready to open as Boulevard Barbeque sometime between mid-December and just after the new year.
"(Randall) started off as a server working for me in Mount Airy," Samolinski said. "I was managing the barbecue restaurant up there and noticed his passion for barbecue and good service. I promoted him up to assistant manager, then he got his own store in Yadkinville.
"We actually approached the owners we were working for, but they weren't interested in any more partners. So at that point, we discussed opening something, and it's actually been in the works for about three years, maybe even longer. We just happened to get online and find this location. The smoker was already here, so that was a big plus. We met the owners of this building. We really hit it off well. We took a leap of faith, and we have a passion for barbecue."
Samolinski said he and Randall — who along with his promotions went through a course with the North Carolina Barbecue Society — like to eat out as well, so they care about good service and hope to provide that at Boulevard Barbeque — the "Mayberry Experience" of a hometown restaurant that provides friendly faces, a clean environment and hot food.
"That's what it all comes down to," Randall said. "You can have good food — and we're planning on having great food — but the service is critical."
Randall said the featured meat plates will include pork, brisket, ribs, smoked chicken quarters (choice of light or dark meat or double-up), smoked drumsticks and chicken tenders.
Those meats will be smoked in an Old Hickory gas/wood combo smoker using hickory, pecan, cherry or apple wood, or some combination, depending on the meat.
The smoker is rotisserie-style, can be rotated by foot and can smoke about 46 briskets or 40 shoulders at a time.
Different meats will get different rubs, like a simple salt and smoke for pork, Central Texas-style for brisket and Kansas City-style variations for ribs and chicken.
Sauce selections will include Piedmont (light tomato and vinegar sauce), Coastal (spicier) and Western N.C. (thicker and sweeter).
Sandwiches will include chopped pork, sliced pork and brisket. Specialty sandwich selections will be on the menu as well, such as a seasoned and smoked eye round French dip with Swiss or provolone cheese and grilled onions.
Boulevard Barbeque also will have hamburgers, including smash burgers, thick steakhouse-style burgers, mushroom and Swiss, black and bleu and others.
Some help in pairing food with the right beverages — the restaurant has a separate full bar area and will feature local craft beers and other brews on 18 taps — will come from The Nook Homebrew and Tavern in downtown. Specialty cocktails also will be on the drink menu.
The restaurant wants to limit its number of side dishes so as to focus on the quality, but those will include coleslaw, barbecue slaw, beans, potato salad, macaroni and cheese, mashed potatoes, green beans and a few others — "Your barbecue sides and your country sides," Randall said. Sides also will rotate by season to incorporate things like greens, baked apples and yams in the winter and corn on the cob and other fresh vegetables in the summer.
Randall described the restaurant's appetizers as typical bar-food fare, including jalapeno poppers, onion rings and fried wings. Smoked wings may make their way to the menu once the restaurant is more established. Salads will be served in taco bowls, and will also rotate to feature fresh ingredients like strawberries, smoked chicken and blueberries, bleu cheese crumbles and more.
The dessert menu will include traditional barbecue meal sweets like banana pudding, along with loaded brownies or cookies, lime icebox pie in the summer, and a treat from Randall's home in Surry County called sonker, which is similar to a cobbler made with biscuit dough instead of pastry dough and using seasonal fruit — "That's something that's kind of died off, even in Surry County," Randall said. "It's something my grandmother still makes, bringing some family into it."
After the first of the year, Boulevard Barbeque plans to offer takeout and catering services, and curbside pickup may come to the restaurant in the future, as well. For dine-in, the eatery has about 40 tables in the dining room and 15 seats in the bar to accommodate around 240 people total.
Its hours will be 11 a.m. to 9 p.m. Monday through Thursday, 11 a.m. to 10 or 11 p.m. Friday and Saturday, and closed on Sunday. The eatery will look to hire between 35 and 50 people total. (Those who are interested in applying to work there should call 828-608-0847 and drop by to pick up an application.)
Aside from the fortunate circumstances that led them to the restaurant building and the smoker, the owners were drawn to Morganton due to its proximity to great outdoors attractions, its similarities to their home area and the friendliness of future customers, inspectors and competitors. Corrugated metal artwork and signage for the new restaurant has come from Oak Hill Iron and Wood in downtown.
The owners want to be involved in the community and hope to find success in a location that has featured a bit of a revolving door of different restaurants.
"We're bringing the simple things from the people we worked for before. Barbecue is a staple in North Carolina," Samolinski said. "I think word of mouth will travel quickly in this town because it's a small town. I think if you deliver hot food, a clean restaurant and good service — and I think I've heard service, in the past, was what was lacking in this building — you're in the center of town, you've got plenty of parking and visibility.
"I think if we focus on good service with good food and having a clean restaurant, I think word of mouth will blow us up. We are working for ourselves, so we're going to manage daily. We don't have that cost of management. We plan to stick it out and be consistent."
Be the first to know
Get local news delivered to your inbox!