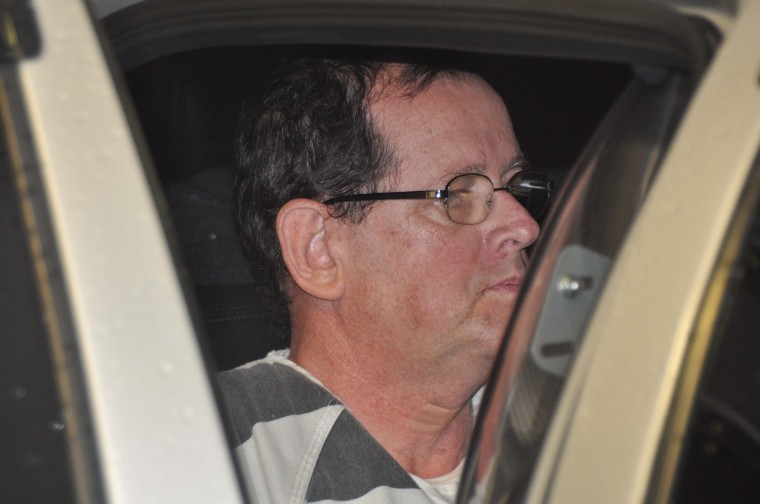 MORGANTON, N.C. -- The Hildebran Elementary child pornography scandal that has made headlines across the state reached a resolution in court Thursday when a former third-grade teacher pleaded guilty to six felony charges.
Michael Andrew Alexander, 54, of N. Meadows St., Glen Alpine agreed to waive his rights to a trial by jury, pleading guilty to three counts of indecent liberties with a child and three counts of sexual offense with a child.
His plea comes at the end of a monthlong investigation by state, local and federal authorities in a child pornography investigation with roots in Barcelona, Spain.
According to reports, Alexander became a primary suspect in the case after Spanish and European authorities discovered multiple videos and photographs in the possession of a known child pornographer in Barcelona.
Media exchanged between the Spanish pornographer and an unknown American source revealed underage girls in high leather boots paraded before a camera in what appeared to be a classroom setting.
When the classroom was discovered to belong to Hildebran Elementary School, Interpol agents immediately contacted U.S. federal authorities.
Alexander was arrested June 13.
On Thursday, Alexander stood in court, his videos and photographs described in detail to the Burke County Superior Court.
After reviewing the evidence submitted by Assistant District Attorney Eric Bellas, Judge Robert C. Ervin sentenced the former teacher to 49 ½ years in prison.
Alexander will serve his sentence in the North Carolina Department of Correction in Raleigh.
As a crowd of nearly 50 spectators, not including law enforcement authorities, watched on in the gallery, Bellas read letters written by Alexander's victims who remained nameless throughout the proceedings.
Letter upon letter exposed the grief of those who had come into contact with Alexander in his tenure as a school teacher in both McDowell and Burke Counties.
Downcast, fettered and garbed in a striped prison uniform, Alexander listened to the words of his former pupils.
"I did not realize that playing dress up with my third-grade teacher was questionable," one letter read.
"I gave you every bit of my trust," said another.
"I will never forgive, nor do I have to forgive, the monster who tore at my heart," still another wrote.
In one case, an especially young girl even had her mother nail her windows shut out of fear Alexander may return.
In the face of such evidence, Alexander's defense attorney Wayne Clontz offered only his client's apologies.
"He apologizes for anything and everything he did," Clontz told the court, going on to quote Paul of the Bible: "Each person has a weakness of some sort."
Incidents occurring throughout the past decade reveal Alexander's crimes were consistently clustered or grouped together.
According to the prosecution, Alexander's crimes ran the gamut from mild photographs of young girls in high leather boots to feeding minors bodily fluids – fluids he referred to sometimes as "Truth Serum," sometimes as "Pirate Juice."
According to Bellas, of the five victims Alexander coaxed to consume the fluids, none were older than 10.
As the proceedings came to a close Thursday afternoon, Burke County authorities were quick to acknowledge the blood, sweat and tears that had gone into the international investigation.
Standing outside the courthouse by the marked patrol car ready to transport Alexander to Raleigh later that day, Sheriff Steve Whisenant was proud of the effort executed by law enforcement:
"This is a great example of agencies working together – SBI, FBI and the sheriff's office – this may even be a record for speed on a case like this."
Declaring the sentence a victory for the state and the people of Burke County, District Attorney Jay Gaither believes the speed of both the investigation and the resolution not only benefit the state, but also its citizens.
"A trial by jury would take weeks and hundreds of thousands of dollars to try," Gaither explained out of court. "Swift justice like this is going to save taxpayers those hundreds of thousands of dollars."
"To obtain a 49 ½ year sentence within a month – it's remarkable," Bellas said later that day.
Bellas hoped to officially acknowledge the commitment of everyone involved from the district attorney's office to the officers investigating the case.
"I'd just like to say that we are extremely grateful for the dedication of professionalism of the North Carolina State Bureau of Investigation and the entire criminal investigation division of the Burke County Sheriff's Office," Bellas remarked. "We're all so privileged to have dedicated and highly skilled professionals at the Burke County Child Advocacy Center who dedicate their lives to helping child victims of abuse."
Bellas stood in awe of the 15-hour days and long weekends worked by many at the Child Advocacy Center and within law enforcement agencies throughout the county.
"It just proves we have one of the finest child abuse prosecution teams anywhere in the country right here in Burke County," Bellas said.
Although Alexander has been assigned 49 ½ years in prison, there is still a chance the Department of Corrections could diminish the sentence to at least 40 years for good behavior.
Law enforcement authorities, though, believe there is little to support the notion that Alexander will ever be released.
"It is our anticipation that he will never leave prison," Gaither said. Adding that, at Alexander's age, "This is effectively a life sentence."