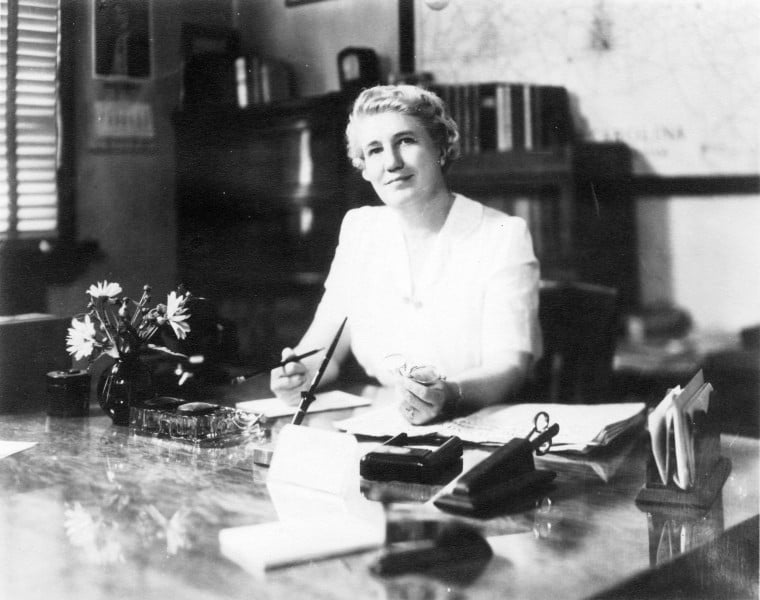 "When news of Miss Cobb's death came clacking over the teletypes, one almost expected clocks to stop in North Carolina's newsrooms," wrote Charlotte Observer reporter Kay Gary on Sept. 12, 1959, the day after long-time News Herald publisher Beatrice Cobb died.
As an accomplished newspaper woman, feisty business owner, caring community activist and prudent political leader, news of Cobb's death was not only big enough to capture headlines in one of the largest newspapers in the state, it also garnered the release of statements from U.S. senators and touching editorials from colleagues and competitors.
Holt McPherson, former publisher of The High Point Enterprise, wrote of Cobb, "She was a wonderful woman — the grand lady of the North Carolina Press Association."
The Rev. W. Flemon McIntosh Jr., the senior columnist for The News Herald, worked with Cobb and said he can still see her standing with her hands on her hips.
"When she spoke," he said, "people listened."
Cobb took over operations at The News Herald when her father died in 1916, before women were even allowed to vote, and she left her legacy on the people, places, politicians and papers she encountered.
She left several legendary marks on Burke County.
Without her, there would be no N.C. 181 to connect Morganton to the mountains. (Today it is known as the Beatrice Cobb Highway).
There would be no Morganton Community House for club meetings and banquets and wedding receptions.
There would be no Christmas Cheer to provide needy families with gifts for their children around the holidays.
And there would be no Burke County Historical Society to keep the stories and photos of the county's rich heritage alive.
Known affectionately as "Miss Bea," Cobb was born in 1888 to News Herald publisher Theodore Gettys "T.G." Cobb and his wife, Ella Kincaid Cobb and was the oldest of six children.
She attended Asheville Normal College in 1907 through 1909 and taught school in Hickory from 1909 to 1913.
She moved back to Morganton to help care for her ailing father and run the family's newspaper business.
The week her father died, Cobb was faced with one of the biggest stories of her career: The Flood of 1916.
She wrote in a newspaper column in the mid 1950s, "I've often said that the 'big flood' of July 1916 literally dumped me irrevocably into a newspaper career."
She decided to publish the paper daily to cover the flood and connect readers to the outside world, which the flood had cut them off from.
She made it her mission to publish, "bits of news from the outside world as they crept in by telephone or were brought in by the few people who managed to travel."
In 1922, Cobb was elected secretary treasurer of the North Carolina Press Association, holding that position until her death.
In 1940 she reached a pinnacle in her political career.
A friend of President Franklin D. Roosevelt, Cobb was among the Democratic delegates who helped pick the Chairman of the Democratic National Committee, Edward J. Flynn.
Several newspaper photos show her in the Oval Office, wearing a hat, dark dress, a corsage and laughing with the President and Flynn.
Cobb also was a world traveler and wrote about her travels to places such as Berlin, the Holy Lane and England, in the newspaper and a book, "Around the World on a Clipper," published in 1948.
Back home, Cobb was known as "everybody's gal."
The News Herald wrote, "She knew every nook and cranny of Burke County and the farmers who tilled them."
Those farmers were often fodder for her column "Folks, Facts and Fancies."
Cobb's mother died in 1939 and after that, according to newspaper accounts, Cobb planned trips at Christmas time because it was too painful to be at home.
Her mother was born in Linville to a farmer. When she became the wife of a newspaper's publisher she threw herself into community activism.
Ella Cobb had visions of a community house, which Beatrice Cobb helped start, and as the chair of the welfare department of the Woman's Club made up baskets for the needy at Christmas, which her daughter later turned into Christmas Cheer.
Beatrice Cobb carried her mother's giving spirit into helping area farmers create a co-op and help one man get fitted for a glass eye.
The newspaper did not suffer from Cobb's busy lifestyle.
She kept the paper current with the latest technologies and once said she was unhappy if she wasn't in debt to a building or new piece of machinery.
By 1956, Cobb had grown The News Herald's to a five-day-a-week publication.
As a boss, one of her peeves was tardiness. News Herald writer JW Long wrote once about how she fired one of her best writers because he couldn't make it to work on time.
She also disliked clutter, which she had to deal with in editor Stanley Moore's office. His infamous desk was piled high with papers.
Cobb promised him an extra week of vacation if he would clean it up. He never did, and never got that extra time off.
While Cobb was accomplished at many things, typing wasn't one of them. She wrote her columns and copy longhand.
Cobb also disliked personal publicity and scolded employees for mentioning her name in the paper.
She did give into it when she fell ill with leukemia and was admitted to Duke Hospital before her death and allowed the paper to publish a few paragraphs about her illness.
The editions following her death on Sept. 11, 1959 were filled with stories from those who knew her and reprints of editorials from papers around the state.
The News Herald wrote upon her death, "Miss Cobb embodied a blending of grace and charm with aggressiveness and candor."
In 1985 the UNC-Chapel Hill School of Journalism posthumously inducted Cobb into its Hall of Fame, honoring her as the first female inductee. The school also bestowed an honorary doctorate degree on her.
The school summed up Cobb's life by saying she was a "working newspaper woman whose vision and sympathies have endeared her to thousands of her fellow citizens."
Cobb's caring nature continues long past her death through the Beatrice Cobb Trust. Each year the trust doles out thousands of dollars to 24 beneficiaries. Last year, $360,000 was divided among churches, colleges and nonprofits.
Be the first to know
Get local news delivered to your inbox!