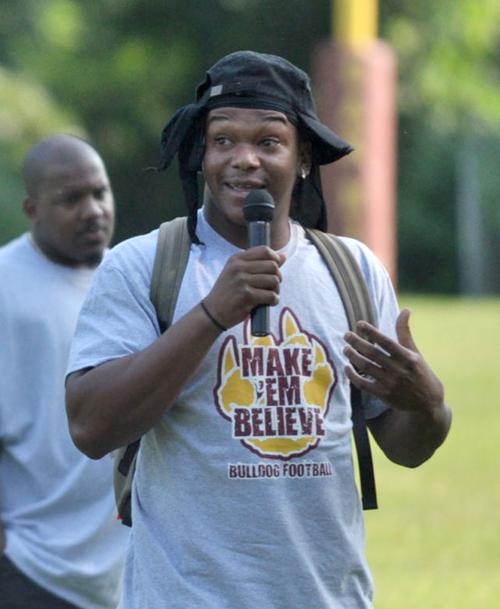 Former Freedom High star running back BJ Emmons says he won't be playing college football this fall.
One of three guest speakers at the final night of the Oak Hill youth football camp on Friday — alongside new Freedom football coach Luke Little and fellow ex-Patriots star player David Burgess — Emmons told those in attendance he would be staying close to home and supporting his Bulldogs this fall.
That means he won't be playing for Florida Atlantic University, with whom he verbally committed in February.
The Palm Beach (Fla.) Post, which covers FAU football, has reported since June that Emmons was not yet on campus as he is finishing academic requirements. One Palm Beach Post article citing an unnamed team source said Emmons "would likely arrive next summer" to play for the Owls.
Emmons' mother, Cynthia Martin, said she thinks her son still plans to attend FAU but indicated she also believes that FAU would have to offer Emmons a scholarship again as they didn't hold his 2018 scholarship offer.
Emmons said nothing has changed in his relationship with FAU and did not close the door on playing for the Owls next season. He said he will finish online classes in the fall semester to complete his sophomore year academically at Hutchinson Community College in Kansas, where he played last fall as a sophomore.
Emmons said he believes this year will count as a redshirt season for him athletically, meaning he will maintain his status as a junior heading into the 2019 football season.
Whether it's at FAU or elsewhere, it's unclear if Emmons will sign with a college program this fall and enroll in spring semester classes to also take part in spring workouts or if he will wait until next fall to enroll and get back on the field.
Before his year at Hutchinson, Emmons played at Alabama in 2016 as a freshman. With the Crimson Tide, he ran for 173 yards and a touchdown in eight games before a Lisfranc foot fracture ended his year. Last season at Hutchinson, he totaled 694 yards and 10 touchdowns on the ground.
FAU head coach Lane Kiffin was paired with Emmons in 2016 as Kiffin was Tide offensive coordinator under Nick Saban.
Before both signing with Alabama in early 2016 and committing to FAU in early 2018, Emmons had plenty of other scholarship offers, most notably from Georgia, Tennessee, Florida, N.C. State, North Carolina, Virginia Tech, West Virginia, East Carolina and Louisville.
Emmons was rated as high as the nation's No. 2 running back in the class of 2016 (five-star; No. 36 overall).
He represented FHS in both the Shrine Bowl and Under Armour All-America game after his senior season after being named Burke County player of the year three times and finishing his Patriots' career with nearly every major county rushing record, including 6,573 career rushing yards and 101 career touchdowns.