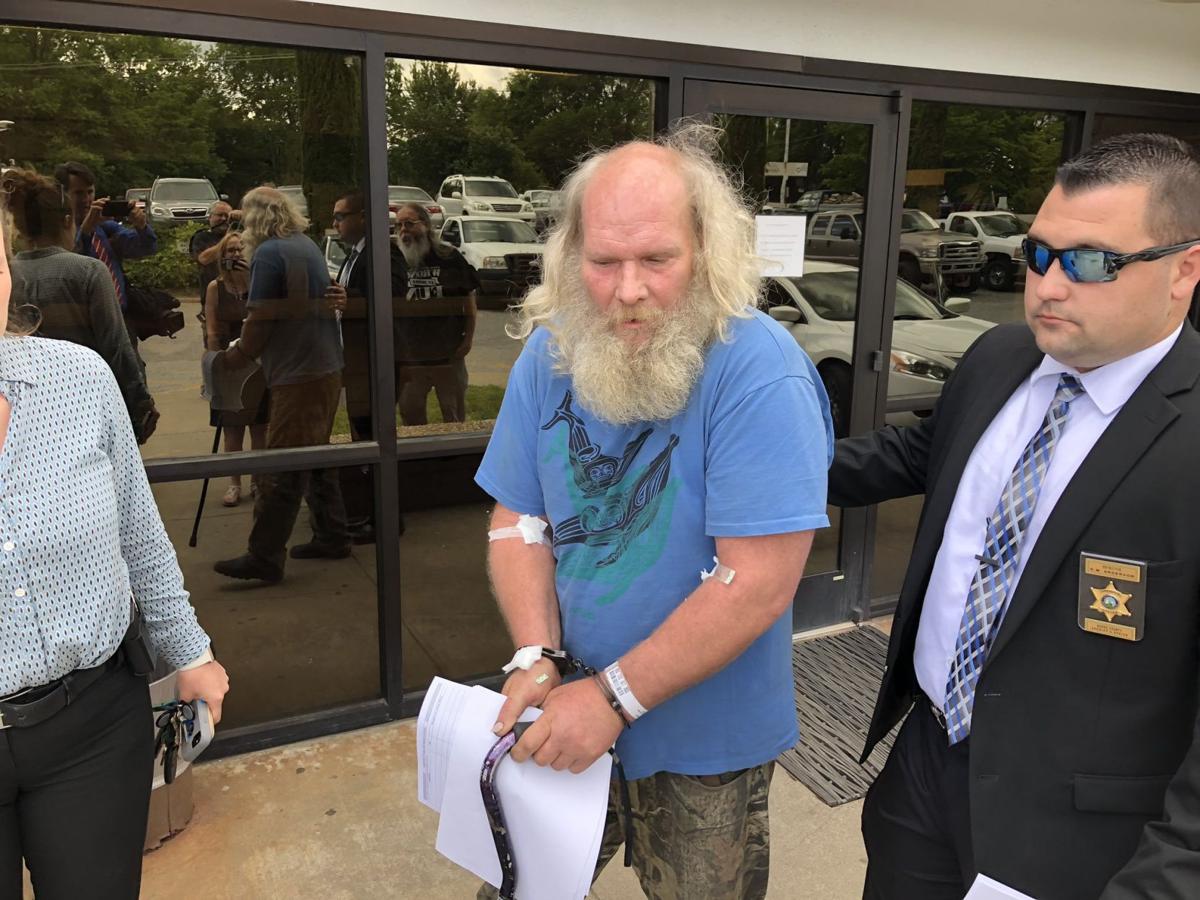 RUTHERFORD COLLEGE — "He wouldn't hurt a flea," said Dee Hall of Edwin Jerry Hiatt II, her friend and coworker of five years.
But Thursday, Hiatt, 52, of 111 G White St., in Connelly Springs, was charged with the 1985 murder of Barry Crane.
Barry J. Crane, a producer and director who worked on episodes of "The Incredible Hulk," "Wonder Woman," and "Hawaii 5-0," was found dead in his Los Angeles home on July 5, 1985, with his naked body found wrapped in bed sheets in his garage. He was 57 years old. An autopsy revealed that Crane had been beaten to death with a large ceramic statue and strangled with a telephone cord, according to court documents filed in Caldwell County.
Crane, who was a world-class bridge player, had last been seen at a competition the night before he was found dead.
No property appeared to be taken from Crane's home, except for his car, which was found July 5, 1985, on a mountain road near Frazier Park, California, court documents filed in March said. Fingerprints, cigarette butts and blood samples all were taken from the car, along with Crane's gas credit card.
The case went cold, until May 9, 2018 , when a Los Angeles Police Department detective was contacted by a fingerprint specialist, who said she could run the prints from Crane's vehicle.
On July 2, the detective was told one of the prints matched Hiatt's.
From there, detectives started looking into Hiatt's background.
Hiatt's criminal history dates back to 1985, when he was caught in Utah with a stolen car that was not Crane's, but the most notable charge in his criminal history was a 1997 domestic violence charge.
In that domestic violence case, a witness reported that Hiatt choked and beat his now ex-wife to the point she vomited, court records said. Hiatt also apparently threatened to burn the house down.
Police then found Hiatt's whereabouts by serving search warrants on Facebook and Verizon Wireless.
In November 2018 , an FBI surveillance team conducted an operation and located Hiatt working at an auto repair shop , documents show . There, they saw Hiatt drink from a disposable coffee cup, and discarded cigarette butts into the parking lot.
The coffee cup, lid and cigarette butts were obtained from public areas without Hiatt's knowledge, according to court documents.
On Jan. 14, the LAPD detective was told that DNA was obtained from two of the items recovered by the surveillance team, and that Hiatt's DNA matched the DNA on five cigarette butts recovered from the ashtray of Crane's stolen vehicle, court documents said.
On Thursday, Hiatt officially was charged with Crane's murder.
News partner WSOC asked Hiatt if he remembered Crane, but he said he could only remember the name when it was told to him.
Hiatt also was asked if he thought authorities would catch up to him.
"I didn't have any clue what was going on when they first met me," Hiatt said.
WSOC followed that question, asking if it was a shock to him.
"It's a different life today," Hiatt said.
When Hiatt was asked if he could have killed Crane, his answer was vague.
"Anything is possible back then because I was big into drugs," Hiatt told reporters.
Hiatt's coworkers said that's not who he is today.
Jason Smith, another one of Hiatt's coworkers at 2nd Chance Engine Repair, said he had only known Hiatt for a week and a half, but he already had been a better father than his own.
"We were working in here last week, and he had only known me for two or three days," Smith said. "He made like $40 that day, we didn't get much done. But still yet, just him making $40, he gave me half of it right off the bat just to make sure I had cigarette money and gas money and stuff like that."
Hall said the repair shop is a ministry for everyone who works there, including Hiatt.
"We're trying to do whatever we can for God and to help this community, and Ed was a big part of that," Hall said.
Hall said Hiatt has changed.
"We've all got pasts, you know?" Hall said. "How would you feel if somebody come back 30 years later on something you'd done?"
All that matters is God's forgiveness, Hall said.
"This is something that supposedly happened 30 years ago, the man's changed," Hall said. "He ain't the same man. Christ has come in and he's become a new creature. If God's forgiven you, you're forgiven. That's it."
Hiatt has a court date set for Friday morning at 9 a.m. at the Burke County Courthouse.