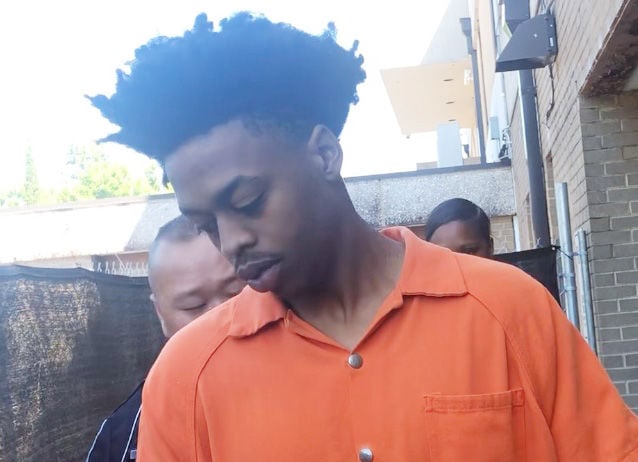 Kamau Jarek Clark agreed with a News Herald reporter that he was done with Morganton as he was walked into the magistrate's office for the second time this week.
Clark, 19, of Shelby, was charged with felony robbery with a dangerous weapon and first-degree kidnapping after an armed robbery at the Speedway convenience store off Exit 105 on Interstate 40 early Thursday morning.
But it's not the first time he's been charged. The Morganton Department of Public Safety says he gave a false name when he was arrested Thursday afternoon.
When The News Herald asked Clark if he wanted to share his side of the story, he shook his head no.
The News Herald then asked if he thought this was his last trip to Morganton and if he was done with it.
 "Mhmm," Clark nodded.
Clark was the first person to be arrested. He was found walking down N.C. 18 South on Thursday afternoon.
Following the robbery, two other suspects stole a truck and led police on a high-speed that ended in a crash on Mineral Springs Mountain.
Darik Montre Williams, 20, of Shelby, was identified as one of the suspects in the stolen truck. He also was charged with felony robbery with a dangerous weapon and first-degree kidnapping, according to court documents.
Williams was found hiding in a vacation home on the mountain. When asked what his side of the story was, Williams said "innocent."
Burke County Sheriff Steve Whisenant said his office will be pressing charges for breaking and entering and larceny.
Officers still are searching for a third suspect in connection with the armed robbery.
Whisenant said officers with the Burke County Sheriff's Office, MDPS, N.C. State Highway Patrol and Valdese Police Department went to door-to-door and found that every house on Mineral Springs Mountain was secured.
Clark and Williams both have court dates set for Monday. Their bonds were set at $500,000.
Chrissy Murphy is a staff writer and can be reached at cmurphy@morganton.com or at 828-432-8941. Follow @cmurphyMNH on Twitter.
Be the first to know
Get local news delivered to your inbox!