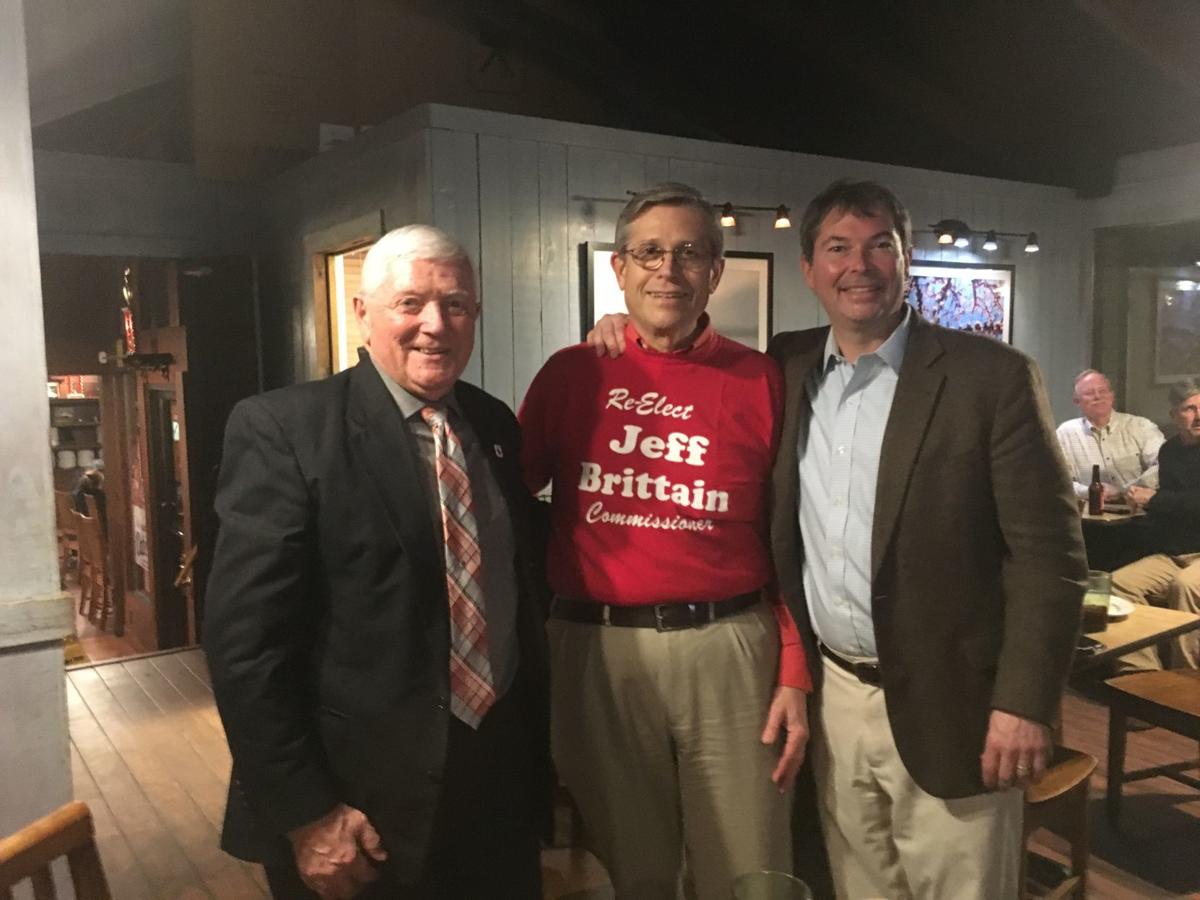 What will likely be a historic voter turnout in Burke County netted the three incumbent county commissioners another four years.
The unofficial general election turnout in Burke County as of Tuesday night was 44,398 out of 58,308 (76.1%) registered voters.
Republican incumbents Jeff Brittain, Scott Mulwee and Johnnie Carswell easily won reelection over their Democratic challengers Dorian Palmer, Diane Conley and Matthew Church.
Brittain took the largest number of votes with 28,971 votes (24.39%), followed by Mulwee with 28,024 votes (23.59%), and Carswell with 27,220 votes (22.91%).
Palmer received 12,238 votes (10.3%), Conley received 12,071 votes (10.16%) and Church received 10,271 votes (8.65%).
Debbie Mace, county director of elections, said there are still more than 200 mail-in ballots that haven't come in yet. As long as the ballots were postmarked by the election, the Board of Elections can accept those ballots until Nov. 12.
The board is expected to make results official in a canvass at 11 a.m. Nov. 13.
"I would just thank our citizens for putting their confidence in me again," Brittain said.
"I think we had a good campaign. It wasn't nasty or negative and I appreciate that," Brittain said.
Brittain said the current board of commissioners has met some challenges and he's looking to get back on track and address new challenges as the county tries to recover from COVID-19. He said the board has had to address some really pressing needs such as EMS, the Sheriff's Office and social services.
Brittain said he hopes the board can focus on facility maintenance needs facing them, as well as county parks and recreation.
Mulwee said, "I'm honored and humbled our citizens have re-elected me to serve them for another four years."
He promised to continue to work diligently for county residents, with a continued focus on schools, jobs and infrastructure needs.
"We must continue the momentum we've established to keep Burke County advancing," Mulwee said. "I would like to commend our opponents for running a great, clean campaign and I will be their voice and advocate as well as all of the citizens of Burke County."
Carswell said, "I just want to thank all the people who came out to vote. It was just amazing this many people decided to exercise their right to vote. I was just really proud to see that many people come out to vote."
He also commended their Democratic opponents for running an energetic campaign, as well as his fellow commissioners on the ballot.
"I'm very proud of my running mates," he said.
He said he believes the board's primary goals over the next four years will be to continue the programs that the board has already started which includes bringing more jobs to the county, housing needs, seeing education prosper and prepare the students to take the jobs that are coming.
"We want to keep our services to the level that people expect," Carswell said. 
Carswell said he wants to continue to back the county's law enforcement and make sure they are making a living wage and that their salaries are comparable to the counties around Burke.
As for fighting the COVID-19 pandemic, Carswell, who recently battled the virus, said he wants to continue to do everything possible to follow the orders coming down from the state regarding the coronavirus. He said the county will continue to put out the necessary and accurate information on the pandemic as it pertains to the county.
Stephanie Norman, the Republican incumbent county register of deeds, also won her reelection with 35,241 votes. She did not have a challenger for the race. 
Be the first to know
Get local news delivered to your inbox!