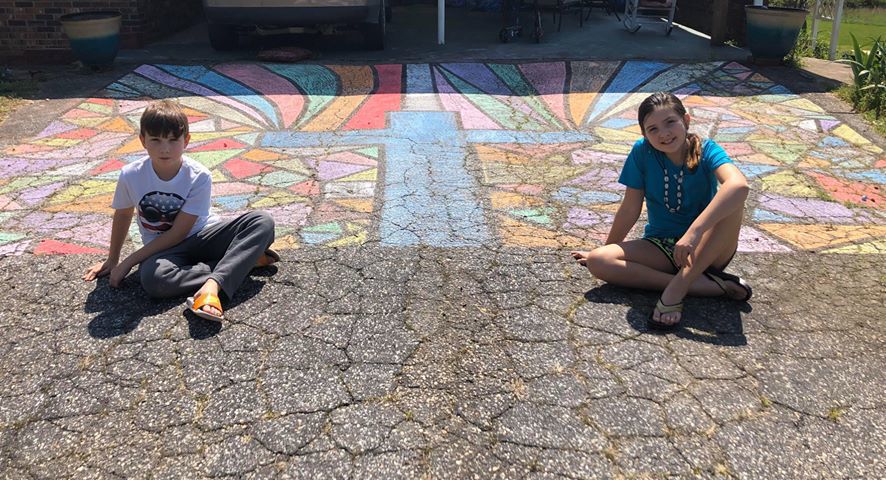 What to do while quarantining?
That's the question many parents and their children have faced while North Carolina has battled the coronavirus. And with schools closed, social distancing encouraged and playgrounds locked up, answering it has required a little creativity.
Creativity itself was the answer recently for a Burke County family, which undertook an Easter-themed sidewalk chalk art project this past weekend ahead of the holiday.
Charity Craig and her children, 10-year-old Haevin and 8-year old Jace, went to work on their depiction of a stained-glass church window with a cross and a multitude of colors that's about as wide as the two-car awning at their house.
Mom rolled out the blue painter's tape to help with the design while the kids did the coloring.
"I wanted to do a big chalk art project, so I asked the kids what they wanted to do and they said they wanted to do something for Easter week," Charity said. "So, I thought it would be cool if we tried to re-create a stained-glass church window.
"We originally wanted to do the whole driveway, but as we got started, we realized it was going to be a lot more work than we could really handle. It took us like four rolls of blue tape, I don't even know how much sidewalk chalk, and two days to complete it."
The Craig family wanted to spread a message of hope during the pandemic, especially since churches won't be able to have traditional Easter services during the current executive order banning mass gatherings.
"We just wanted to do that so people could see from the road and know that even though we can't all get together for Easter, Jesus still died in our place and he still rose from the grave," Charity said. "You can't really cancel that. We're praying for everyone during this time. We especially want to thank all the grocery store workers and truck drivers and farmers and child care workers and everyone in the medical field."
Charity, who is a house painter by trade, said the kids, who are artistic as well, enjoyed their project and took a lot of breaks, but eventually got it finished after Jace encouraged the family to all color the last triangle together. The masterpiece really came to life after the tape was removed.
"They were like, 'Oh wow, this looks so cool,'" Charity said. "I don't think they realized what it was really going to look like until we started taking the tape off. It's still there. It hasn't rained it off yet, but it might by Sunday."
The reintroduction of art has been the children's favorite part of having school at home, Charity said. The W.A. Young Elementary School students don't have a regular art class, but they've been able to do some "homework" in the form of canvas oil painting, sketching, drawing and coloring.
With Morganton's Hunny Hush Boutique closed, Charity isn't working at the moment, meaning she gets to take on the role of schoolmaster instead.
"I've just tried to keep them on a pretty strict schedule," she said. "This week has been a little different because we actually had a campfire over the weekend and my oldest got poison oak from the smoke. So, we had our first online doctor's appointment. That was interesting. They've actually been playing more games and staying inside a little bit more.
"Other than that, we've spent a lot of time outside. We've done lunches outside and learning outside. We've done a volcano science project. (Tuesday) night, we got the telescope out and looked at the moon. And we have a small farm, so there's always chores to be done around here taking care of bunnies and chickens. Just trying to keep them busy."
With hospitals filling up and doctors' offices limiting in-person appointments to try to slow the spread of the virus, remote consultations like the one Haevin had have become more prevalent. Charity said they had to work through some bugs to reach the definite diagnosis.
"There was a little bit of a technical issue," Charity said. "I couldn't hear (the doctor), but she could hear me. But we could both see each other, and then we were on a chat. I was both talking to her and typing to her so she could understand. Then, I had Haevin get on so she could look at her face and see that it was poison oak.
"We had to darken the room a little bit so she could see, but I think it went well. It was just difficult figuring out how to maneuver all that and what site to go to and how to log on and get the video to work. Other than that, once we were on it, it went really well."