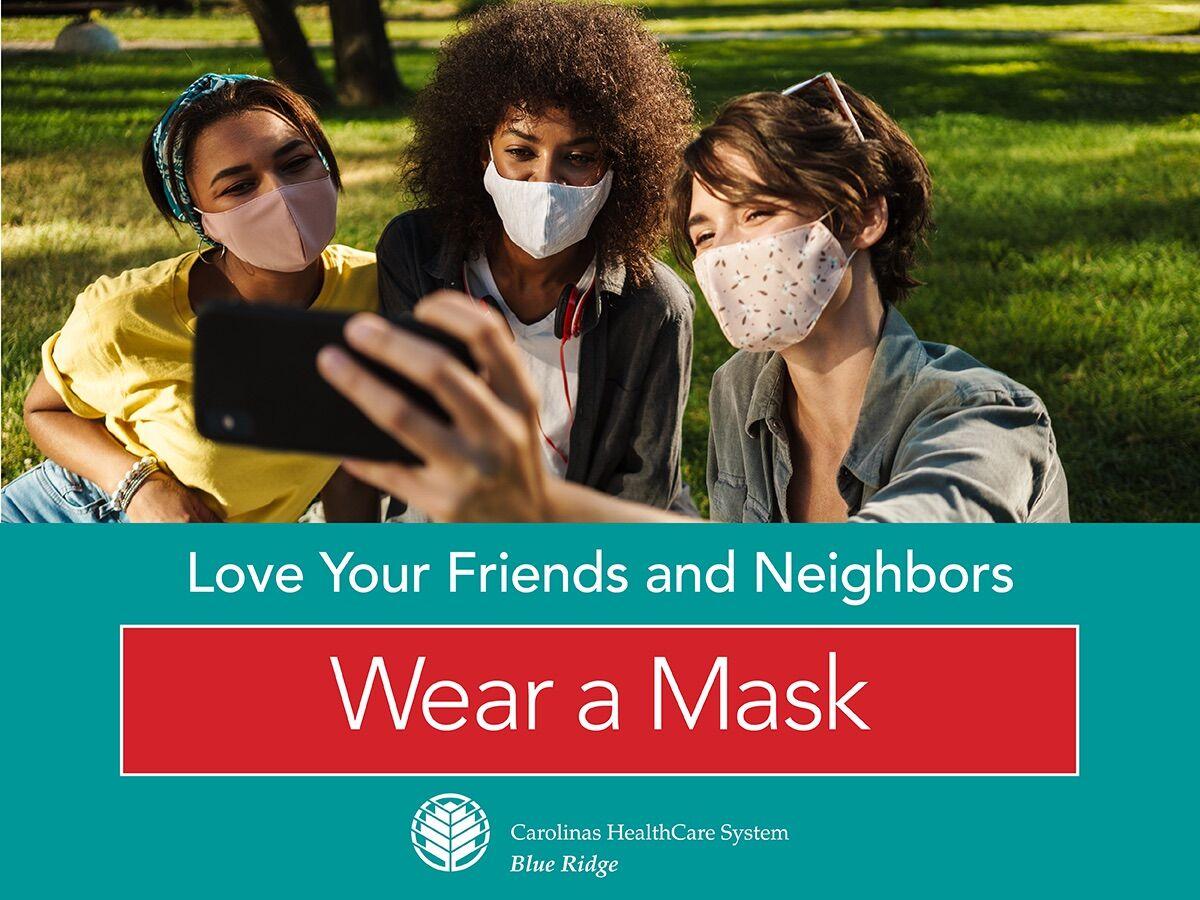 COVID-19 has claimed another victim in Burke County and cases in the county continue to rise.
https://www.facebook.com/watch/?v=698641684381750
And with cases of COVID-19 ticking up through North Carolina, as well as Burke County, the local health care system as well as others throughout the state are pleading with people to wear a mask.
Kathy Bailey, president and CEO of Carolinas HealthCare System Blue Ridge, which operates hospitals in Morganton and Valdese, said the system has started a 90-day campaign to slow the spread of the virus.
"Our ability to control the virus over the next three months will be critical for all of us as the onset of colder weather, the beginning of flu season, COVID fatigue, and social and family holiday gatherings all increase the risk of the virus spreading," Bailey said in a release about the campaign. "The theme of our campaign is 'Love Your Friends and Neighbors: Wear a Mask.' It's to everyone's advantage to consistently practice this simple, critical behavior that truly makes a major difference. We also encourage everyone to wash their hands and keep at least 6 feet away from other people."
Bailey said Carolinas HealthCare System Blue Ridge wants to have enough staff and space to safely care for patients as they have come to expect. City and county governments, along with the health department, want a healthy community, she said.
Bailey said the school system wants their children back in the classroom. She said businesses do not want to close down again, and all employers want a productive workforce. Churches want their members back in church and retirement communities and skilled nursing facilities want visitors to return, Bailey said.
"And all of us want our friends and family to avoid contacting this deadly virus," Bailey said. "The threat of our community being severely overwhelmed is very real. Our staff is tired, yet they continue to risk their lives and their families' to care for our community. Please join our team and the teams throughout our community - Love Your Friends and Neighbors: Wear a Mask!"
Carolinas HealthCare System Blue Ridge was among the hospitals systems in the state with chief medical officers and chief clinical officers who signed a statement asking people to wear a mask and do what they can to protect their family, friends and neighbors.
"As the physician leaders of hospitals and health systems throughout the state of North Carolina, we have seen firsthand our friends and neighbors all too often become our COVID patients," the statement said. "We see the number of cases rising every day. We see the potential for large spikes in cases which will overwhelm some hospitals. We see people dying and wonder how many of them could have lived if more people made different choices about closely following public health guidance."
They asked that people keep Thanksgiving festivities small, hold them outside, if possible, socially distance, avoid large Black Friday crowds and always wear a mask.
"We recognize masks are uncomfortable and it's both frustrating and disappointing not to celebrate this year's holidays with traditional large gatherings. While we are encouraged that safe and effective vaccines may be coming soon, we know that we are months away from making vaccination widely available," the statement said. "With this in mind, we are asking for your help now. We must decrease the spread of this virus and in doing so save lives - lives of real North Carolinians who will get to celebrate many more holidays to come."
Health officials continue to encourage people to observe the three W's; Wear a mask, wait 6 feet away from others and wash hands frequently with soap and water or using hand sanitizer.
The pleas from the health care systems and doctors came out on the same day that the Burke County Health Department reported the 67th COVID-19-related death in the county. The person was in their 70s and was hospitalized when they died from COVID-related complications, according to the department's briefing.
"We want to express our deepest condolences to the family and friends of this individual." said Burke County Health Director Rebecca McLeod.
The county health department reported 3,974 cases on Tuesday, up from 3,922 cases on Monday.
Burke County's COVID-19 dashboard showed on Tuesday there were 713 active cases of the virus and 14 residents currently hospitalized because of it. Since the first case of the virus was reported in the county on March 24, the dashboard showed 349 have been hospitalized in total due to the virus.
Also on Tuesday, the North Carolina Department of Health and Human Services updated its list of congregate living facilities with outbreaks.
The outbreaks, which are defined as two or more cases, in Burke County are:
Grace Ridge Retirement Community in Morganton showed the facility has one resident and two staff members infected with the virus.
Magnolia Lanes Nursing and Rehab Center in Morganton added 10 cases since Nov. 20, for a total of 17 cases, with 13 residents and four staff members infected.
College Pines Health and Rehabilitation in Rutherford College has a total of 115, with 75 residents and 40 staff members infected. The facility has had 13 residents die from the virus.
NCDHHS is reporting that Carolina Rehab of Burke has had a total of 68, with 46 residents and 22 staff infected. However, the facility has reported a total of 92 cases, with 60 residents and 32 staff infected. The facility reports no current cases of the virus. The facility has had 12 residents die due to the virus.
Cambridge House in Hildebran has a total of nine cases, with eight residents and one staff member infected.
The Berkeley - Assisted Living & Memory Care in Morganton has a total of four cases, with one resident and three staff member infected. The facility has had one resident die from the virus.
J. Iverson Riddle Developmental Center in Morganton has had a total of 50 cases, with 10 residents and 40 staff members infected.
The North Carolina Department of Public Safety reported Tuesday that Foothills Correctional Institution in Morganton has a total seven active cases.
The North Carolina Department of Health and Human Services reported 3,100 new cases on Tuesday, up from 2,419 new cases on Monday, for a total of 342,294 cases throughout the state. The department reported 1,724 people hospitalized on Tuesday and a daily percent positive rate of 6.5%.
The department reported a total of 5,074 deaths from the virus on Tuesday, up from 5,039 deaths on Monday.
The Burke County Health Department will be closed Thursday and Friday and will resume COVID-19 testing on Monday, Nov. 30.
People can get tested for the virus at any CVS in the county, say local health officials.
To make an appointment for COVID-19 testing at the Burke County Health Department, call 828-764-9150. The Health Department also reminds residents to make sure they give the name on their birth certificate and their address so that positive test results are correctly attributed to the county.
For questions about the virus, call the county's public information line at 828-764-9168.