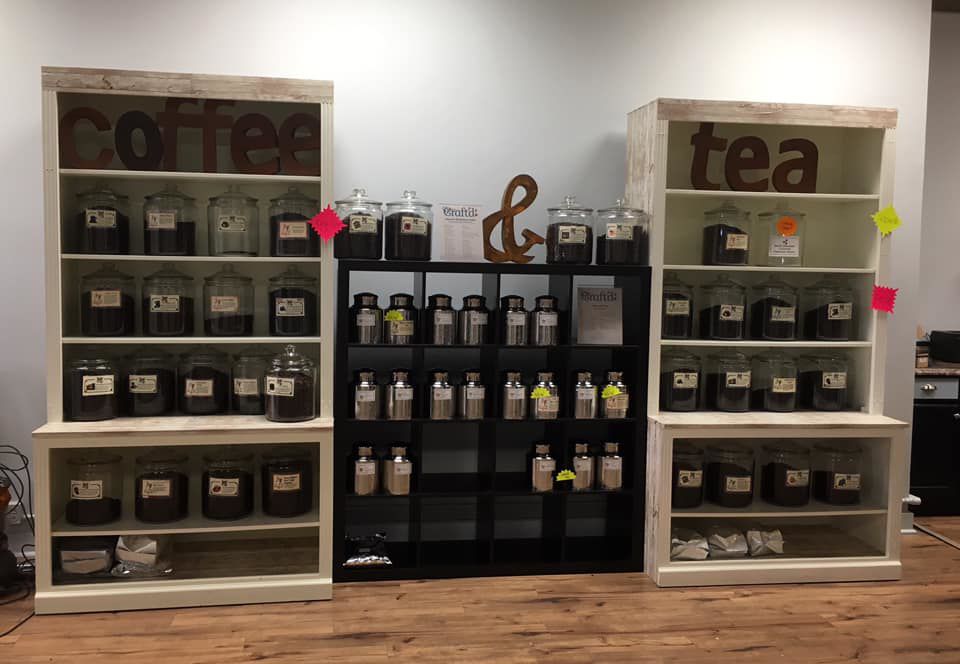 The Kitchen Connection served Morganton for 25 years, but now the business has new owners, a new name and a new business model.
Maryann and Mark Koziel have taken over the business at 108 W. Union St. and renamed it Craft'd, which will offer craft beer and wine by the glass or bottle, coffee and tea, and handmade artisan crafts, according to the business' website.
Citing the great breweries nearby and in Asheville, along with the fact the Koziels have spent the past 15 years living in Raleigh, Craft'd will feature beer brewed east of Winston-Salem. The wine selection will be from small wineries around the world.
But Craft'd will carry name brand and order other favorites so customers can sip, shop and socialize. The shop officially opens Wednesday with a kickoff event from 11 a.m. to 6 p.m.
"We're just really happy to be here in Morganton and be part of the business community," Maryann Koziel said. "We know that the Kitchen Connection had a really nice following. We've received lots of great messages from their former shoppers.
"So, we're hoping that they'll give us a chance in the same space and come out and see some things that have been here, but also experience some things that are new."
Koziel said that the family was drawn to Morganton after visiting the area a few years back.
"We knew that we wanted to be west in the state. We're definitely more mountain and lake people than beach people," she said. "We just came out here a few years ago just checking out the area and fell in love with it. We built a house on Lake James in Nebo and knew that we wanted to do something with a business here in town.
"When the Kitchen Connection space became available, we jumped on it a little sooner than we had initially planned on. We knew the space, which is beautiful, wouldn't be around for very long. We wanted to be in business for ourselves and be close to where our new house was."
The crafts portion of the business is Maryann's forte. She has a background in crafting and, according to its website, the store also will feature art and crafts from Morganton's Casey and Tom Kilgore, Creekside Cottage Studio and Alex Bustle's Out of the Wood Works, along with Koziel's Mother Hen Primitives.
"When we first moved down here from Buffalo, I had taken a year off for the move and decided to explore a new hobby. That was sewing," Koziel said. "It just kind of evolved almost 13 or so years later into a craft business. I had been renting space in various locations in Raleigh, but it was always a dream to open my own store.
"I just figured now is as good a time as any. I wanted to make it appealing and affordable for other artists with a space to display their things. It's a dream in the making that's hopefully coming true. I'm a passionate recycler and I love to repurpose things. I try not to buy too much off the shelves and find unique and one-of-a-kind things to incorporate into my own pieces."
Koziel encouraged customers to come out and see the unique things Craft'd has to offer.
"I think we've got something new to offer," she said. "We have wine on tap, along with beer on tap. It's kind of an up-and-coming way to serve wine, and it keeps the wine nice and fresh. We'll have wine and beer specials.
"There's a place for people to come sit, relax and enjoy a nice glass. They can bring in a pizza if they want and have dinner. They can shop our pretty big selection of wine and growing selection of beer to take home, and maybe support a local artist and buy a piece from them."