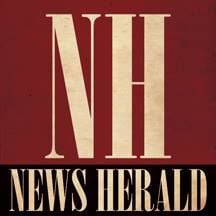 As today's front page headline says, the Best of Burke brings out the worst. On Sunday, the ballots for the annual contest held by The News Herald were included in the print edition. Sadly, many people who wanted to participate or just wanted to read the Sunday edition were out of luck as our newspaper racks were wiped clean by thieves. We'd love to think that there was such an interest in that day's edition that we merely just sold out, but when carriers counted the change in the boxes, the numbers didn't add up. This same thing happened in 2017 and 2018 when the Best of Burke ballots were printed.
One carrier, who has one of the largest News Herald rack accounts, had 260 papers stolen from her news boxes around the county Sunday morning. Two more carriers reported a combined total of 145 papers being stolen from their racks. At a cost of $1.50 per paper, that's a loss of $607.50 just for those three carrier routes. People may think that's a hit that the newspaper takes but, in fact, newspaper carriers are independent contractors who are only paid by the papers they sell and take a loss when they are stolen. So when someone takes them, they're actually stealing from individuals and affecting their livelihoods.
For those who get a traditional paycheck, you can imagine how you'd feel if strangers were able to take what they wanted from it at random before it was deposited in your account (aside from Uncle Sam). I'm sure every individual would be enraged if that happened to them, day after day, week after week. But that's exactly what carriers who service newspaper boxes endure without recourse.
Stealing newspapers from boxes at local businesses isn't uncommon. In fact, Circulation Manager Lisa Butler said that, on average, each carrier has between 20 and 40 newspapers stolen from boxes on their route every Sunday, as many people think it's OK to pay for one paper but take four or five so that they can take advantage of the coupons. And taking advantage is exactly what they're doing.
Newspapers have always used the "honor system" when it comes to newspaper boxes, expecting that honest, upstanding citizens will only take the number of papers for which they pay. On most days, this system is respected. But, as the saying goes, "there's no honor among thieves."
As a news organization, The News Herald believes strongly in holding people accountable for their actions, and we are actively working with local businesses that have News Herald racks to review their surveillance videos in order to find those responsible. We've contacted a local law enforcement agency to assist in our pursuit and will turn over our findings to the appropriate agency in which the thefts occurred. Like in any other theft, those responsible should be brought to justice and the victims — our carriers — should receive restitution.
If it was, as we suspect, someone stealing the papers in order to get an upper hand in the Best of Burke contest, then we have this message for that business or individual: If you have to cheat in order to win, then you're not a winner, you're a cheater. If you have to steal in order to get an advantage, then you're not a winner, you're a thief. If the person or persons who committed these crimes can live with that, then they've got some serious character flaws, as well as a very tainted idea of what being a winner means.
Not surprisingly, many of the paper ballots turned in for the contest so far were sent from people claiming to live as far away as Oklahoma, California, Colorado, Utah, Florida and Washington, although the addresses do not match mail subscribers for the paper. Those ballots do, however, have something in common – handwriting and the select number of businesses being filled in. No worries to others voting or competing, as those ballots aren't being counted because contest rules state that it must be from Burke County residents.
The Best of Burke is meant to give the public an opportunity to show their support for businesses and specialists in our community that they feel provide a level of service deserving of the award. For those who've won in the past, they proudly display their certificates on the walls of their businesses to let other patrons know how they are regarded in the community for their service.
We'd only hope that any winner from the contest, both past and present, would want to win through votes of legitimate customers who take the time, either through print ballots or online, to show their support. Let's face it, no matter what we're striving to win in life, if we have to do it unfairly, then it's much more of a loss than a win.
Be the first to know
Get local news delivered to your inbox!