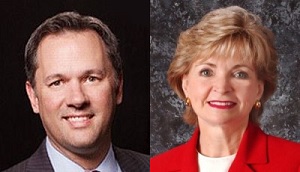 In North Carolina, state legislators have come under fire for eliminating teacher tenure and pay increases for those teachers with higher degrees. Now, two state representatives are in their own firestorm over the value of the Common Core initiative.
Lt. Gov. Dan Forest sent a letter to State Superintendent June Atkinson on July 18 asking her to clarify the implementation of Common Core.
In his 20-page letter to Atkinson, posted on his website, Forest asked 67 questions pertaining to the effectiveness of Common Core.
"I have a number of questions about the Common Core State Standards, assessments, and associated requirements for North Carolina Public Education," he wrote. "I am not against standards. I understand the importance of standards in education and I believe our state should have the most competitive standards in the nation. However, I have concerns with how CCSS standards were developed, who developed them, and how they will be implemented."
The letter went on to dissect portions of the Common Core Curriculum with subsections asking for proof of impact on students and who designed the curriculum.
"The questions represented a wide range of concerns brought to my office by parents, teachers, school administrators and concerned North Carolinians," Forest said. "All questions asked were very reasonable and should have been easy to answer with clear, concise responses."
On Aug. 2, Atkinson responded to Forest's concerns in a letter sent to The News Herald from Vanessa Jeter, communications director of N.C. Department of Public Instruction.
"Except for the opinion questions you posed, the answers are found on one or more websites, which I have listed on the pages that follow," Atkinson wrote. "However, at your request, we have made hard copies for you to read. I am also providing you with a flash drive, which contains feedback during the development phase of the Common Core."
In addition to the cover letter, Forest received a thumb drive, original sourced documents, a blog post and presentations.
"Specifically, I received 12 boxes containing approximately 40,000 sheets of paper," Forest said. "A cover letter was attached that did not directly answer any of my 67 questions but rather referred me to 134 separate websites that each link to over 100 separate pages … when broken down, DPI's reply took 597 pages to answer each individual question …"