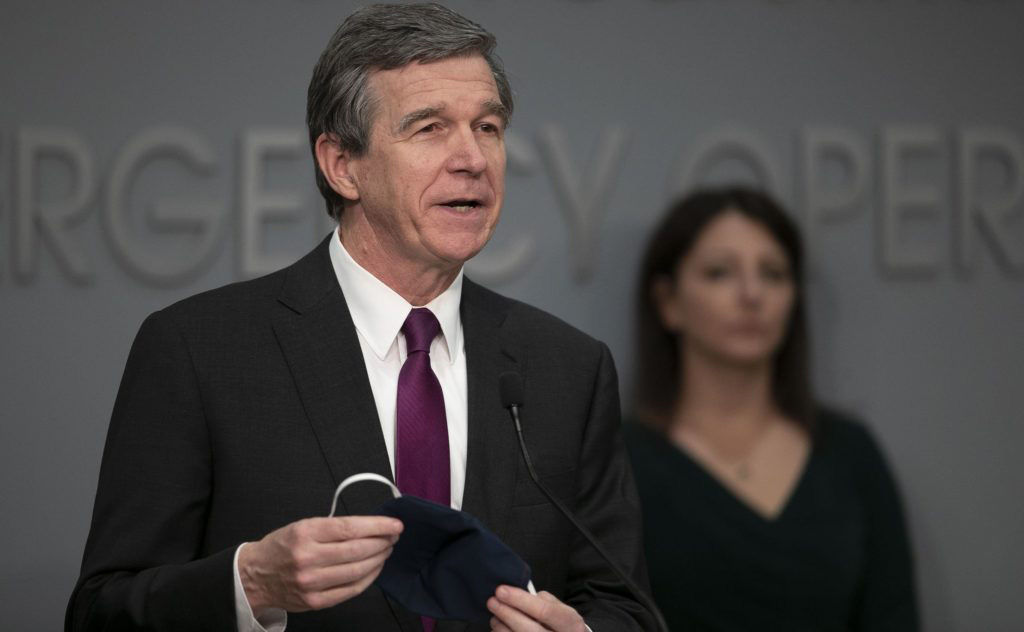 On Wednesday, Gov. Roy Cooper decided to delay an announcement on the fate of schools reopening, stating that he wants for him and his team to "get it right", as well as to see "buy-in" from parents, teachers and staff to gauge their interest in a potential return.
According to an Elon University poll released Wednesday, though, North Carolinians are split on whether they want school to reopen for in-person instruction, hybrid learning or full-time remote learning.
The survey polled more than 1,400 state residents from June 24-25. Respondents were asked "How should N.C. K-12 schools reopen this fall?" and were given three responses to choose from: full-time return, part-time return and full-time remote.
The responses were mostly split among the three answers, with 38 percent of people choosing a part-time return as the most sensible option, while 34 percent of residents felt a full-time return was the best option. Nearly 30 percent of North Carolinians felt schools should be held full-time remotely upon their return, according to Elon's website.
The demographics of the poll reveal that participants from rural counties constituted the largest portion of respondents, comprising nearly 40 percent of the answers.
The three answer selections were based on the guidance documents issued by Cooper in conjunction with Safe Schools NC, the North Carolina Department of Public Instruction and the North Carolina Department of Health and Human Services. Cooper and state officials asked schools to devise three separate plans for reopening — traditional, or in-person reopening, a "moderate" reopening in which one group of students will be in the classroom while the second will be learning remotely, and full-time remote learning.
"No demographic subgroup in our survey was in consensus about what K-12 schools should do in fall 2020," Jason Husser, director of the Elon Poll and associate professor of political science and policy studies at Elon said. "That all three broad approaches for reopening K-12 schools have similar levels of support is a testament to the uncertainty, complexity and difficulty of the decision."
This complexity and uncertainty extends to the top levels of government, as state officials attempt to make sense of an ever-changing situation.
"We continue to get in more evidence regarding the kinds of steps we need to take to make sure that our teachers and our children are safe at school," Cooper said Wednesday in a media briefing. "We're continuing to get more input from teachers and parents and we want to assimilate all of that and make a decision within the next couple of weeks."
Cooper said Wednesday that he directed a number of schools that were scheduled to open in July to conduct remote learning until he hands down a directive on reopening in the next few weeks.
During the briefing Wednesday, Cooper highlighted the importance that in-person school plays in a child's development, both educational and otherwise.
"Let me be clear, we want our schools open for in-person instruction in August," Cooper said. "The classroom is the best place for children to learn. Recent reports recommend it, and I know many parents and children agree with this. School is where children learn academics, but it's also where they build their social skills, get reliable meals, stay physically fit, and really become tomorrow's leaders."
NCDHHS Secretary Mandy Cohen agreed with Cooper on the crucial role schools play in a child's development.
"Schools are fundamental to child development and wellbeing, and provide our children with academic instruction, social and emotional skills, safety, reliable nutrition, physical speech and mental health therapy, and opportunities for physical activity, among other benefits," Cohen said.
Cohen referenced an American Academy of Pediatrics article published on Sunday that urged "that all policy considerations for the coming school year should start with a goal of having students physically present in school", according to a clinical guidance the AAP issued on school re-entry.
Until a decision is made though, residents will have to continue to debate the issue.
Be the first to know
Get local news delivered to your inbox!