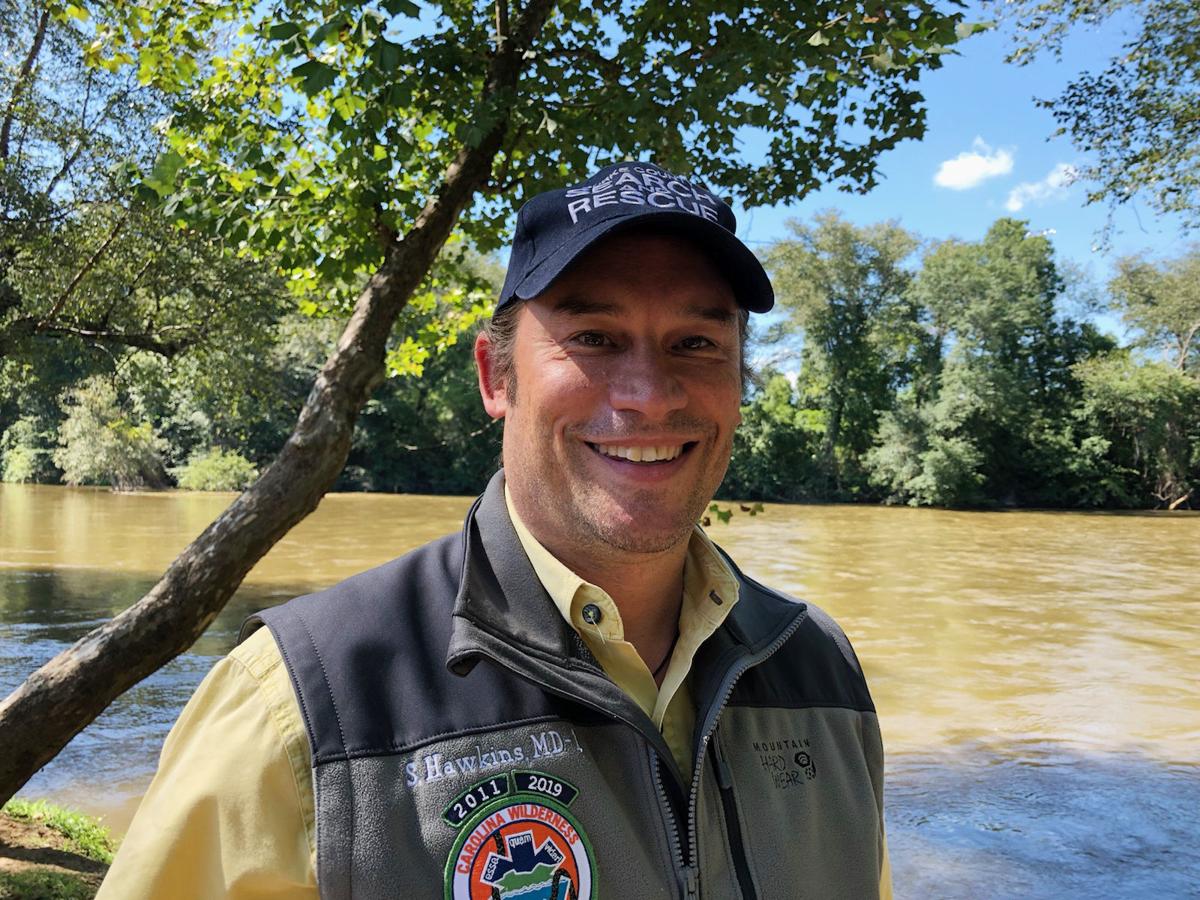 A local doctor and externship leader has been recognized again for his work in bringing experiential education to wilderness medicine.
Seth Collings Hawkins was recognized as the 2019 Association of Experiential Education Karl Rhonke Creativity Award winner, according to a press release from AEE.
The award, named for a former employee of the North Carolina Outward Bound School where Hawkins currently serves as medical director, aims to recognize "an individual whose outstanding commitment to experiential education principles are evidenced through the design, creation, or production of experiential education resources," the press release said.
"Seth truly embodies the teachings of Karl Rhonke with his work and program development," said Sherry Bagley, executive director of AEE, in the press release. "We are honored to have him as a member of our Association."
For Hawkins, experiential education is key to teaching wilderness medicine, something evidenced by his work on the Carolina Wilderness EMS Externship.
The externship sees two, fourth-year medical students or first-year medical residents spend a couple of months in Burke County, learning first-hand how to treat wilderness medical emergencies.
For medicine as a whole, hands-on learning is key. Hawkins noted that most people studying medicine will spend half or more than half of their time in medical school working hands-on with patients.
But for wilderness medicine, that's not always the case.
"In the United States, a lot of the training that goes on around it is involved in conferences and classrooms and going to places where you sit in a room and get a PowerPoint presentation on something," Hawkins said. "That's a model we're really trying to disrupt."
In a place like Burke County that plays host to the Linville Gorge, which Our State magazine dubbed the "Grand Canyon of the east," medical professionals are put in a unique position that not many other places across the country can utilize.
"This is a unique element of what we have here that really is attracting people, students and attention from around the world for our program and for things like, you know, swift water rescue training that they're doing on the river to North Carolina Outward Bound School, which is a national leader in experiential education," Hawkins said. "All this has kind of happened under our noses and often doesn't get attention."
There are challenges that come along with the externship, Hawkins said. Often, organizations who look to credential the program want to know the specifics students will be learning in the field. But because externs respond to real-time calls, the content of the program varies.
"The strength of that is that, retrospectively, we can point to this huge variety of experiences that we can train people in," Hawkins said. "That's exciting, first, because it's key to reality because it's actually the stuff that's happening. And second ... there's a compelling argument that can be made that the experiential learning process may ... have more lasting effect and be more meaningful, in many ways."
Hawkins cited the Jimmy Winters Rule, which was named for the BCEMS special operations supervisor of the same name.
"(Experiential education) disrupts the idea that you can say that you're going to do something. When the reality of doing that can be quite difficult," Hawkins said. "In 2012, Danny Willner was here ... he came in and he had a very fancy rigging system he was going to set up in this patient care and Jimmy looked at him and said, 'well, you said that easy.'
"It became a model for us about in classrooms and in theory and modeling, you can say things easy. But what we really are interested in is can you do it, can you accomplish it, and the experiential education framework is very unforgiving for people who have good ideas and theory that don't work out and practice."
It also helps to prove some ideas that may seem like they only would be usable in the operating room or emergency department, but can actually be implemented outside of the walls of a hospital.
"One of the big publications we had two years ago, was the first use of ultrasound in a wilderness area, at least in North America, probably the world," Hawkins said. "In that case, everybody said, 'but of course you don't have ultrasound in the wilderness' and we were like, 'why not?' These are all devices, now they're battery powered. They're very useful and so we had that case in Linville Gorge where we used it, it was really helpful and (we) got that published."
The Carolina Wilderness Externship Program, which is a partnership between Hawk Ventures, Burke County Emergency Services, Western Piedmont Community College, Carolinas HealthCare System Blue Ridge and Wake Forest University's Department of Emergency Medicine, will be accepting applications for the program until April 1, Hawkins said. Visit hawkventures.com/externship/ for more information.
Be the first to know
Get local news delivered to your inbox!