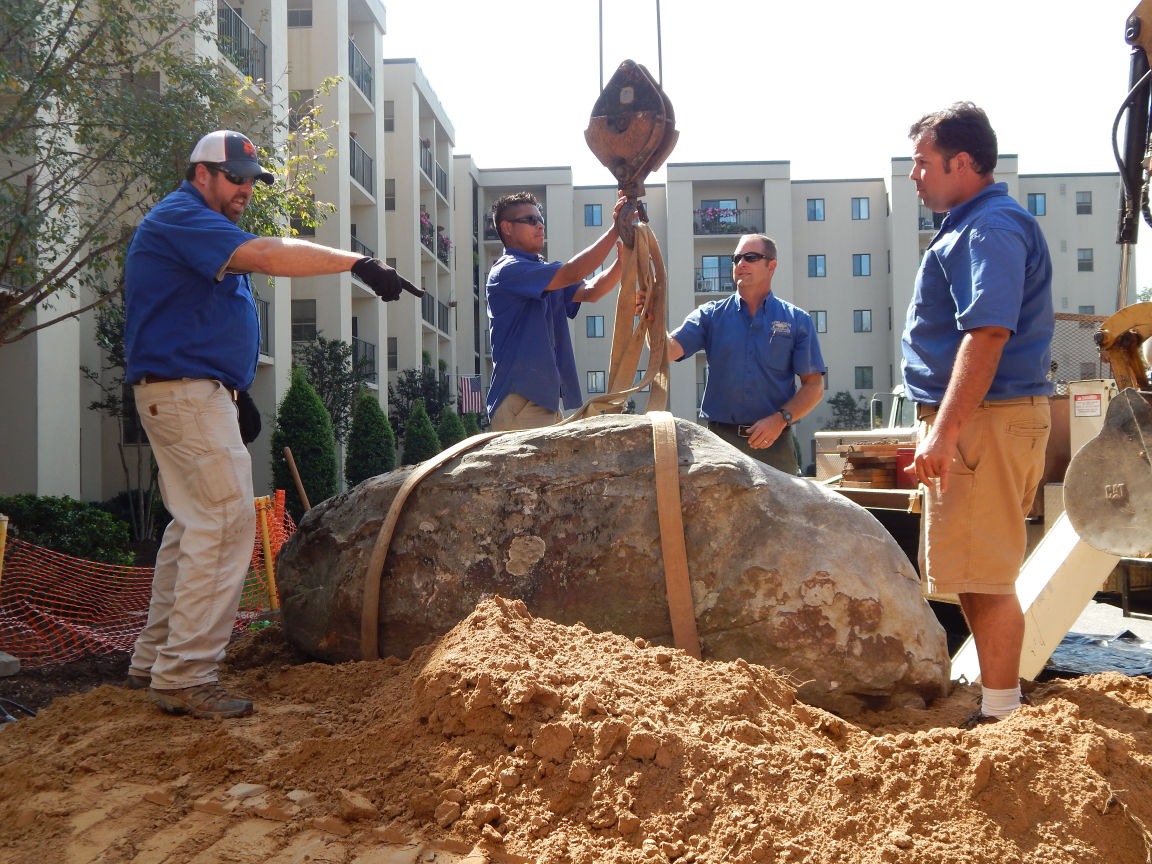 One year after the massive capital project was established, major renovations are still underway at Grace Ridge Retirement Community in Morganton. Administrators say the project is right on schedule, and sights are still set on an open house in May to celebrate its completion.
Although the hardworking team of contractors has accomplished a lot in the past year, Grace Ridge Executive Director Brenda Yost said there are still many exciting projects in the works.
The first phase of renovations included the construction of a brand new porte cochere, which added two additional lanes of traffic and put a greater emphasis on the main building's front entrance. The new covered entryway lends to the community's decision to aim for a "mountain home" aesthetic, as well.
"The community was originally named The Mountain House when it was opened in 1987. It was changed to Grace Ridge in 1991 when it was acquired by then-Grace Hospital," Yost said. "We wanted something that would carry us through all of our projects, and we all wanted it to feel like a mountain lodge."
Also completed in the first phase were an updated library and the creation of new administrative offices on the second floor. The second phase completely renovated the main lobby, the main and private dining rooms and the sales office, creating space for a brand new reading room that now features a stone fireplace and decorative quilts handcrafted by Grace Ridge residents.
A new resident mailroom was created, as well as Mobile Assisted Device parking area. Located just around the corner from the main dining room, the MAD parking area provides an alternative spot for wheelchairs and walkers to be kept while residents are enjoying the dining rooms.
The third phase of construction and remodeling was split into two "sub-phases," Yost said, in an effort to keep the projects better organized.
"We are more than halfway through the entire project," Yost said. "We just got started on phase 3-A this week, and we plan to have it completed by Christmas so that we can start the last phase, 3-B, after the first of the year."
Now in progress, phase 3-A will yield additional offices on the second floor for life enrichment administrators, which will include space for the directors of social work, activities, wellness, transportation, dining and environmental services. Brand new first-floor fitness and game rooms will be created, too.
Also underway is another effort, independent from the capital project, to achieve an outdoor space by the main entrance that feels "more like a front porch," Sales and Outreach Director Jeff Bright said.
"We just want to give our residents a nice place to spend time outside," said Bright.
Contractors from Appalachian Naturescapes and Williams Crane Service worked all day Wednesday to place large stone boulders around the porte cochere, and the finished landscaping project — a product of the community's resident landscape committee — will adhere to the "mountain lodge" concept.
Phase 3-B will give a second floor corridor a significant makeover, in addition to creating a new chapel and a new theater. Plans for a restaurant-style dining room bistro are in the works, too, although that project will be addressed upon the completion of all other renovations.
Also, landscaping updates to an existing friendship garden, which can be accessed from the main driveway, are in progress — an effort that's also independent from the capital project. Donations from a resident have facilitated the garden's makeover, and the community is still collecting funds to continue with the upgrades.
"We first wanted to widen the sidewalk so there would be room for someone with a walker and for someone to walk alongside of them, and that led to the decision to re-landscaping the entire garden," Yost said. "Shrubs, trees and plants have to kept up season to season and sometimes they get too large and overgrown, so we decided to do something new. Also, a resident offered to donate the money for a water feature, so it will have a Koi pond, as well."
The overall capital project will bring more senior citizens to Burke County, allow more people to enjoy downtown Morganton and further improve the living environments for the current residents at Grace Ridge, Yost said.
Upon completion of the entire project, the community will host a grand opening celebration — scheduled to be held in May — that will invite all of Burke County to see the updated spaces firsthand.
"It's going to be more like an open house, because we want everyone to come and see the renovations we've made and all the work that we've done," Yost said. "Let's just call it a 'grand open house.'"