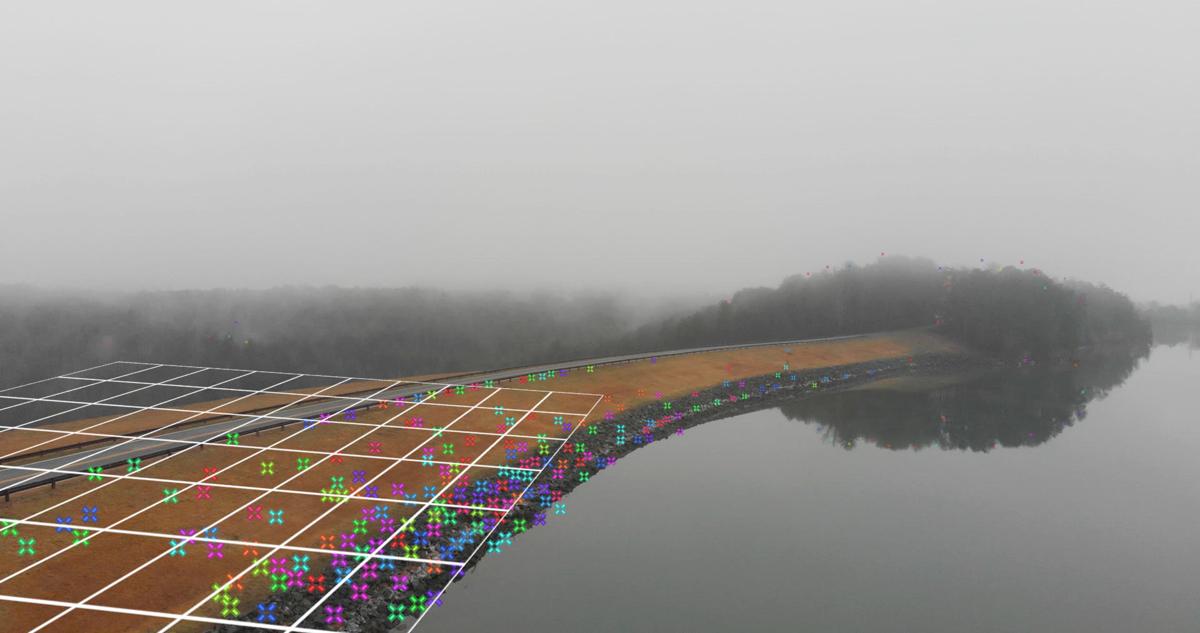 A Morganton native is bringing an interactive exhibit back home as part of her project to examine how major tech companies are connected to western North Carolina.
Ash Eliza Smith was born and raised in Morganton and left when she went off to school. This project, tentatively titled Southern Devices, is the first project to bring her back to the western region of North Carolina.
"I'm an artist, filmmaker," Smith said. "I do a lot of things with art and technology, and think a lot about how they affect place and the body and the environment. I think a lot about the future and innovation."
For this project, Smith is focusing on how advances in technology are changing the landscape of North Carolina, specifically the western region.
Inspiration for the project came after her dad picked her up at Charlotte-Douglas International Airport and asked her if she wanted to see "the cloud."
He drove her to Apple's data center in Maiden, the home of the physical servers that host information for Apple's iCloud.
The datacenter fascinated her and made her start to wonder how the local landscape has changed as companies like Apple do business in rural areas.
"You start thinking about how so much of our, what used to be, farmlands and then furniture and textiles, are now turning into, in rural areas, data centers, or data farms, you could call them," she said.
It's not just Apple that has pushed some of its data farming into western North Carolina. Google has a data center in Lenoir, and Facebook has set up shop in Forest City.
Smith said her research has pointed her to some of the environmental reasons for tech giants like Apple, Google and Facebook to have operations here. Water, which is needed for cooling machinery, is abundant, and solar energy is a fast-growing endeavor in the southeast, Smith said.
It's not just that. Lots of the materials needed for things like cellphones and computers are mined in the area, like lithium and quartz.
Smith's project goes beyond that.
"I think the bigger question about this film project and art project in general is these things [the Cloud] can seem so abstract and distant from us, but then how does all of that then come and affect the local land, place and people … that live in this place," Smith said.
She's hoping to answer that question through interviews with local citizens, artists and entrepreneurs in the film she's working on.
The project also is a bit speculative, looking into the future of continued data mining and what kind of impacts data could have on people's lives. Smith talked about predictive policing, where data is used to predict who will commit crimes before they happen. San Francisco banned the practice in May, according to CNBC.
"I think there's a lot of interesting questions," Smith said. "You have to kind of think into the future … maybe it's not bothering us now, but if we don't put things into place or we're not aware of how we're working with machines or [artificial intelligence], then what does that mean in the future?"
Morganton has a front row seat for all of the changes the data scene is bringing to the world.
"I think it's cool that right here, in Morganton, we have the minerals and the data farms," Smith said. "But so many people don't think about the physical internet being right here."
Some of Smith's project will be incorporated into an interactive exhibit in the Spinning Mill building at Drexel/Alpine Cotton Mill Number 7 on Saturday from 6-9 p.m.
The film won't be debuting in its entirety yet, with Smith hoping for a premiere date sometime next year. She said she expects to come back to Morganton.
Smith also will participate in Thursday's art crawl, with a booth set up outside the Burke Arts Council near the mural on the Old Courthouse lawn from 5-8:30 p.m.
Southern Devices has been supported by Elsewhere, the North Carolina Arts Council, National Endowment for the Arts and the Burke Arts Council. Visit www.southerndevices.com for more information.