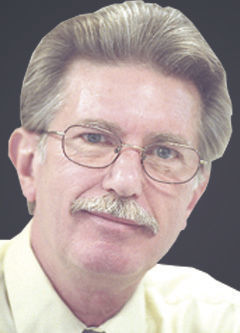 I like to make up new verses for songs. All my life, as people like to say. A song pops into my head, and I start singing to myself. Often, I'll find myself working to the song's tempo.
I sing and add verses a lot in these days of self-quarantine. Most are nonsense, just private fun moments. The lyrics are soon forgotten. Those that are a little better than the norm, stick with me.
The other day, I was humming while undertaking one of the many tasks necessary to preserve home and hearth (and lawn). For whatever reason, I started singing "This train is bound for glory," a very old spiritual that has many versions.
The one I'm most familiar with is by Woody Guthrie.
"This train is bound for glory, this train. This train is bound for glory, this train.
"This train is bound for glory, don't carry nothing but the righteous and the holy.
"This train is bound for glory, this train."
Guthrie adapted the song to express his disdain for people he considered a pestilence on humanity, such as con men and "big shot ramblers."
I actually came up with a verse I don't mind sharing.
"This train don't carry pretenders, this train. This train don't carry pretenders, this train.
"This train don't carry pretenders, no false-god prophets, no part-time believers.
"This train don't carry pretenders, this train."
Could be somebody has already come up with this, but I think it's pertinent. Our society has far too many pretenders and part-time believers for its own good. False-god prophets is another theme altogether.
The aftermath of the killing of George Floyd has produced many pretenders and part-time believers.
There are pretenders in our midst that use righteous protests to spawn needless violence and add to racial and social divisions to elevate their influence. Not everybody marching in demonstrations are committed to the cause, as we have seen.
They're there to give peaceful protests and calls for justice bad names. There is a lot of power and influence — and false credibility — to be gained by ensuring violence overshadows a just cause. They want to widen rifts, not close them.
We have never found a way to keep pretenders and predators out of our society. They manage to infiltrate schools, churches, businesses, hospitals and — yes — law enforcement.
There is no way the deaths of George Floyd, Ahmaud Arbery and Breonna Taylor are justified. I'm still upset over the killing of Trayvon Martin. Senseless deaths that cross and intertwine racial lines are reasons for action.
I'm not in favor of defunding or abolishing police forces. I've known a lot of law officers and court officials, and the bad apples I met are few. I can say the same for most of the people I've met, regardless of race. I've also learned it takes only a few villains to sidetrack the best intentions.
I grew up when racial slurs were common. My experiences have not paralleled the racist trash spouted by haters. When you work with law enforcement, the courts, government and the public in general, you discover bad people are much the same and good people are abundant.
Good people are not pretenders or part-time believers, and they detest the pestilence brought about by those who are. They want to purge the predators from all aspects of society and our institutions.
I should say here that if you want to improve relationships and the delivery of justice, try community policing. It works. We in the Hickory area know it works.
Like every societal endeavor, it is a work in progress — with emphasis on progress.
Don't forget that we usually don't recognize pretenders, predators and part-time believers until they strike. They're good at being who they are. They say all the right things, pass all the tests, and congratulate themselves for gaining positions where they can inflict their damage.
Weeding them out before they act is difficult. So, we must ensure they know they will be held accountable, and we must be committed to making a workable system perform as intended. We cannot share power with those who divide us or anyone who makes a mockery of peace, goodwill and justice.
Only "We, the people" — with our collective wisdom and ideals — can keep this train called the United States of America on track and bound for glory.
Be the first to know
Get local news delivered to your inbox!