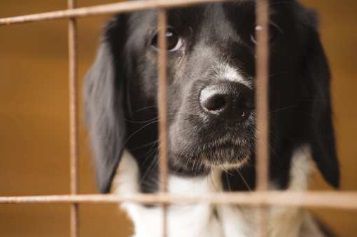 Burke County commissioners voted 4-1 Tuesday to amend an ordinance that will allow animal enforcement officers to obtain warrants to investigate animal cruelty cases.
Commissioner Maynard Taylor was the only commissioner who voted against the measure.
The amended ordinance section allows animal enforcement, who are not sworn officers, to "obtain administrative search and inspection warrants and conduct other lawful searches and inspections" as permitted by state law, if the owner doesn't give consent to search the premises.
The ordinance amendment is nearly identical to the city of Morganton's code, according to information from the county. Rowan County, as well as Davidson and Orange counties have similar language in their codes that allow non-sworn animal enforcement officers to get administrative search warrants, the information says.
Taylor asked if animal services can, for instance, come on his property while he's not there and seize an animal. He said if they can, that's an over-reach of power.
Commissioner Chairman Jeff Brittain asked J.R. Simpson, the county attorney, to answer Taylor's question.
Simpson said they can if animal enforcement officers can see from a public road that an animal is dying and believes the animal will die if not immediately helped. They also have that power under the Fourth Amendment of the U.S. Constitution, he said. It has to be an imminent danger to animal or human life, Simpson said.
The amendment defines imminent hazard (danger) as "a situation causing immediate threat of death to humans or animals, an immediate threat of serious bodily or injury or an immediate threat of serious adverse health effects to humans or animals if no immediate action is taken."
Simpson said if the owner is not at home, and there are no immediate circumstances (dangers), then animal enforcement officers are required to get a warrant to come on the property. He said in 99% of the cases, animal enforcement would have to get a warrant.