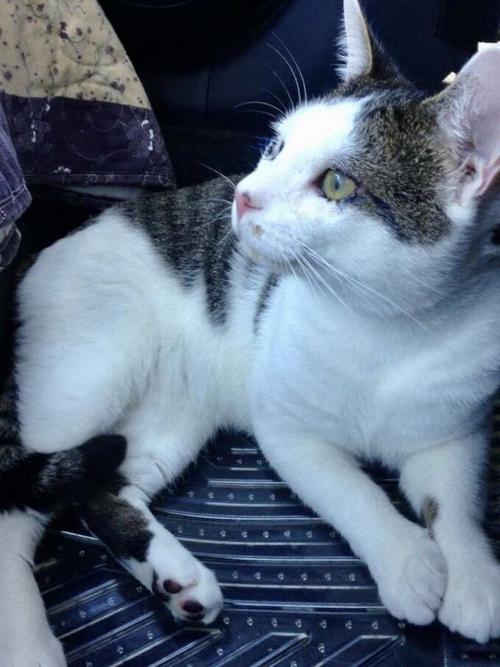 The local nonprofit cat rescue organization, The Cats' Cradle, celebrated its 20th year anniversary in 2019. Founder and Director Lynda Garibaldi expected to have a brick and mortar adoption center and cat sanctuary within five years and now, 21 years later and still without a center, hopes that her legacy of cat rescue and activism will soon include that reality.
"We are looking for land," says Garibaldi, "and talking to a designer. Then we hope to start a capital campaign. The need is great. While we currently operate well with cats and kittens housed at foster homes and shown at our local Petsmart (Morganton and Hickory), we are often limited by our fosters being filled to capacity and the inability for potential adopters to spend time with and visit our multitude of available cats and kittens.
"We foresee a cat adoption center and sanctuary as a wonderful destination, a delight to volunteers, visiting humans, and the cats that are housed there, a place where even shy cats can thrive. We envision a cage-free indoor and enclosed outdoor environment for the cats and, ideally, an onsite clinic for veterinarian care including spay/neuter, and even a gift shop."
Having moved her young family from Rochester, N.Y., to Morganton in the 1980s, Garibaldi was inundated right away with stray cats in her neighborhood, many of whom chose her home to have their kittens. In her first six years here, 20 cats showed up to join her existing four. She decided she must act. At a time when there was no organized animal rescues here, other than a branch of Western Piedmont Humane Society, Garibaldi began working with a few individuals to help cats and kittens which, ultimately, led to the formation of a local animal rescue organization in 1997. In 1998, she attended the second annual no-kill animal conference and, in 1999, visited Best Friend Animal Sanctuary in Utah where she got to see, in action, the no-kill rescue and sanctuary that she dreamed of bringing to Morganton. In 1999, she founded The Cats' Cradle with the mission to bring about a time when no more abused or abandoned cats will be destroyed.
Since its inception, The Cats' Cradle has helped more than 5,000 cats and kittens. Main goals are to rescue, shelter, and find homes for homeless cats, provide spay/neuter, vaccinations, and medical treatment, and help the community respond to cats with compassion. The Cats' Cradle has helped in many a dire situation -- cats and kittens left in filthy, unsanitary conditions, cats losing their homes due to owner's deaths, evictions, or domestic abuse, severely injured or sick cats, and way too many abandoned cats and kittens to mention. The Cats' Cradle is a nonprofit dependent upon donations and grants and receives no permanent funding.
"Our fosters are so compassionate, and we all have a hard time saying no," says Garibaldi, "and often we hesitate to ask for a donation from the members of the public we are helping. Yet each one of the cats we take in is fully vaccinated, treated for fleas and parasites, and spayed or neutered. In addition, we have many special need cats and kittens that require great expense."
Garibaldi described some instances of special needs cats.
"Just recently, we got a call from a woman who had rescued Samson, a large black and white cat. Samson was in great discomfort due to injured eyes," she said.
It was determined that only surgery would help. The Cats' Cradle helped to raise money and, thankfully, Samson is happy and well.
"We have paralyzed kitties, blind cats, kittens born with spinal bifida or other maladies. Funding to take care of these cats has always been a challenge and remains so currently. We get numerous ongoing, daily requests to take in cats and many requests from the public to help their own or stray cats with medical treatment."
She said it's an ongoing effort to find enough fosters to help.
"While we have many dedicated foster caregivers, we never have enough to meet the demand," she said. "We take in as many cats as we can with the foster homes and the funds available and we help the public with veterinary treatment for cats in their care as long as we have the funds. The two main challenges that are constant are the need for foster caregivers and funds."
Asked about the future, Garibaldi said she hopes to partner with other organizations to accomplish saving more animals' lives.
"Now that we have a county animal services staff that does everything possible to save lives, we would like to see further partnership among rescues to prevent pain, suffering and death of cats and dogs," she said. "Low-cost spay/neuter is the solution to prevent unwanted litters and suffering. For cats, this must include TNR (Trap/Neuter/Release) of stray and feral cats so that they can live out their lives in good health, peace, and safety.