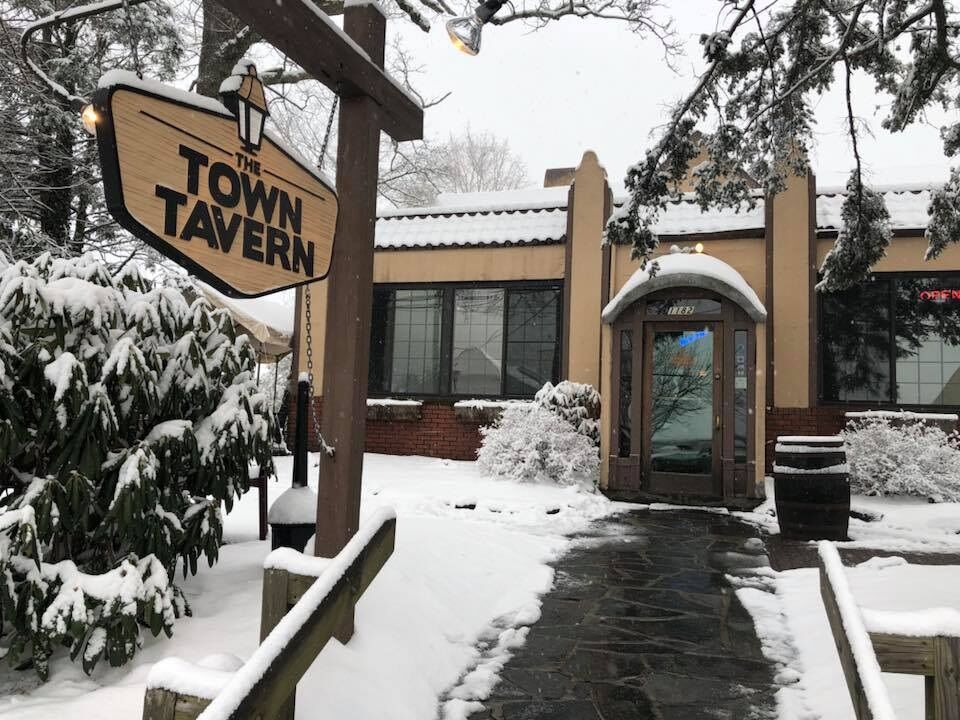 An Appalachian State football game on TV, a juicy cheeseburger and a comfortable atmosphere comprise Town Tavern's idea of a perfect Saturday.
And pretty soon, it won't be limited to customers in Blowing Rock.
The business that started with Boone's River Street Ale House in 2009 and grew to include the aforementioned location in Blowing Rock in 2013 is expanding again to include Town Tavern of Morganton later this fall, likely opening between late September and mid-October.
The sports bar and restaurant will occupy the former Friday Friends location at 315 Sanford Drive in Morganton's River Village shopping center on the Catawba River, setting up shop in the building that has experienced a short vacancy since that eatery closed in April.
"We're doing a complete remodel of the inside of the old Friday Friends," said Town Tavern co-owner Justin Davis. "We're going to give it a face lift and try to open it up some. We're going to do more live music out there and have more of a destination restaurant like the Town Tavern in Blowing Rock.
"We're going to bring the three things that stand out for the Tavern in Blowing Rock and the Ale House in Boone. Our three big things are customer service, good food and a clean, nice environment. That's kind of our thing. It's about ambience and a healthy atmosphere."
Davis said Town Tavern was drawn to the location due to its riverfront setting and large patio and to Morganton in part due to some already-loyal customers who travel to Blowing Rock.
"We have a lot of people who drive from Morganton already and come to Blowing Rock and Boone to come to our restaurants," he said. "We've had a lot of folks reach out to us and tell us they're excited about us coming. We're one of their favorite restaurants and they're glad we're coming to Morganton.
"That's made us feel really good about coming there. It gives us a certain comfort level that we think we're going to be a good fit for the town and maybe be something the town has needed. We definitely wanted to expand and take the show on the road, so to speak. We have a huge following from people in the area like Lenoir, Morganton, Hickory and everything in between. It just leads us to believe there's a niche out there for us off the hill."
Davis said Morganton's Tavern will have more tables and televisions — about 40 flat-screens in total — than Blowing Rock due to the available space in the new restaurant.
"That'll make it a good environment to catch a game," Davis said. "We're all ASU grads, so we'll try to implement a big App State aspect into it. You'll definitely feel like you're in a hometown bar. We're definitely geared for locals and regulars and we look forward to catering to the different dynamic of folks like we do in Blowing Rock and Boone from students to young professionals to parents to grandparents.
"It's a good atmosphere to come get some quality food at a decent price."
As for that menu, it will be nearly the same as that for Blowing Rock, which is broken down into wings, salads, pub fare, nachos, soups, wraps, specialties, chicken tenders, burgers, sandwiches, a kids' menu, sides, beverages, desserts and beers.
Some of the highlights throughout those options include bone-in or boneless wings, sliders, a Philly cheesesteak, a bourbon burger, a crab cake sandwich, a Cuban sandwich, a buffalo chicken wrap, tacos, hot dogs and a beer variety that includes domestic bottles and draft, imports and craft, including regionally brewed options.
"We may put a little spin on some of the items and have kind of a test kitchen to see if some of the new items work or not," Davis said. "It's traditional Americana-type food. There's something for everybody."
Davis said the restaurant is looking to hire for about 60 positions, including cooks, servers, hosts, bussers and bartenders. The best way to inquire about employment with Town Tavern of Morganton is to message the Town Tavern Blowing Rock Facebook page. After the restaurant establishes a social media presence for the Morganton store, those looking for work can go through that channel.
"We're excited to be a part of the community," Davis said. "We're looking forward to everything from helping sponsor local organizations to helping a local softball team or Little League baseball team.
"We're looking to not just come in and move and set up shop in the community, we're looking to be part of the community. That's kind of our thing. We're only as good as the people around us, so we're coming and hoping we can be a good place to visit and make an impact on people around us."