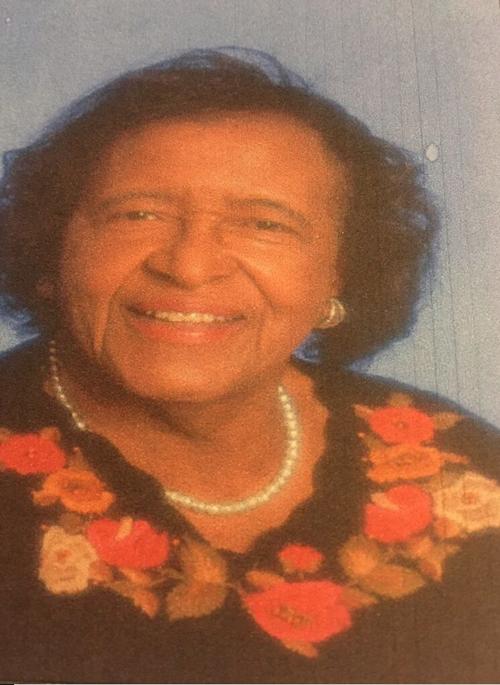 I got a call from local resident Venus Mathes, who said The News Herald should not end its celebration of Black History Month without featuring her mother, the late Essie Thomas, known as "The Chicken Pie Lady."
Mathes sent me several News Herald articles written about her mother over the years. As I read them, I discovered she had a great impact on the community.
Essie Thomas was born on Dec. 19, 1926, in Rutherford County. An article written by Richard Morgan said her father was a tenant farmer, so she would pick cotton and take water to workers in the field when she was growing up. She dropped out of school early to work in people's homes to help support her family.
She moved to Morganton in 1944 when she was 17 because her sister owned a restaurant here, and she married Preston Thomas when she was 19. The couple had six children. They later separated, leaving Essie to raise the children by herself.
Essie worked as a housekeeper and cook for nine years at the North Carolina School for the Deaf and for 17 years at Broughton Hospital, according to her obituary. She got a job as an assistant dietitian and housekeeper at First Presbyterian Church of Morganton in 1976 and stayed for 20 years.
Donna Benner, a member of First Presbyterian, volunteered in the church's kitchen and worked with Essie.
"When we had our meals on Wednesdays, she would 'allow' me to come in and help her and learn how to use 'the big stove,' as she called it," Benner said. "She shared with me common sense knowledge of cooking and how you should taste things as you go.
"She would try and teach me how to do her biscuits. She'd say, 'You've got to use shortening in here – you can't use anything else.' She always made the biscuits in this one special bowl she had – she called it her biscuit bowl. And if somebody came in to borrow that just to put ice in and carry it out, she had a fit. (They were) the fluffiest biscuits you ever ate, and she used the same dough on her chicken pies. Her chicken pot pies were the best, and she showed me how to make them. She said, 'I can't give you all my secrets, but this is what you do.' One time, she shared with me that her secret ingredient was love.
"She always had a story to tell about what she was cooking – how her family members or her Maw-Maw had taught her how to do things. She was such a special woman. Everybody loved her, and I miss her tremendously."
While working at FPC and taking care of her family, Essie went back to school and earned a GED from Western Piedmont Community College in 1981. She received a certificate of recognition at Level 2 in the Adult Basic Program from WPCC.
She started a catering business in the mid-1980s.
"She was called 'The Chicken Pie Lady' or 'The Cooking Lady,'" Mathes said. "She had people that would call and order pies, and we would deliver them, or they would pick them up. She did catering for a lot of the most important people in the county— dinners, weddings, family reunions and such."
She catered events at the Morganton Community House and the Collett Street Recreation Center. Mathes said Essie often cooked for the Black History Month festivals held in Morganton by the Burke County branch of the NAACP. She was a member of the organization.
Essie also was active in her church, Mt. Herman AME Church of Morganton, where she served as a steward, treasurer, president of the Ladies' Aid Club and member of the Missionary Society.
She used her reputation as "The Chicken Pie Lady" to promote numerous fundraisers she organized for charitable organizations and causes, such as the Good Samaritan Clinic, her church, victims of Hurricane Katrina and flood victims in eastern North Carolina. One article reported that Essie raised thousands of dollars for the Burke Mission Station by selling chicken pies.
"Thomas has also been involved in individual cases of many who were in need of the necessities of life," one article read. "She cooks and has baked food to be taken to families who suffer losses."
The Morganton Human Relations Commission presented Essie with a citizenship award for her many contributions to the community in 2013, according to Cecelia Surratt, former chair of the commission.
Essie died on Aug. 29, 2017. The articles gave me glimpses into her personality:
"Essie was a classy lady who really loved hats of many styles and colors," her obituary reads. "She loved to travel. She went on many cruises and trips. But her number-one love was for God, her children and family, and also cooking. Our Christmas gift from her was fixing Christmas dinner for us at her house every year."
"Essie is known for her sense of humor, a love for family, friends and church," a friend said in one of the articles. "She has a big heart and is always looking for somewhere to offer her help where needed."
"She is a living example of faith and courage," Richard Morgan wrote.
When asked to describe the legacy her mother left in the community, Mathes quoted one of Essie's favorite Bible verses, John 9:4: "I must work the works of him who sent me while it is day, because the night is coming when no one can work."
"To wrap it up in one word, it would be generosity," Mathes said. "Her heart's desire was to always do for others."
The lesson I took from her life is that you don't have to have a lot of money, multiple degrees or a high-powered position in order to make a difference in the world. We've featured a lot of people for Black History Month who have achieved amazing things and are considered to be "movers-and-shakers," but Essie had a powerful impact on those around her simply by showing up to her kitchen and freely sharing all the love and skill she had to give. Her legacy is the inspiration to each of us to do the same with the talents we've been given.
Tammie Gercken is a staff writer at The News Herald and a member of the Morganton Writers' Group.