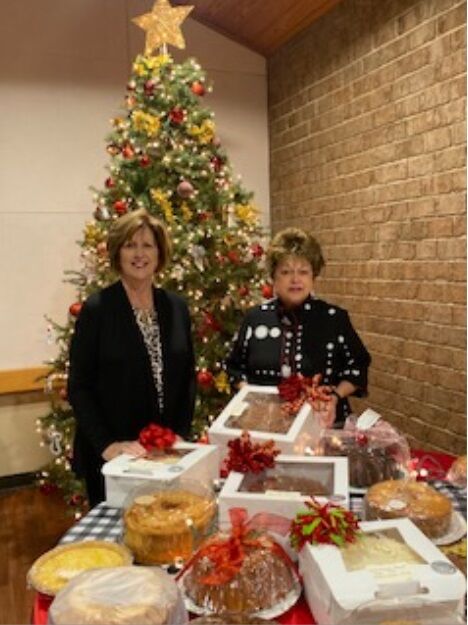 This weekend, a local church is planning an event that will feed the community's sweet tooth and support local ministries and nonprofit agencies at the same time.
North Morganton United Methodist Church will hold a drive-thru bake sale from 11 a.m. to 3 p.m. Monday, Nov. 23 at the church's parking lot at 990 Sanford Drive in Morganton.
The event will replace the church's annual Christmas bazaar, which has been canceled due to concerns related to COVID-19, said the event's organizer, Ruth Duckworth.
"This is our only fundraiser this year," she explained. "Usually, we have a bazaar, but because of COVID, it's not going to be able to happen."
Duckworth said clipboards with a list of available items will be given to drivers when they arrive at the parking lot. Customers will be able to write down their orders without leaving their vehicles, and volunteers will fill them. Volunteers will take all of the recommended precautions, including wearing masks, social distancing and frequent hand washing and sanitizing to avoid spreading the virus.
"We're going to make sure it's safe," she said. "Everyone will be safe in their cars, and we'll hand everything through the window. We'll have masks on, and we hope the drivers will have masks on also."
Many offerings
The church will have a large variety of baked goods available at the event.
"We have all kinds of pound cake, rum pound cake, coconut cake, pumpkin rolls, apple pies, cherry pies, pumpkin pies, pecan pies cookies, biscotti chocolate pie, sweet potato pies and old-fashioned stained-glass candy," Duckworth said.
In addition to desserts, organizers also plan to offer homemade jellies, jams, apple butter, homemade caramel popcorn and homemade pimento cheese. Duckworth said several of their most popular sellers from previous years such as Brownstone cake, professionally decorated cookies, homemade fudge and New York-style cheesecake also will be available.
"We're known for our baking," she said. "We have a lot of wonderful cooks and bakers in our church."
Proceeds will benefit local charities and nonprofit agencies.
"We do a lot of charity work for the community," Duckworth said. "This is our only fundraiser this year due to the virus."
Duckworth said all of the proceeds would stay in Burke County and be divided between three local agencies: Mimosa Christian Counseling Center, Options Inc. and Burke Hospice and Palliative Care. Event organizers chose to support those charities because of the unique challenges brought on by COVID-19. Duckworth said that due to COVID-19 and stay-at-home orders, there is an increased need for mental health, health care and domestic violence prevention services this year, and North Morganton United Methodist wanted to focus their efforts on those areas.
"In the past, we've also helped The Meeting Place, The House of Refuge and several others," she said. "Hopefully, next year, we'll have the bazaar, and we'll be able to help all of the charities. That's what we're aiming for."
Boost to morale
All of the bake sale items will be made by church members. Duckworth believes that, in addition to benefiting the community, this bake sale also will be a huge morale boost for many of the people of the church, many of whom have had few opportunities to socialize since March.
"Our ladies are excited about the fact that they're back into baking and doing something," she said. "We've all been sitting around for so long, and I think finally being able to do something for someone has really helped the women in the church."
For information, call the church at 828-437-3852.
Get local news delivered to your inbox!
Subscribe to our Daily Headlines newsletter.