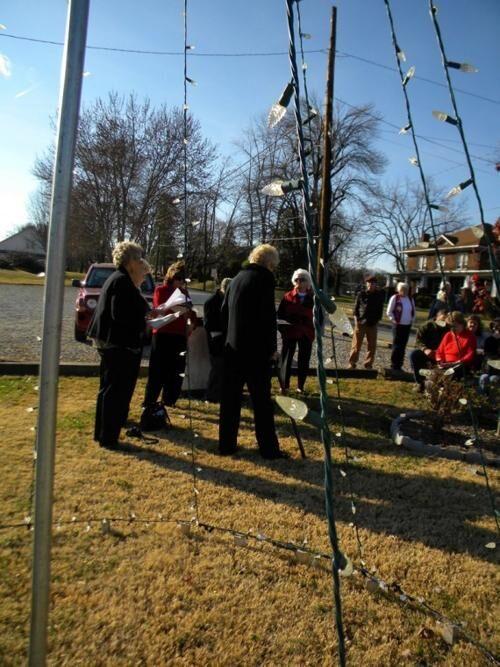 The Glen Alpine Women's Club will hold its annual memorial tree lighting at 4 p.m. today next to the bandstand in the heart of downtown Glen Alpine. The event will include the reading of memorial names and the lighting of the tree. Deacon Bobby Johnson from Chambers Chapel Missionary Baptist Church will share a Christmas-themed memorial message.
The 2020 memorial tree names are:
Lorraine Abdullah, Christine Abernathy, Henry Abernathy, Nelson Abernathy, Dr. Calvin Acuff, JoAnn Acuff, Gerald Alexander, G.P. Anderson, Oree Anderson, Lucy Angel, Gladys Avery, Maggie Avery, Hester Alexander, Robert Alexander, Robert Alexander, Tyron Alexander, Vernon Alexander, Victor Alexander, Jessie Arney, Jody Arney, Annie Avery, James Edward Avery, James Maurice Avery, Mary Crisp Avery, Mason Avery, Nannie May Avery, Napolean Avery, Phillip Avery, Robbie Avery, Francis Barrett, Gene Barrett, Lennis D. Benfield, Robert Paul Benfield, Christine Crisp Boney, Joe Boney, Linda Boney, Donna Francis Bristol, Robert Bryant, Martin Burns, Jennie Byers, Avery Thomas Caldwell, Corean Crisp Caldwell, Donald Caldwell, Ernest Caldwell, Mary Caldwell, Raphael Caldwell, Willis Caldwell, Charlie E. Carlton, Naomi Carlton, Alvin Carpenter, Alvin Carpenter Jr., Columbus Carpenter Sr., Columbus Carpenter Jr., Josephine Garrison Carpenter, Lawrence Carpenter, Odie Carpenter, Pamela Carpenter, Pansy Moore Carpenter, Wanetta Carpenter, Dorothy Carroll, Charles Carter, Lucille Chambers, Paul Chambers, Dan Chapman, Patsy Chapman, William Chapman, Glenn Childres, Bud Clark, Ruth Clark, Ruth Clontz, Marlene Collins, Nettie Shade Conley, Shirley Cook, Ruth Cooper, Wilson A. Cooper, Andre Cornwell, Anne Corpening, Bessie Corpening, Hattie Mae Corpening, Ivory Corpening, Phifer Corpening, Ola Tate Corpening, Wineford Corpening Sr., Tom Corpening, Helen Craft, James Craft, John Henry Craft, Johnny "Acorn" Craft, Willie Craft, Alfred Crisp Sr., Alfred Crisp Jr., Alice Grier Crisp, David Crisp, Essie Crisp, Keith Crisp, Laura Ann Crisp, Vera Crisp, William Crisp, William A. Crisp, Jeff Cuthbertson, Ola Mae Cuthbertson, Regina Cuthbertson, Charles Edward Davis, Irene Hamilton Davis, Roger Dean Sr., Roger Dean Jr., Margaret Tate Deck, Vera Duboyd, Robert L. Duckworth, Joe Dula, Herman Dula, Hilda Dula, Addie Mae Ervin, James Ervin, Debra Fleming, Esther Avery Fleming, Bessie Fleming, James W. Fleming, Majorie Fleming, Rhonda Fleming, Russell Fleming, William Fleming, Chance Francis, James "Shay" Francis, Jesse Young Francis Sr., Jessie Francis Jr., Katie Thomas Francis, Mary Sue Francis, Otis "Curley" Francis, Troy Francis, Hattie Gantt, Harve Graham, Hettie Graham, Willie Mae Green, Caroline Greer, Charlie Mae Greer, Glenn Greer, Jim Greer, Margaret Greer, Laura Caldwell Hamilton, Susan Hendrix, Susan E. Hendrix, Maggie Hunter, Ona Mae Hice, Ralph Hice, Chris Hicks, Clara Gantt James, Edward James, Marie Jaynes, Adelaide Johnson, the Rev. Eddie Johnson, Eddie Johnson Jr., Edward Johnson, Jerry Johnson, Nellie Surratt Johnson, Ophelia Johnson, Richard Johnson Sr., Virgil Lee Johnson, Derek Jones, Betty Kincaid, James O. Kincaid, George King, Orlene King, Richard King, Ronnie King, Patricia J. Knight, C.V. LaFevers, Iris LaFevers, Simpson LaFevers, Virgil LaFevers, Brenda LaLonde, John Lamberth, Luberta Lamberth, John Lewis, Keenan Lucas, Earl Lytle, Herman Lytle, Luzella Lytle, Ruth Lytle, Sadie Lytle, Sadie O. Lytle, Thomas Lytle Sr., Ernest Maloney, Velma Maloney, Amanda March, Everett March Sr., Everett March Jr., Florence March, Johnny March, Joyce March, Louise March, Novilla March, Rufus March, Edward Mathies, Francis Corpening Mathies, Garfield Mathies, Kathy Mattox, June McClellan, Celia McElrath, Rachael Bryant McElrath, William Bill McElrath, Shon McGee, Sonny McLwaine, Marilyn Meekins, Nana H. Melton, Lenora Memmel, Annette Moore, Bill O'Neil, Cordie O'Neil, Ed O'Neil, Harold O'Neil, Laura O'Neil, Lillie O'Neil, Louis O'Neil, Louis O'Neil Jr., Rosebud O'Neil, Will O'Neil, Harrison Orders, Martha Orders, Dorothy Owens, Leroy Owens, Easter Patton, Alice Peterson, Donald Peterson, James Harriett Peterson, Laura Peterson, Mary Peterson, Daecher Pinson, Herman Pinson, John Pinson, Maggie Lee Pinson, Pearline Pinson, Paul Powell, Bill Pyatt, Agnes Rankin, Cordossius Rice, Vera Rice, Dee Richard, Barbara Tate Rose, Bobby G. Rutherford, Douglas Rutherford, Edna Rutherford, Gina Rutherford, Hattie Rutherford, James Rutherford Jr., Johnny Rutherford, Keith Rutherford, Lucille Rutherford, Lucille L. Rutherford, Maxine F. Rutherford, Michael Rutherford, William Rutherford, William B. Rutherford, Charlotte E. Sabb, Ada Scott, Artie Scott, Buck Scott, Cathy Scott, Frank Scott, Lucy Scott, Randy Scott, Raymond Scott Jr., Ryan Scott, Shannon Scott, Tommy Scott, Barry Shade, Devin Shade, Lillian Shade, Linda Shade, Mary Susie Summers Shade, Mollie Shade, Rufus Shade, Troy Shade, Fredrica Crisp Shade, Darius Silver, Eddie Simpson, Edgar Simpson, Trudy Simpson, Bernice Probst Summers, Clifton Summers,"Cocomo" Summers, Billie Joe Surratt, Charles E. Surratt Sr., Charles Surratt Jr., Terrance Surratt, Ethel Tate, Johnson Tate, Lynn Tate, Naomi Tate, Mae Taylor, Harper Thayer, Ernest Thomas, Ruth Thomas, Kenneth Thombs, Lillian Thombs, Rose Underwood, Henry Underwood, Brenda Wallace, Fred "Bub" Wallace, Josephine Wallace, Hannah Warren, Louise Watts, Linda Whisnant, Estella Crisp Williams, Ila Williams, Paul A. Williams.
Graham Anderson, Graham Anderson, Kenneth Anderson, Lynn Withers Anderson, Sarah Anderson, Sylvia Anderson, Lindsay Duckworth Blalock, Isaiah Blalock, Louana Duckworth-Cooper, Candi Duckworth, Dakota Duckworth, Douglas A. Duckworth, Greg Duckworth, Gregory P. Duckworth, Janice Dale Duckworth, Margaret Duckworth, Rhett Duckworth, Jennifer Francis, Jessie Francis III, Jordan T. Francis, Peggy Francis, Merieta Garner, Krista Honeycutt, Melanie D. Honeycutt, Robert Wesley Honeycutt, Troy Honeycutt, Tina Kelly, Carl Memmel.