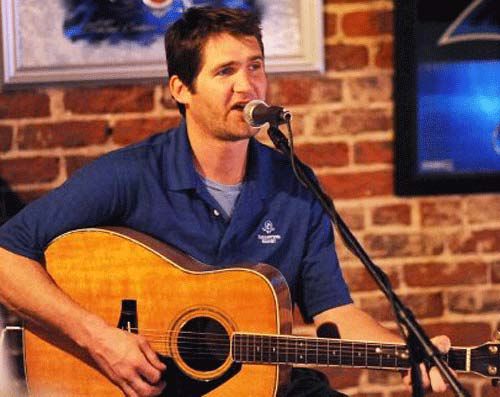 Catawba Brewing Co. will be hosting the inaugural Chris Cates Celebration honoring the local musician who passed away on Feb. 9.
The event will take place at Catawba Brewing Co. from 6-9 p.m. Wednesday and all proceeds will go to Burke County Public Schools elementary music programs.
Jim Cates, father of Chris Cates, is honored that so many members of the community are willing to host an event in honor of his son.
"His drummer's wife Tricia Peeler is putting together this event on Wednesday night at the brewery," Jim said. "The brewery decided to donate two Farmer Ted's kegs of beer and all the proceeds from that will go to the Burke County elementary school programs in the name of Christ Cates, my son."
Chris Cates was from Burke County and was well-known throughout the community for his love of music. Before he passed, he resided in Atlanta, Georgia, with his twin 6-year-old daughters.
"My wife died on Saturday, Feb. 6. My 46-year-old son [Chris] came up from Atlanta on that Wednesday. On Tuesday morning, we were going to get up and drive to Atlanta to get his little twin daughters that are 6-years-old and bring them back for my wife's funeral that Friday. He died in my condo right here on Feb. 9, three days later.
"He had a slightly enlarged heart and had some fluid in his lungs."
Chris Cates was an avid musician and had a passion for creating music.
"Christopher graduated from Appalachian State University with a major in English and a minor in music," Jim said. "He was a really prolific songwriter and about eight or nine years ago he wrote an original song every day for 365 days. That's why he has a bunch of albums.
"I have to go down to Atlanta and get some of his equipment. He has about 20 guitars, three or four mandolins and about four or five ukuleles. The keyboards and all that stuff are also down in his house in Atlanta."
There have been other outlets created by friends and family members to honor Chris Cates and his passion for music. A scholarship fund has been created in honor of him to raise money for local high school students who want to major in music when they go to college.
"Right now we have right at $2,000 raised for a scholarship fund in his name," Jim said. "It is going to be for high school music majors going off to college. It's the Chris Cates Music Scholarship Fund."
According to Jim Cates, money for the scholarship fund can be sent to 152 Saint Mary's Church Road in Morganton. All checks can be written to the Chris Cates Music Scholarship Fund. Chris' brother Bryan Cates will be holding the money until a committee is formed to decide how the money will be distributed.
"We're waiting to get enough money to make a difference to these students," Jim said.
Ashley Bunner, general manger at Catawba Brewing Co., has played a large role in the organization of the Chris Cates Celebration.
"Catawba Brewing has hosted a Jim Cates Birthday Benefit for the past 10 years to raise money for Options and the House of Refuge," said Bunner. "Chris Cates and his band 'The Masterplan' played at the event for years.
"Tricia Peeler, a good friend of Chris Cates, approached Catawba Brewing Co. in March about having a memorial for him. His birthday is Wednesday, May 12 so we decided that's the perfect day to host an event to honor him and his music."
Along with the Chris Cates Celebration event being held at CBC, another event at Fonta Flora is in the process of being planned for sometime in August by Chris Singleton, Chris Cates' former bass player and Jason Peeler, his former drummer.
Chris Cates influenced many people in his life through his music. He was loved and admired by many, including his family.
"He was just such a good kid that everybody wants to honor him," Jim said.