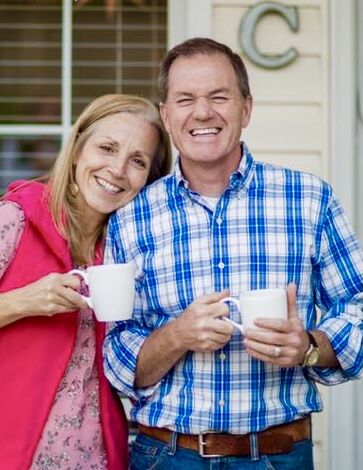 Mount Home Baptist Church in Morganton welcomed Winston-Salem native the Rev. John Conrad as its new minister of music in January.
Conrad, a Southwestern Baptist Theological Seminary graduate, has served in music ministry in several churches throughout the Southeast since 1983. For the last 23 years, he served as the associate pastor of music and missions at New Hope Baptist Church in Fayetteville, Georgia.
During his last several months in Georgia, Conrad said he began to feel that it might be time for them to move back closer to home.
"Mount Home was looking for a minister of music," Conrad said. "We connected with the search committee and began to talk over a period of several months. It just began to seem like the Lord was knitting our hearts together."
Mount Home invited Conrad to lead the choir and preach a message during their Sunday morning service Nov. 22. The following Sunday, the members voted to extend an offer to become their music minister.
Conrad said he and his wife, Donna, were excited about the opportunity to move back and be closer to family.
"We still have family in North Carolina, so it is a blessing to be back," he said. "We love all things North Carolina. We've always been Tar Heels at heart."
Conrad was born in Forsyth County and reared in the Moravian Church. While studying to be a teacher at Appalachian State University, he met Donna. After graduation, the couple married and settled in Lenoir. Conrad taught band in Yancey County, while Donna taught in Lenoir. It was during the daily hour-long commute to Burnsville that Conrad first began sensing a call into music ministry.
Conrad said that one morning while driving to work, he took a detour along the Blue Ridge Parkway.
"I would pray and sing, and that kind of thing while driving," Conrad recalled. "On this particular morning, I felt a pull on my heart. I knew the Lord was wanting to speak to me, but I wasn't sure what he was wanting to say."
Conrad pulled over at one of the overlooks and got out of the car.
"It was a bitterly cold day," he said. "But I just stood there on the side of the overlook, and I yelled out, 'OK, Lord, whatever you want me to do, I will do it.'"
At that point, Conrad said he didn't yet have any clear idea of what direction his life would take, but he still feels that the moment began preparing him for a life of vocational ministry.
About a week later, Conrad received a phone call from a pastor in Virginia asking if he would consider becoming the minister of music at his church. After meeting with him and praying with his wife, Conrad accepted the call to music ministry in 1983 and has worked in that field ever since.
Conrad explained that, over the course of his ministry, one of his priorities has been to encourage congregational participation in the worship and music ministries of the church.
"As the minister of music, I'm excited about leading folks in worship and about folks being able to participate in worship," he said. "It's not so much that I am the worshiper or even the lead worshiper, but I love to facilitate and get other folks involved in worship."
Conrad said he is also a big believer in intergenerational ministry and a major proponent of integrating different instruments and music styles into his music ministry.
"We are all called to and have the privilege of worship," he added.
Starting in a new position during the COVID-19 pandemic has presented a unique challenge to his participatory vision. Conrad is encouraged, however, to see worship services and choir rehearsals beginning to reconvene.
"The COVID numbers have been coming down, and the vaccine has been helping, so we've been able to add back slowly," he said. "I'm excited that folks are beginning to return."
Mount Home's first significant event under Conrad's ministry is its Easter program. According to Conrad, he led a special music and drama program on Palm Sunday and is planning another presentation for Easter Sunday morning. He said he is also excited to be leading singing for an outdoor sunrise on Easter morning.