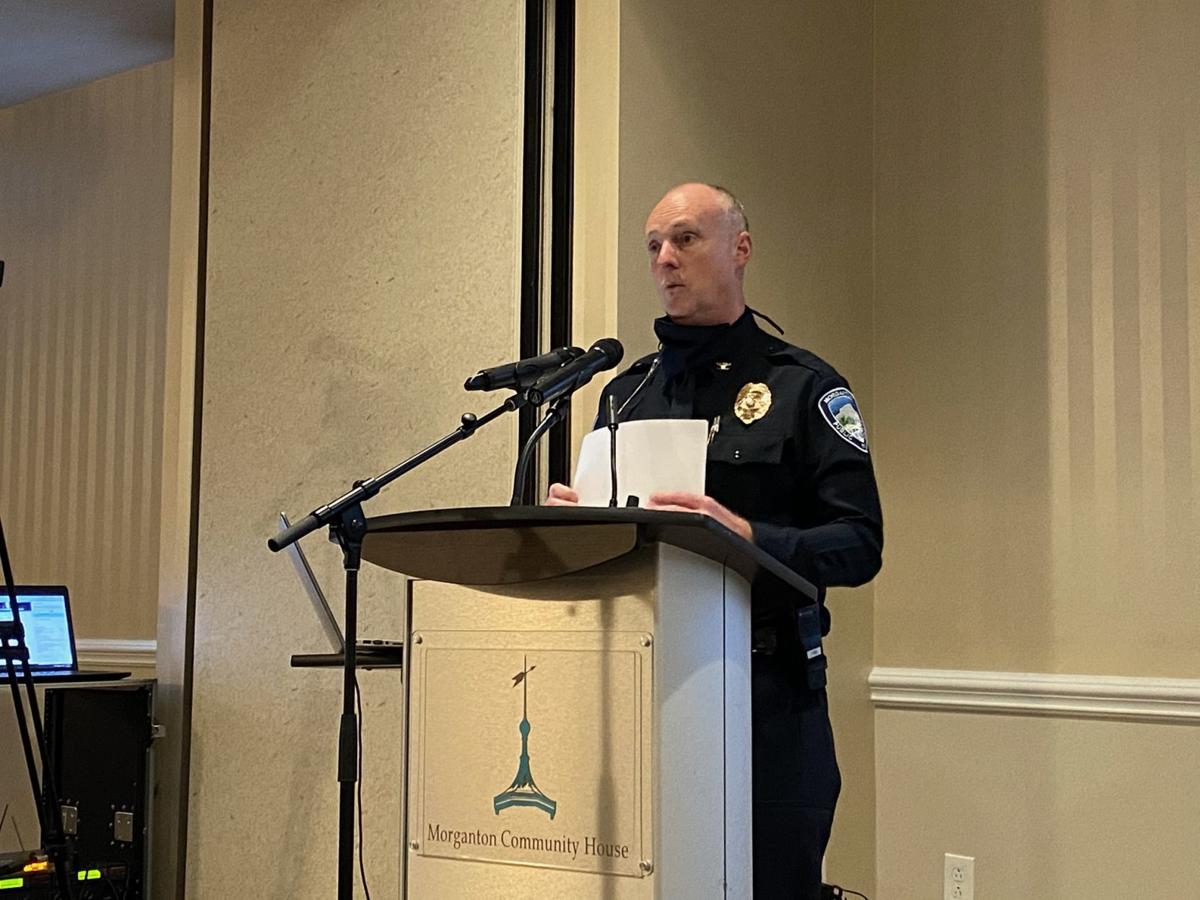 The city of Morganton held a meeting with some community partners Thursday night to discuss racial tensions in the wake of George Floyd's killing on May 25 in Minnesota.
The meeting, which had been planned for before the events on Morganton's Historic Courthouse Square on June 27, came in an effort to review city and municipal organizations' relationships with the community.
Many community leaders were invited to the program, which was facilitated by Dr. Leslie McKesson. The city anticipates having additional meetings and opportunities for dialogue.
McKesson said that she and Mayor Pro Tem Wendy Cato wanted to bring community leaders together to identify problems they felt the city needed to delve into a little more deeply.
They brought together a smaller group of about 14 community leaders about two weeks ago to identify problems the city needed to address, including:
» A lack of diversity in local leadership.
» Members of different racial communities lacking strong relationships with each other.
» A fear of interaction with police among Black people.
» A lack of knowledge about area race-related organizations and how they can help people.
» A lack of public knowledge on various organizations and who people should turn to for specific problems.
The group also developed eight objectives for the city to focus on moving forward:
» The city releasing a statement of anti-racism and inclusivity.
» Creating opportunities for diverse citizens to get to know each other and city leadership.
» Putting diverse people in leadership positions with the city.
» Making community economic development opportunities available to people of color.
» Implementing programs to support Black people and people of color to help them complete certificate programs and degrees at Western Piedmont Community College.
» Expand people's knowledge of and access to the city's Human Relations Commission and the Partnership for Change, a program from the Morganton Department of Public Safety.
» Introduce people to the culture of MDPS.
» Have the Human Relations Commission, Partnership for Change, NAACP and other organizations define their work and identify where they could take collaborative approaches when feasible.
For Thursday's meeting, the larger group of leaders aimed to learn more about the culture of MDPS.
MDPS Chief Tony Lowdermilk spoke at the meeting and gave some statistics about his department's policies and how they match up with the 8 Can't Wait campaign.
He said that the department has policies that mostly match up with seven of the policies: banning chokeholds and strangulations, requiring de-escalation, requiring a warning before shooting, exhausting all other means before shooting, officers having a duty to intervene when they witness wrongdoing, banning shooting at moving vehicles and requiring comprehensive reporting.
The one policy that MDPS does not have is a use of force continuum, which outlines a specific order for each type of force officers use. He said that has proven to be dangerous and gave the example that the type and amount of force necessary for a 5-foot female officer to arrest a 6-foot male suspect would differ from the amount of force necessary for a 6-foot-5-inch male officer trying to arrest the same 6-foot male suspect.
Instead, Lowdermilk said MDPS employs a policy that matches up with case law by stating that the force used should be objectively reasonable. He said that is the standard policy for use of force by officers in the United States.
Lowdermilk also pointed out some statistics on training for his officers: MDPS officers completed 7,072 law enforcement training hours in 2019, covering courses that included crisis intervention, bias-based policing, equality in policing, impacting today's youth and the best practices for officers in community dissent.
Community outreach also is a focus of the department, with 24 different community engagement activities completed in 2019. Those included things like coffee with a cop, the citizens public safety academy and volunteering at the soup kitchen.
Lowdermilk also pointed out some statistics about use of force in the city of Morganton.
In 2019, there were 16 occasions where force was used out of 39,660 calls. So far in 2020, force has been used in 10 calls out of a total of 15,000 calls.
Those uses of force included soft hands, hard hands, pepper spray, using an asp baton and using a Taser. Officers haven't had to use their firearms in 10 years, Lowdermilk said.
Of the 16 uses of force in 2019, force was used against a Black person five times and against a white person 11 times, Lowdermilk said. So far in 2020, force has been used against a Black person two times and against a white person eight times.
Lowdermilk said he attributed the low use of force to extensive training, extensive background checks on officers, oversight and support from city staff.
"I feel good when I go home that my officers are out there doing the right thing and I will continue to believe that," Lowdermilk said.
Someone asked Lowdermilk about psychological evaluations for officers. He said that evaluations are conducted before an officer is hired and anytime there is a critical event that MDPS feels warrants another psychological evaluation. Those evaluations are completed by a third party.
Another person asked Lowdermilk about the overall culture of policing. The man said he observed a basic law enforcement training class once and witnessed instructors drilling home the mantra, "we're going home, we're going home."
He said he felt that it was a warrior mentality, and that it was too aggressive of an approach for everyday police officers to have when interacting with citizens.
MDPS Capt. Jason Whisnant addressed the point and said that he has been instructing and training officers for almost 20 years.
He said there is a culture of a warrior mentality to be able to defend yourself to the point that, in his opinion, it is becoming a training flaw. He said that it's getting better and moving away from the warrior mentality toward more of a social worker mentality.
Whisnant added that he thinks the "we're going home" mentality does put officers on edge because they constantly hear about officer involved shootings and officers being killed in the line of duty.
"That warrior mentality to fight to stay alive is something that does need to, in my professional opinion, get addressed nationally," Whisnant said.
He said for MDPS officers, the city invests a lot of time and money in training to help officers learn how to de-escalate situations without using force so that both the officer and whoever they're dealing with are safe.
"We invest in our people," Whisnant said. "Not in terms of being a warrior, but in terms of being a human being first."
Concerns were brought up about officers at Saturday's events having their backs turned toward the crowd of people protecting the monument, as if they felt the Black Lives Matter protesters were more dangerous and needed guns trained on them.
Lowdermilk said he didn't want that to be the perception, and that he would be happy to look into it and see if there's something that could have been done differently.
Another question was posed about reporting officer conduct when it is a lower-level officer reporting an officer who has a higher rank. Lowdermilk said MDPS hopes that the quality of officers they hire would report any concerns. If it went unreported, Lowdermilk said supervisors conduct weekly camera reviews so it would likely be caught even if it wasn't reported.
Someone asked Lowdermilk if he felt that MDPS was prepared for future events of unrest.
He said that he hoped nothing else would happen, but that the department is prepared if something else happens. He said MDPS can call for backup from other area law enforcement agencies as it did last week.
Another person asked Lowdermilk if, in his 26 years at MDPS, had he ever heard conversations among white officers that were derogatory or threatening toward people of color. The question was sparked by conversations about killing Black people between three Wilmington police officers who have since been fired.
Lowdermilk said he had never experienced anything like that at MDPS, and that he hopes he never does.
MDPS was asked about the decision to allow citizens with guns to congregate on the courthouse square Saturday. Lowdermilk reiterated that a tactical decision was made based on maintaining the safety of everyone there, and he felt that it worked out well in the end.
He said moving forward, MDPS will take actions to prevent that and that individuals will be disarmed or asked to leave based on North Carolina General Statute 14-277.2, which makes it a misdemeanor to possess a dangerous weapon at a demonstration on public property.
The question was asked whether the courthouse square could be made a gun free zone, but City Attorney Louis Vinay said he didn't think that could happen as the property is not a courthouse or a school, and those are about the only places where weapons could be banned.
The importance of getting permits for protests was stressed. Lowdermilk said that, if a group has a permit to protest in a specific area, police can require counter protesters to move away from their protest.
Several people spoke out about their concerns moving forward. It was pointed out that there is under-representation in city government.
McKesson said the fear people are feeling is real, and that the city should be able to take some measures to make people feel more secure.
"When you are insecure, that's when stuff starts to happen," McKesson said.
Sign up for our Crime & Courts newsletter
Get the latest in local public safety news with this weekly email.