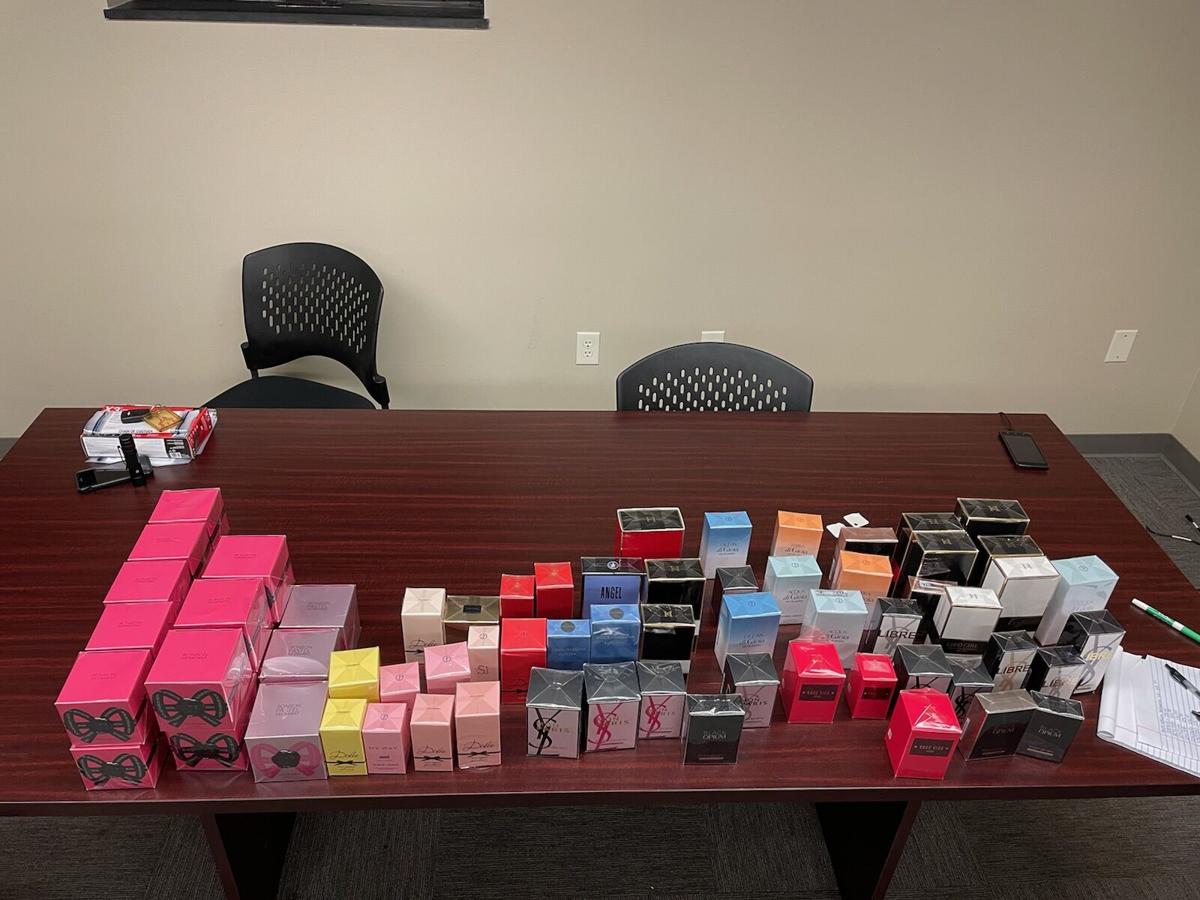 A man accused of stealing thousands of dollars' worth of perfume is believed to be part of a criminal enterprise targeting stores across the Carolinas.
Jeffrey Barrett Jr., 23, of Charlotte, now is in custody for multiple larceny charges, including two charges related to thefts over the weekend at Ulta Beauty locations in Hickory and Morganton.
He's been charged in Morganton after Lt. Josiah Brown said Barrett walked in the Ulta Beauty location in the Morganton Heights Shopping Center, shoveled nearly $7,000 worth of high-end perfumes into a bag and left the store.
Brown said Barrett got into the passenger seat of a black Chevrolet Malibu and the car left the scene. When an MDPS officer tried to pull the vehicle over on Burkemont Avenue, a brief chase ensued before the car crashed when it got a flat tire on Interstate 40 under the Enola Road bridge at Exit 104.
The driver of the getaway car escaped on foot, but Barrett was taken into custody after a brief foot chase. Barrett denied any involvement, but Brown said police seized the stolen fragrances from the car that led police on the chase.
Barrett also was slapped with a charge from Hickory for a similar incident at the Ulta there.
Hickory Police Department Capt. Philip Demas told the Hickory Daily Record that Barrett stole around $9,000 in fragrances from the Ulta before leaving the scene in a Dodge Charger.
Demas told the HDR that Barrett was driving on Lenoir-Rhyne Boulevard when he hit another car and kept driving.
Barrett made it between mile markers 126 and 127 on I-40 before his own car caught fire and he left the area on foot, Demas told the newspaper.
Firefighters were responding to the vehicle fire when three vehicles crashed between Exits 123 and 125. After that crash, a motorcyclist ended up sliding his bike into the back of a truck. He had to be airlifted from the scene, but authorities told the HDR that he is expected to survive.
These aren't the first larcenies of their kind to target area stores.
Excluding Sunday's larceny, The News Herald found 10 different incident reports over the last two years that detailed thefts of fragrances.
The most recent was a July 8 incident where $9,000 worth of fragrances were stolen, said MDPS Capt. Jason Whisnant. That case still is under investigation, but the situation was similar: The suspect walked into the store, took out a trash bag and started filling it with perfumes and colognes.
On June 6, three women stole nearly $1,900 worth of fragrances from the Morganton Ulta store. March 4 saw $1,542 in fragrances stolen, and a Jan. 20 incident saw $1,721 worth of fragrances stolen, Whisnant said.
Not all the reports were as dramatic as those. Whisnant said some saw suspects just taking a couple of bottles of perfume at a time.
But all together, the two years' worth of fragrances stolen from the Morganton Ulta adds up to more than $20,000 worth of stolen products.
The thefts aren't limited to Hickory and Morganton, either.
ABC11, a Raleigh-area news outlet, posted a story Nov. 3 where Durham police were asking for help identifying a man accused of stealing $90,000 worth of fragrances from area Ultas over the course of eight months.
A Google search for "Ulta perfume thefts" turns up dozens of results for similar thefts across the country.
WGN-TV reported on Sept. 28 that Norridge, Illinois, police were looking for three suspects after three men wearing hoodies and face masks started filling garbage bags with fragrances from a display case in an Ulta store.
The Sacramento Bee detailed a similar larceny at a Manteca, California, Ulta store. There, four individuals were accused of stealing 51 bottles of high-end fragrances in about a minute.
A May 15 story posted online from The Lancaster News in South Carolina even named Morganton as a target of thieves hitting stores across the Charlotte, Rock Hill and Columbia areas.
The story detailed a specific group that authorities are calling the "Baseball Team." They're known to work in pairs — usually a man and a woman — with the man wearing either a Boston Red Sox or New York Yankees hat and the woman wearing an Atlanta Braves hat, The Lancaster News story said. They use different vehicles each time they hit a store, and they aren't local to the areas they're robbing.
Brown said investigators believe Barrett is tied to a larger crime ring, but it's not yet clear whether it's the same crime ring that targeted the South Carolina store.
"I think that it's a criminal enterprise," Brown said. "It's a group of people working together that are stealing this and selling it to make profit."
MDPS is working with multiple other agencies in its investigation into the Sunday theft.
"This is happening in multiple locations," Brown said. "There's several cases going on in South Carolina, Greenville, Charlotte, North Carolina, they're hitting multiple stores, and it's not just limited to Ulta. They're hitting multiple stores."
Local resident Karen Fortune told reporters Tuesday that she would have never imagined perfume to be the target of an organized crime ring.
"I would never think they would do that, you know?" Fortune said. "(They're) only hurting themselves and making prices go up higher and higher than they should be. It's already hard out here."
Her sister, Debra McElrath, was in the store buying a bottle of perfume that retails for more than $100 for 3.4 US fluid ounces of product while Fortune was being interviewed.
"I just don't understand why you have to steal," McElrath said. "You don't steal perfume and stuff. Maybe somebody will try to buy it for you if you wanted to smell good."
The News Herald reached out to Ulta's public relations team about the thefts and actions the brand is taking to try to prevent the thefts, but that email went unanswered.
Barrett is being held under no bond for an extraditable warrant from South Carolina, along with an additional $400,000 bond for his other charges. He appeared in Burke County court Monday and told judicial officials that he plans to fight extradition.