A Morganton man who punched a cop ended up with a black eye and a trip to jail.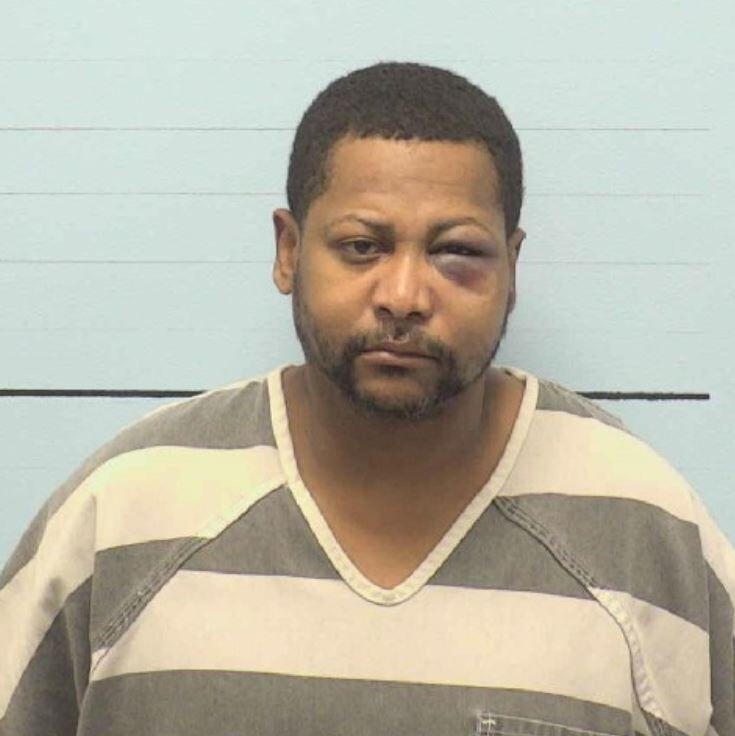 Markus Levar Connelly, 39, of 308 Bouchelle St. in Morganton, was charged Sept. 4 with assault on a government official or employee, communicating threats and disorderly conduct, according to documents filed at the Burke County Courthouse.
The latest charges against Connelly came after Officer C. Lail with the Morganton Department of Public Safety was following up on a wreck investigation at Carolinas HealthCare System Blue Ridge-Morganton and a nurse asked him to help with a disturbance in the lobby, according to a copy of the incident report Lail completed after the arrest.
Lail said in the report that he walked through the triage room and into the lobby of the hospital to find Connelly shouting and cursing at a hospital security guard.
When Connelly saw the officer enter the room, Lail wrote, Connelly turned toward him in a "threatening manner" and pointed his finger at him, yelling, "What the (expletive) are you gonna do? Put your hands on me and I'm gonna beat your (expletive) (expletive)!"
That was when Lail decided to charge Connelly for communicating threats and disorderly conduct, according to the report.
Connelly shoved Lail when he tried to grab Connelly's forearm to turn him around and place him in handcuffs, causing Lail's body camera to fall to the floor, according to the report.
When he shoved Lail, Connelly immediately punched him on the left side of his face two times with a closed fist, Lail said in the report.
Lail responded by throwing a punch of his own, with his fist landing on the left side of Connelly's face, the report said.
Lail threw a second punch, but it did not make contact with Connelly because the first punch had sent him to the ground on his back, according to the report.
The officer dove onto Connelly to gain control over him while he was on the ground and the hospital security guard helped him by holding Connelly's left arm, the report said.
Connelly was told four times to turn around so Lail could put him in handcuffs, but instead he resisted by tensing up his right arm and shoulder to keep him from doing so, the report said. Lail punched Connelly two times in the ribs to attempt to gain pain compliance, and eventually he and the hospital security guard were able to roll Connelly onto his stomach and get him in handcuffs.
Hospital and EMS personnel helped Lail keep control of Connelly's body while he waited on backup to arrive, and hospital staff looked for a mask to put on Connelly's face because of COVID-19 concerns.
Connelly was bleeding from his mouth and spit onto the floor. A hospital staff member wiped the blood off the floor, but Lail wrote that Connelly spit on the floor again.
"(Expletive) you and your mask," Connelly said, according to the report.
When other officers arrived at the scene, they sat Connelly up and put a spit hood over his face, the report said.
This wasn't Connelly's first run-in with police, nor was it his first run-in with Lail.
Lail charged Connelly earlier this year in the shooting death of a homeless man's dog near Jerry's Neighborhood Market on East Meeting Street, court records and the report showed.
When Connelly realized that's how he knew Lail, he went on to threaten to find his mother and children and shoot them when he got out of jail, the report said.
Lail and Connelly were separated at that point and another officer transported Connelly to the magistrate's office.
Hospital staff checked out Lail and cleared him to drive. Lail said he had a cut on his left cheek and minor swelling on one of his knuckles after the incident. Connelly had major swelling around his left eye and cheek, according to the report.
Connelly has a criminal history studded with assault charges and more, according to records from the Burke County Clerk of Court's office.
One of those was an assault with a deadly weapon inflicting serious injury charge from 2006. Connelly was accused, and convicted, of assaulting a man with a handgun, a copy of an indictment filed at the Burke County Courthouse said. He was convicted of that charge in 2009.
Connelly was being held under a $100,000 secured bond for the new charges, according to an arrest report from MDPS. He still was listed as an inmate at the county jail Friday afternoon.
His court date for the new charges is set for Oct. 4, but he'll appear in court Sept. 20 for the felony cruelty to animals charge, court records showed.