The man who has been charged in the killing of a homeless man's dog has multiple felony convictions in his criminal background.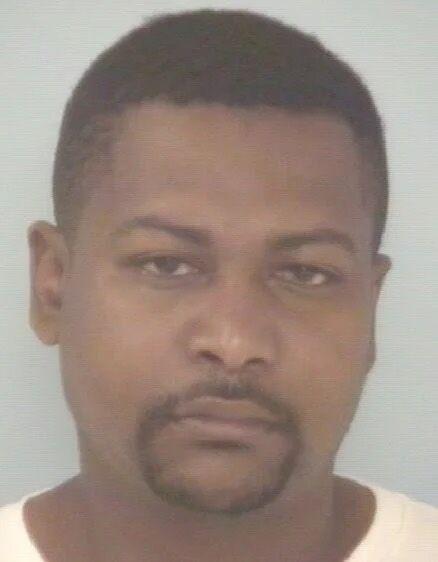 Markus Levar Connelly, 39, was charged Tuesday with two counts of felony cruelty to an animal and a count of felony possession of a weapon by a felon, according to information from the Morganton Department of Public Safety. He turned himself into the Burke County Sheriff's Office late Tuesday afternoon.
Connelly was accused of shooting DJ, a 10-year-old pit bull mix who belonged to Bennett Deaton on Sunday. Deaton has been homeless for about seven years.
Deaton said the shooting happened when he and DJ were headed to Jerry's Neighborhood Market on East Meeting Street in Morganton to buy some hot dog buns. He said DJ growled a little at the man, who then told Deaton to "get your dog."
Deaton told him he had DJ and that he was fine, but the man persisted.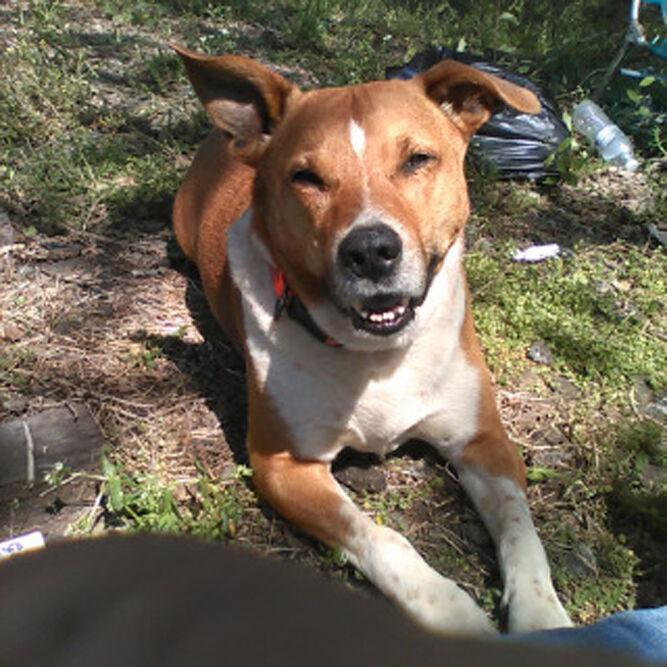 "I was like, 'Let's go,'" Deaton said. "So I said 'Come on, DJ.' I was crossing the street, DJ was right behind me, and when I turned around, (the shooter) was following us. He turned around, went back to his car, got a gun out of the back seat, come, and DJ laid down in the middle of the street. He knew something was coming. I said: 'No harm, no foul. Please don't shoot my dog.' He shot him."
Connelly has a criminal history studded with assault charges and more, according to records from the Burke County Clerk of Court's office.
One of those was an assault with a deadly weapon inflicting serious injury charge from 2006. Connelly was accused, and convicted, of assaulting a man with a handgun, a copy of an indictment filed at the Burke County Courthouse said. He was convicted of that charge in 2009.
Another indictment said Connelly had assaulted a person by punching them on the side of their head. That incident was from 2014, according to court records.
Connelly was issued a $10,000 secured bond which he posted within minutes for the charges related to DJ's death, according to MDPS.
Deaton said Wednesday that he forgave Connelly for what happened, but he would like for him to apologize for what happened to DJ.
"I would tell him to take a step back and take a look at his heart 'cause something's wrong with it," Deaton said. "That you could do something like that, so heinous and so spontaneous … bad is bad, it's all about what's in the heart."
That's something he said he taught DJ.
"That's why he lived so long," Deaton said. "He knew better than to give up."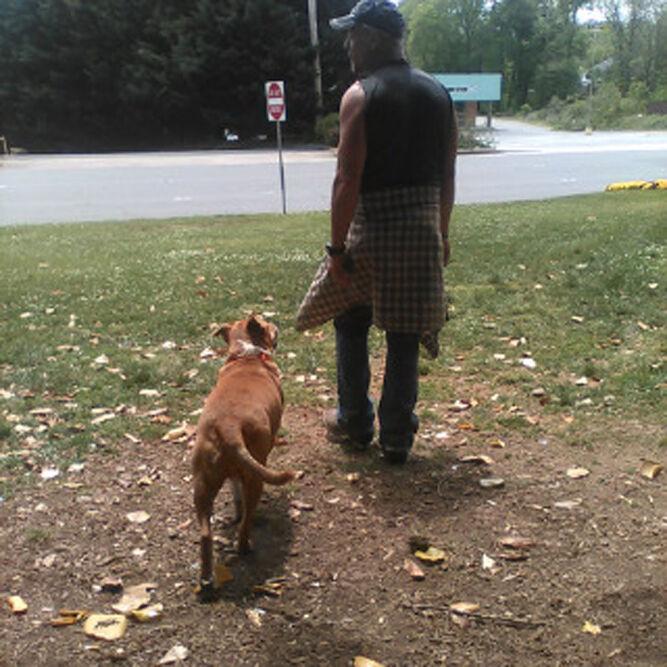 He said he hopes to find a home where he can pursue some of his hobbies. One of his goals is to write a book of poetry and prose that would be titled "I'm Still Alive, 1972-" and would chronicle his adventures with DJ and DJ's son, who died when he was 4 years old after being hit by a car.
"I'll die with my heart still hurting," Deaton said. "Even if I live another 20 years, I will die with this pain that's never going to go away until I take my last breath."
He said he's confident that he and DJ will be reunited in the afterlife.
"I know he stopped along the way and that boy's waiting on me," Deaton said. "He's going to be ready to play when I get there."
Some have reached out to ask how they could help Deaton, and if they could help him get another dog. He said, for now, he would only really want a dog that was related to DJ.
"Even if I had DJ's bloodline, it's not going to be DJ," Deaton said. "But at least I still have that connection that's not gone forever."
The world should try to be more like DJ, he said.
"You can't solve violence with violence, and peace and love destroys war, but if you could take that unconditional love that DJ had … and wrap that unconditional love, change, just wrap it around the world, we might have a chance," Deaton said.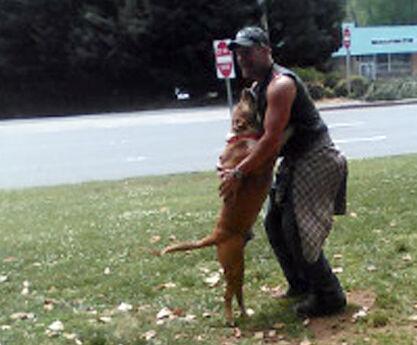 He said he credits DJ with saving his life.
"I saved his life once or twice, but he saved my life many, many times," Deaton said. "He made me change and do better and quit getting in trouble. Quit messing up to where we were split apart, because we didn't want to be split up no more."
In situations like the one that arose Sunday, Deaton said people need to take a minute to think.
"These people need to start thinking before they react," he said. "A minute. A minute changes everything. It's ridiculous people do the things they do."
He said he was close to getting an apartment for him and DJ, and an apartment still is his goal.
"I'm tired," Deaton said. "I want to go inside. I don't want to walk around for seven years trying to heal something else that went wrong in my life and that people took away from me that I loved."
Connelly is set to appear in court Thursday.
Officers still are seeking information on the identity of the female driver in the case. Any information on her identity can be emailed to clail@morgantonps.org, messaged on social media or called into Morganton/Burke Crimestoppers at 828-437-3333.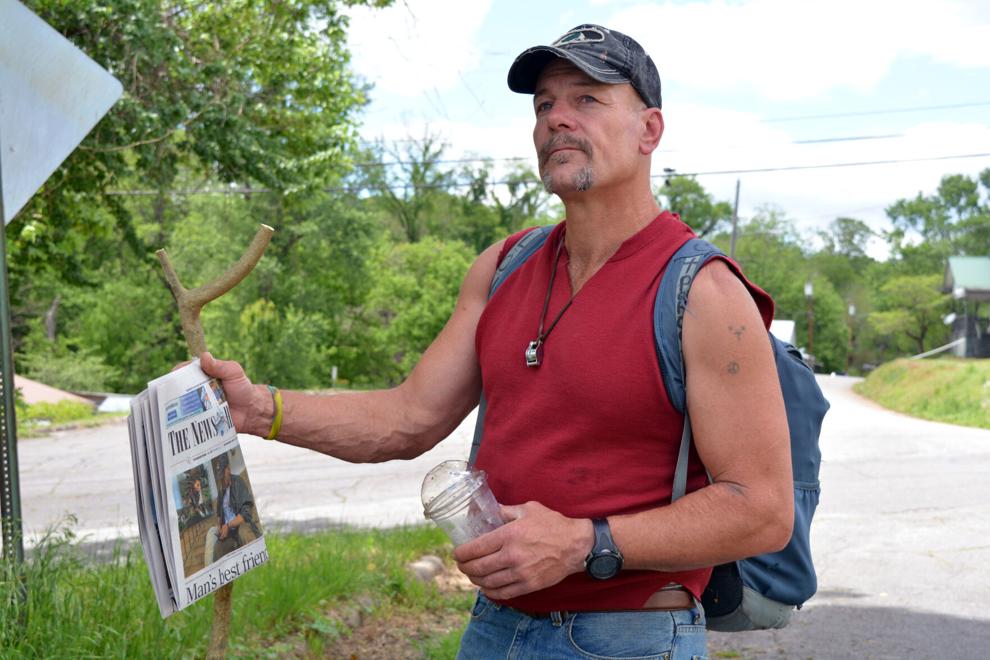 Chrissy Murphy is a staff writer and can be reached at cmurphy@morganton.com or at 828-432-8941. Follow @cmurphyMNH on Twitter. Staff Writer Sydni Hall contributed to this article.