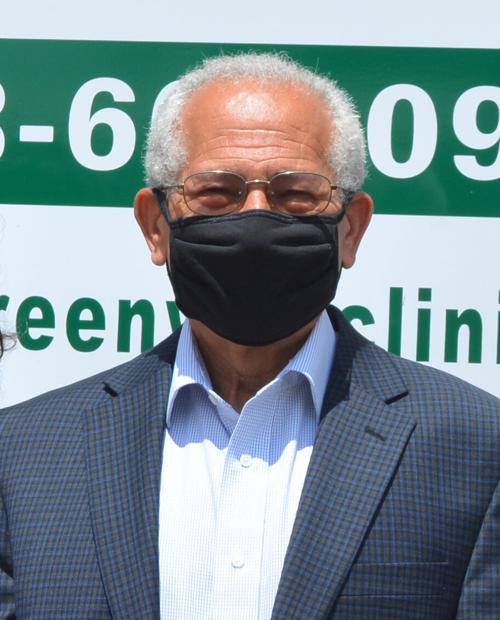 MARION — A Morganton doctor pleaded guilty Friday to assault on a female in McDowell County District Court.
Dr. Diaa Eldin Hussein, 65, of 110 Brookside Drive in Morganton, was sentenced to 60 days in jail, which was suspended for one year of supervised probation, says to a release from Ted Bell, district attorney for McDowell and Rutherford counties. Hussein originally was charged with three counts of misdemeanor sexual battery in January.
Bell said the offenses for which Hussein was charged didn't constitute sexual battery because of the way state law is written.
The law requires a defendant to touch "the sexual organ, anus, breast, groin or buttocks" for sexual gratification "by force and against the will" of the person, Bell's release said.
"Unfortunately, the way the sexual battery law is written the Defendant's actions did not meet the elements for that crime," Bell said in the release. "For example, one of the actions was the Defendant sliding his hand into the victim's front scrub pocket. This is a horribly offense act, but as he did not touch any of the body parts identified in the law it did not constitute sexual battery. It is disappointing given the sexual nature of his conduct, but what he did absolutely constituted an assault on a female, which is what we prosecuted and what he pled guilty to."
Hussein, who has offices in Morganton, Marion and Lenoir, originally told The News Herald in February that he planned to fight the charges in court.
A News Herald reporter left a voicemail with Hussein on Tuesday afternoon seeking comment. His attorney, Melissa Owen, contacted the newspaper with the following statement on his behalf: 
"I have accepted responsibility for physically touching the Complainant in a way that offender her. I am sorry for any difficulty that I caused her. I am grateful for the support of my family and my longtime employees who I care about like my family. I thank you in advance for respecting the privacy of my friends and family at this time."
Hussein's victim, who was an employee at his Marion Greenway Family Practice location, read a statement in court Friday, saying that she was glad she spoke up.
"I decided to speak up," she said. "I stood my ground and told him he was making me uncomfortable. I was proud of myself. So many women don't do this and suffer because they kept quiet."
She said she thought things would get better after she spoke up, but that wasn't the case.
"I thought things would be fine, but he continued to touch me and then laughed when I told him no," she said. "Then, when I opened up about it to other co-workers, I found out I wasn't the only one."
Finding out that some of her then-colleagues had similar experiences led her to press charges.
"I pressed the charges against Dr. Hussein not only because he hurt me, but because he hurt other women too. … I wanted people to know that he is a predator," she said. "That this appears to be a pattern with him, and if I could protect other women and give the women he has hurt some peace of mind, that's what I needed to do, … I want other women in similar situations to find their voice and speak up because we shouldn't have to be scared of the 'Dr. Hussein's' in our workplace."
The victim said she wanted Hussein to get help.
"We should be able to feel safe in our jobs. … I hope he understands that what he's been doing to women is wrong and how it can affect them more than he thinks," she said. "I hope that he regrets it and gets help for his problem."
Hussein apologized to the victim in court, the release said.
He previously has been reprimanded by the North Carolina and Virginia medical boards after a patient in N.C. filed a complaint against him.
The patient from the 2015 complaint alleged that, during an appointment for weight loss treatment, Hussein touched her inappropriately, made inappropriate comments about her appearance and gave her his personal cellphone number.
In a consent order filed in 2016, Hussein admitted to giving the patient his personal cellphone number, saying that it was common practice, but denied inappropriately touching her or making inappropriate comments.
He did say that he may have unintentionally examined her or spoke to her in such a way that she thought it was inappropriate, and he apologized for any feelings of "apprehension, embarrassment or discomfort" the patient may have felt, and accepted "personal and professional responsibility for any perceived boundary violations," according to the consent order.
The consent order required Hussein to have a female chaperone who has read the consent order present any time he examines a female patient, and the chaperone must make a note on the patient's medical record that she was present during the examination.
Virginia's medical board took similar actions after the N.C. Medical Board entered its consent order.
In a 2017 order from Virginia, it was ordered that Hussein is not allowed to examine female patients until the North Carolina board lifts its restrictions. If he does go to Virginia to practice medicine, he must first petition the Virginia Board of Medicine and be granted approval before he can treat female patients.
No new action has been taken by the North Carolina board yet, according to its website. The News Herald reached out to the N.C. Medical Board to ask about Hussein's license, but did not hear back by press time Tuesday. More information will be published as it becomes available.
Bell said it would be up to the medical board to take any action against Hussein and his medical license, as the courts do not have the ability to take that action.
"Regrettably, the courts have no authority to revoke his medical license; only the state Medical Board can do that," Bell said in the press release. "However, given his actions, I sincerely hope they do so."