2020 has been studded with protests and periods of civil unrest. 
Events like George Floyd's death in May when an officer in Minnesota kneeled on his neck for more than eight minutes led to questions about how police are trained to use force.
Those questions brought The News Herald to a use of force class for basic law enforcement training students at Western Piedmont Community College on Wednesday, where instructors like Capt. Jason Whisnant with Morganton Department of Public Safety were teaching students techniques to bring subjects who were resisting arrest under control safely.
"This is a practical application course," Whisnant said. "This type of training centers around what North Carolina General Statute authorizes for a use of force to effect an arrest of a person who is not willing to voluntarily comply."
But the class goes beyond what a reporter observed Wednesday, he said.
"This particular block of instruction does not incorporate much in the way of recognizing mental illness, substance use, de-escalation," Whisnant said. "This particular block of training just centers on how to effect an arrest when you're dealing with a person who is not compliant. Other areas in BLET do focus on how to verbally de-escalate, how to recognize signs and symptoms of mental illness, and a person who may be impaired, which also would impair their decision making."
At one point in the morning, Whisnant had a student lie on the ground with their hands behind their back as if they were handcuffed. As he simulated kneeling on the student's neck, he asked his students why it was wrong and made it clear that they should never do that. He said there are no BLET classes in the state that teach chokeholds as a use of force.
"This is a helpless individual right now," Whisnant said to the class. "Is he really a danger to me right now? No. Is this humiliating? Is it disrespectful to the basic tenets of being a human being to another human being? This is not an officer and an arrestee, this is human and this is human. Is this dehumanizing? Is there any need to do this? No, not at all."
Training like BLET students were getting Wednesday isn't the only training they'll get in their law enforcement careers. Whisnant said the state requires at least 24 hours of training per year for law enforcement officers, and he said his agency doubles-down on verbal de-escalation, recognizing signs and symptoms of mental illness and crisis intervention.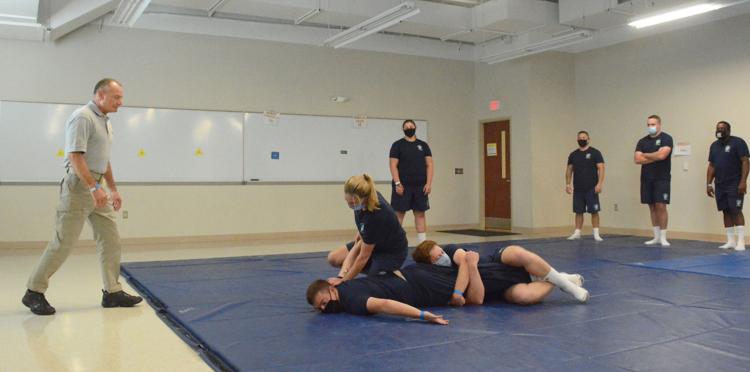 "This is basic law enforcement training," he said. "When a recruit leaves out of this training, if they graduate, they find an agency that is willing to hire them, then at that point that agency has to further commit to training that officer to what the community expects. With as complicated as our society is today and our communities are, training is an ongoing process. It has to be. This is too important to get it wrong."
The public has expectations for the kind of service they will receive from their law enforcement officers.
"People pay a premium for law enforcement services in their taxes and their investment in the community," Whisnant said. "The community expects, when an officer shows up, that they're going to be competent, they're going to be respectful, they're going to be well-versed in the law and they're going to expect that officer to be … helpful, not hurtful."
And while the newspaper stopped by to see a couple of hours of training – specifically students learning how to bring a resisting subject under control safely without harming themselves or the subject and how to free themselves if someone has them pinned to the ground – training goes far beyond use of force. In fact, use of force makes up a fraction of the calls for service law enforcement officers get.
"What we try to teach people in here, again, is to first be present with that individual and try every opportunity that they can to de-escalate the situation," Whisnant said. "But sometimes, people are going to try to hurt the police and they're going to try to hurt other people … but when we do show up and we do have to use force, it should be on solid ground. It should be no question if the officer has to use force, that that was the last opportunity, that that was the last chance that they had to not do it. They had no other choice."
Use of force incidents across the country have caused some to have a negative perception of law enforcement, something that officers have to work against every day, Whisnant said.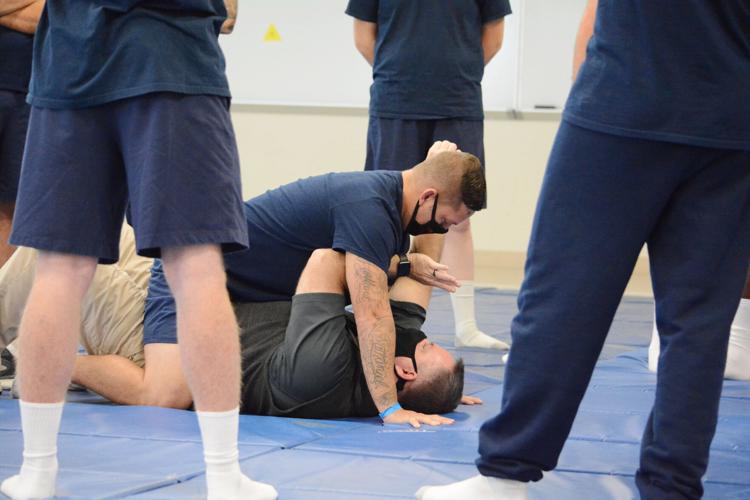 "I don't necessarily agree that this is a widespread issue, but it is an issue that the community and the nation has that perception that law enforcement are being too heavily handed," he said. "They're being too heavy handed on people, they're hurting them and they're killing them, and these are the cases that we see … whether or not people believe that that is factually occurring as a widespread issue, that is an issue and a perception that every person who wears that uniform, that has that authority to use force and make an arrest, that they have to deal with that, and they have to work every day and sometimes every hour to turn that perception away from the police being heavily handed against people."
Mike Ziegler, one of the students in the basic law enforcement training program at WPCC, wanted to reassure people who are concerned about police.
"There's a lot of candidates out there that want to do the right thing, and they have a unique characteristic inside themselves that they just want to serve the public and they want to do it to the best of their ability," Ziegler said. "What I've learned about the kids that are 20-years-old that I'm working with, they're not wanting to kick in doors and throw people against walls. They're wanting to go out there and find something that's wrong and correct it. Aside from pulling a kitten from a tree, it's like they want to just serve their community and they want to be the best at it. They're not doing it for money, they're doing it because that's a passion for them and it interests them and that's commendable. It's the most honorable profession you could have."
Ziegler, a retired U.S. Air Force veteran who spent 33 years working in combat search and rescue, turned to law enforcement so he could be involved with his local community.
"I've been trained very extensively for a long period of time to save lives," Ziegler said. "When I was due to retire I wanted to keep serving and I realized that I was working more in communities in other countries than I was working in my own community, and I saw a law enforcement officer stop traffic in the middle of a very busy intersection and I thought there was a major car crash coming up there, but as I got closer I saw him pick up a giant turtle and put it in the back of his car and get traffic going and it hit me right there that, when I retired, that's exactly what I wanted to do. It's more serve the community, protect life, protect property, things like that."
One of Ziegler's classmates, Heather Marlin, will become an officer with the Morganton Department of Public Safety upon graduation from WPCC's 16-week, 37 block BLET program.
"Kinda growing up everywhere and not really having a stable family that I grew up in, I've always wanted to make a difference in the world so getting into law enforcement I would like to get out there, make a difference," Marlin said. "Whether it's just taking a drunk driver off the road or whether it's just helping a rape victim or anything, it's just something I've always wanted to do, is just make a difference in the world and show everyone that not all officers are bad officers."
Sign up for our Crime & Courts newsletter
Get the latest in local public safety news with this weekly email.