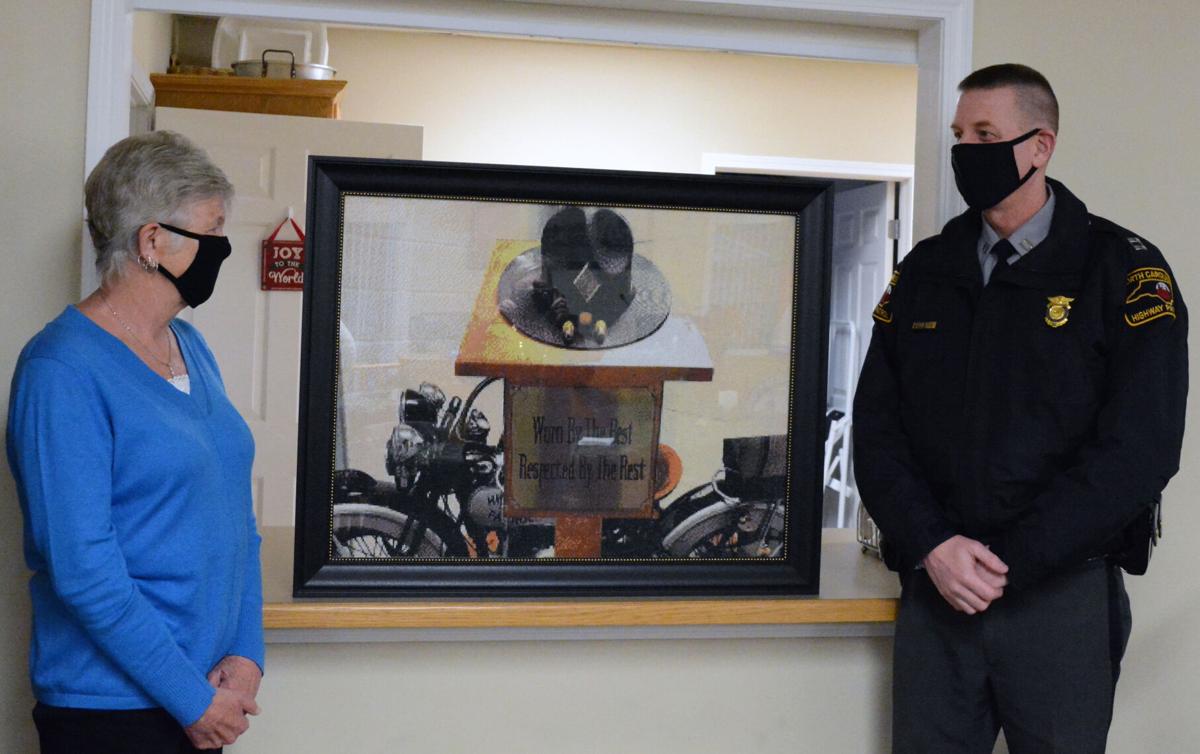 CONNELLY SPRINGS — Regina Lafferty estimated that she used anywhere from 100,000-125,000 beads to create a recent piece of art for the North Carolina State Highway Patrol.
The diamond embroidery project, which featured a portion of a display set up at the patrol's cadet training center in Garner, took her about two months to complete.
The inspiration for the piece came after Trooper Chris Wooten, a state trooper who was working in Mecklenburg County, was critically injured when he was hit by a truck while chasing a suspect on his motorcycle in July 2019. The accident left him paralyzed from the neck down.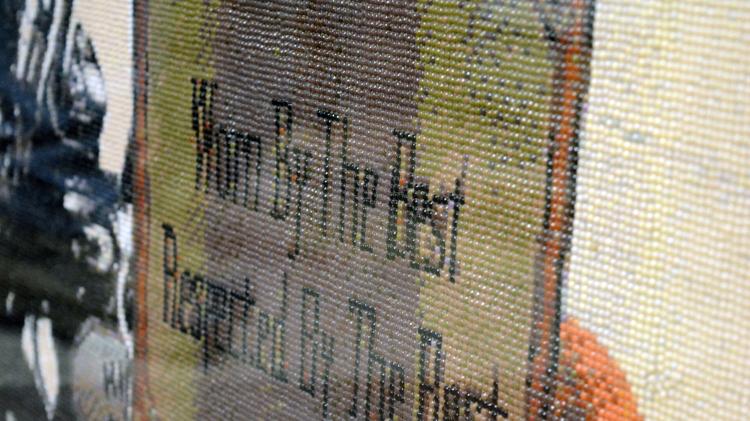 Some time after the crash, Lafferty saw a photo on the patrol's Facebook page depicting a display at the agency's training center in Garner. The display has a trooper's hat on a podium in front of one of the patrol's motorcycles. A sign attached to the podium reads "Worn by the best, respected by the rest."
She originally planned to gift the artwork to Wooten, but thought he might not want to be reminded of the crash daily.
She spoke to Tamara Brooks, the town administrator in Connelly Springs, about what to do with the art. Brooks mentioned that state troopers stop by the town hall from time to time.
"I brought it over and asked her if she would ask one of them if they wanted it," Lafferty said. "They all fell in love with it."
It was Trooper C.R. Hallyburton who suggested the display's new home at the Troop F headquarters in Newton.
Troop F Commander Capt. R.S. Byers met with Lafferty on Tuesday at the Connelly Springs Town Hall where he picked up the artwork.
"This means the world," Byers said. "We've had a lot of trying times in law enforcement recently. We all have, whether it's the COVID or everything else going on. When you have a member of the public take her time and efforts to do this, it really means the world to us. We are grateful."
The diamond embroidery project is something Lafferty said she enjoys doing, and finds calming. It's an art style she learned about from her brother, a long haul truck driver who saw another truck driver at a garage working on a project.
"I've done others … but this is the largest one I've done," Lafferty said.
It's the fourth or fifth diamond embroidery project Lafferty has done. Doing this project for law enforcement officers was a "labor of love" for Lafferty.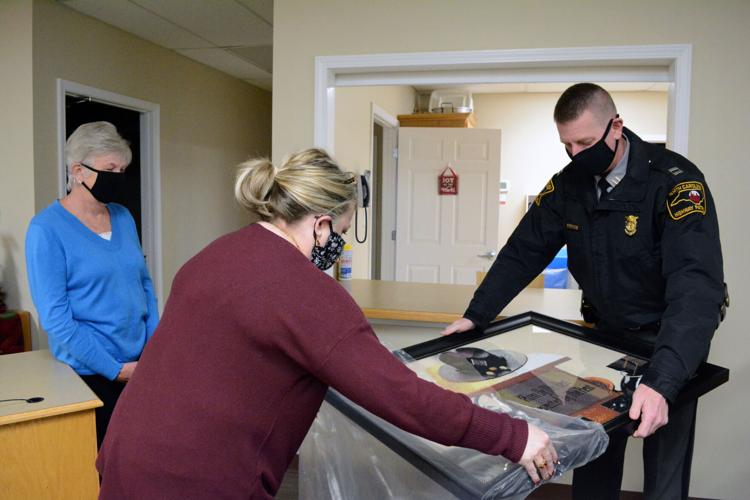 "I think they all need to be recognized for what they do for us," Lafferty said. "I just have a lot on my heart for law enforcement."
She said she comes from the family of a fallen officer, and that her appreciation for them carries on to other officers.
"It doesn't matter what color the uniform," Lafferty said. "We've just got to take care of them."