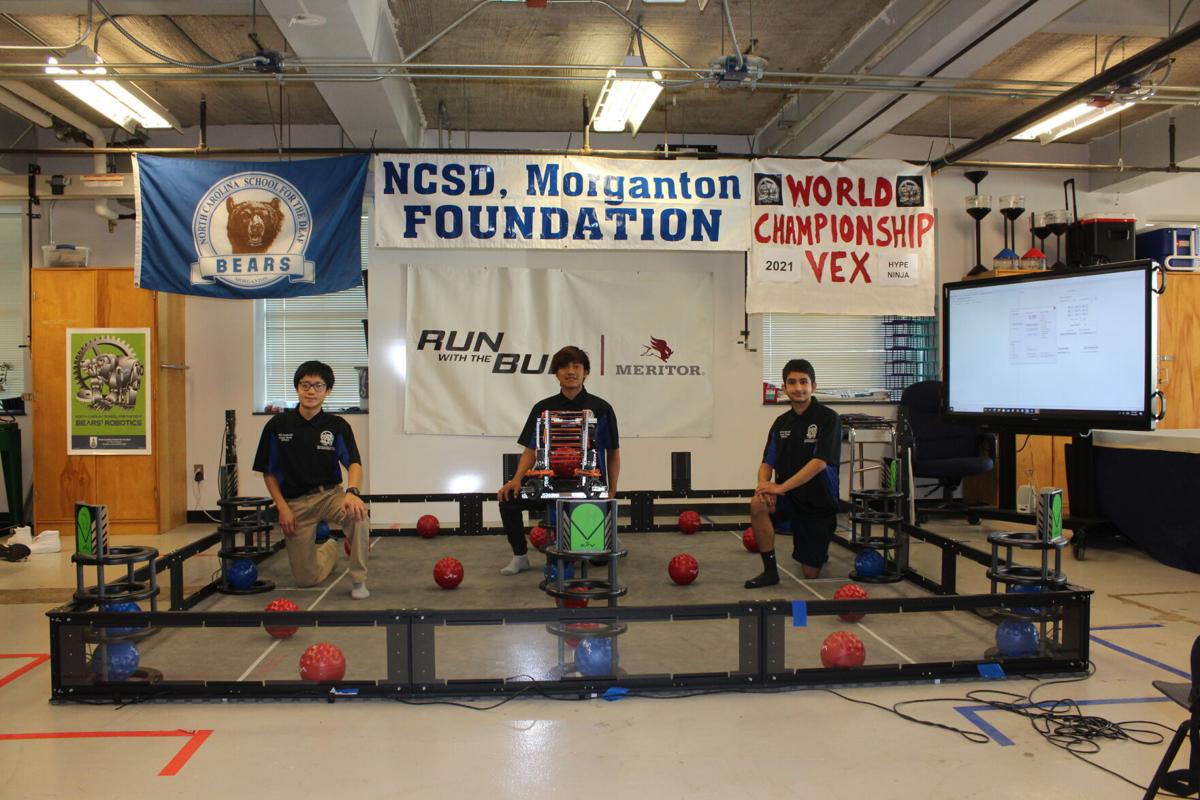 North Carolina School for the Deaf students recently received the Inspire Award at the Robotics Education and Competition (REC) foundation's live remote VEX robotics world championship 2021.
During the live virtual event, more than 1,700 teams from 30 countries and 49 U.S. states competed in timed robotics competition matches with their custom-built robots.
NCSD team consisted of Tie Barnes of Mooresboro, Akrit Risal of Morganton, and Alonzo Rodriguez of Morganton.
"We are excited to have received the Inspire Award and realize the honor it is to represent our school and the Deaf community. Our goal this year was to be able to compete in the Worlds, so it is a privilege to have not only earned a spot in the competition, but to also receive this prestigious recognition," said Barnes, who lead members of NCSD's VEX team the Hype Ninja. "It was a challenging year with COVID, but our teacher, Jeff Lintz, really helped us realize our potential and independence working remotely. We have grown as a team and as engineers. For specific help with VEX, I would suggest students go to vexform.com and check out all the information there. I would encourage other students to get involved in VEX, no matter their struggles, to be curious, work hard, advocate for yourselves, and never give up."
Jeff Lintz, the team's advisor said, "I am proud of these young innovators for their ability to take what they've learned through the year and apply it to building and programming a robot, and then going through the rigors of competing with their creation. The team persevered during a challenging year to successfully compete against teams around the globe."
To ensure the safety of its robotics community due to the pandemic, the event adapted to a virtual format. Typically, the annual VEX Robotics World Championship attracts more than 30,000 attendees from all 50 states and more than 70 nations. The newly created live remote tournament and live remote skills interfaces leveraged interactive and real-time video streaming to unite teams from around the globe with their competition fields and robots.
"Taking home this award is a major milestone that demonstrates perseverance, creativity and sportsmanship which is the cornerstone of the competition," said Dan Mantz, CEO of the REC Foundation. "We're extremely proud of these winners along with all the dedicated competitors from around the world. The team's commitment to achieving this award with the unwavering support of teachers, mentors, and parents make this moment very special."
The REC Foundation's Live Remote VEX Robotics World Championship 2021 was presented by the Northrop Grumman Foundation. Other global sponsors that support the program year-round and showcased during the event included: Autodesk, Dell, Google, MathWorks, Microchip, NASA, Tesla, Texas Instruments, and VEX Robotics.
More information about the event can be found at vexworlds.com and for students, teachers and mentors looking to get involved with the new season, visit: roboticseducation.org.