Ann Morris, a reading specialist at Oak Hill Elementary School, has been named the Burke County Public Schools 2021 Teacher of the Year.
Morris is in her 28th year of teaching and her eighth year at Oak Hill. She serves students in kindergarten through fifth grade.
Dr. Mike Swan, the school system's interim superintendent, and Karen Auton, its elementary education director, surprised Morris with the announcement, balloons and flowers Wednesday at the school.
Swan said Morris is well deserving of the honor.
"Mrs. Morris has a passion to see that every student learns to read," he said. "She is a leader in our district in helping other teachers learn strategies to teach reading and is innovative in finding ways to get students interested in reading."
One example of that is a program for boys at Oak Hill that incorporates basketball into the reading curriculum.
"Mrs. Morris is a relationship builder with fellow educators, parents and students and sees potential in each of her students," Auton said. "She truly cares about her students and their futures and understands how important the fundamentals of reading are to their success in life. She is a team player who truly wants to see her students grow and thrive."
Oak Hill Principal Shanda Epley said: "Mrs. Morris is very deserving of this recognition. She is dedicated and passionate about teaching students and specifically helping students with reading difficulties. Mrs. Morris spends many hours after school planning instructional activities to engage her students. She offers support to colleagues and works hard to build relationships with our students and parents. She also serves as a tutor outside of the regular school day helping students build their confidence in reading. Oak Hill Elementary is very blessed to have Mrs. Morris as a teacher."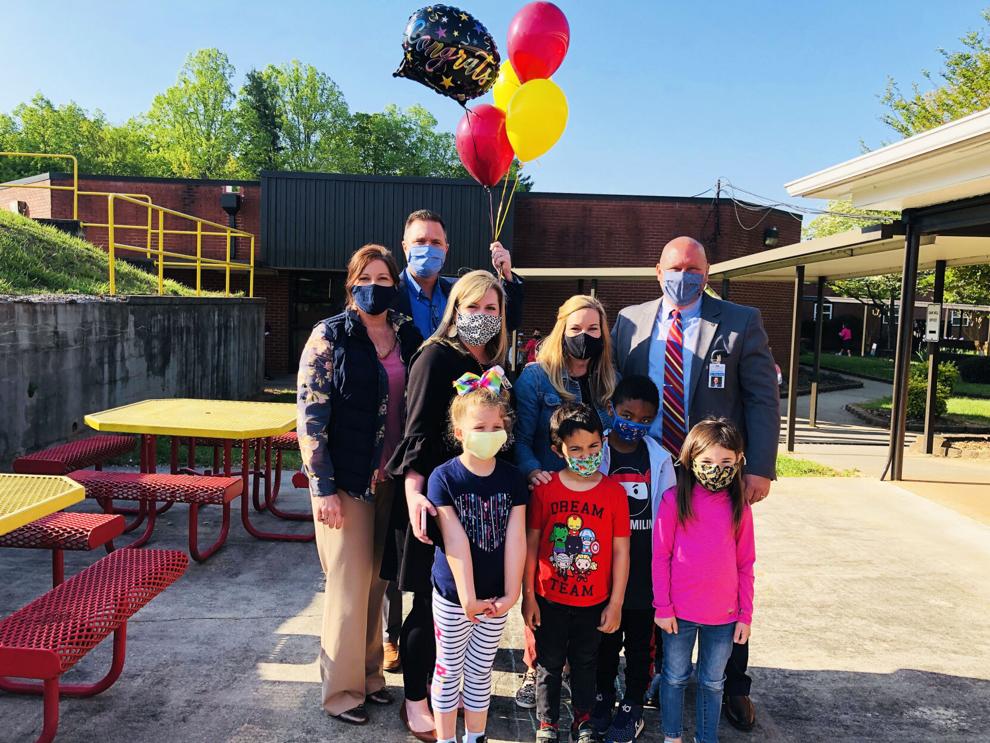 Morris is a National Board for Professional Teaching Standards-certified teacher in early childhood education. She has a master's degree in reading for kindergarten through 12th grade from Appalachian State University as well as a bachelor's degree in elementary education from Lenoir-Rhyne University and an associate degree from Western Piedmont Community College.
Morris is a member of the Burke Augustine Literacy Council, Reading League Association and International Literacy Association. She is a teacher leader for her school and the district and has served as a mentor to new teachers.
Morris said her passion for teaching reading and reaching all students was accelerated by her own personal story with her son, who is dyslexic. She said she sees herself as not only an instructor who teaches reading, but also a coach who teaches character traits.
Morris said she has seen students grow during the past year while teaching during COVID-19, and she grew herself as a teacher.
"The pandemic led to the most dramatic change in my teaching career," she said. "Overnight, teachers were asked to figure out and change the way we taught and the way we know that students learn. Remote/virtual learning was now the new mode of education. This year, the year of remote learning, taught me that I not only could survive, but thrive and so could my students. Teaching during the pandemic forced me to think and work outside the box and create innovative and creative ways to reach my students. I learned how to navigate and use new programs like Zoom, Seesaw and Google Meet. I learned how to troubleshoot technology problems with my students and their parents."
She said she also learned how important collaboration is with fellow teachers, as well as parents.
"Reaching out to parents and getting them on board with remote instruction was also a critical piece to teaching," she said. "I found that my increased communication during this time led to more engaged students where almost all of my students attended my daily intervention Zoom times. I also learned how important it is to build my students' confidence and to make them realize that they can do anything they want as long as long as they set their mind to the task.
"As I finish out my years in education I hope I will always be the teacher who champions for students and encourages them to never give up. I also want to remind them that change can be a good thing we just have to step out of our comfort zone and try."
Morris said she is excited about a new state reading initiative the district is adopting based around the science of reading, which focuses on research behind how the brain works and how students learn to read.
As for the teacher of the year process, each school in the district selected a school level teacher of the year. The school-level recipients submitted a written portfolio and videos in which they talked about teacher leadership, student-centered classrooms, accountability and their platform as teacher of the year. A committee reviewed the portfolios and videos and selected finalists for interviews.
The school board will recognize Morris at tonight's board meeting.