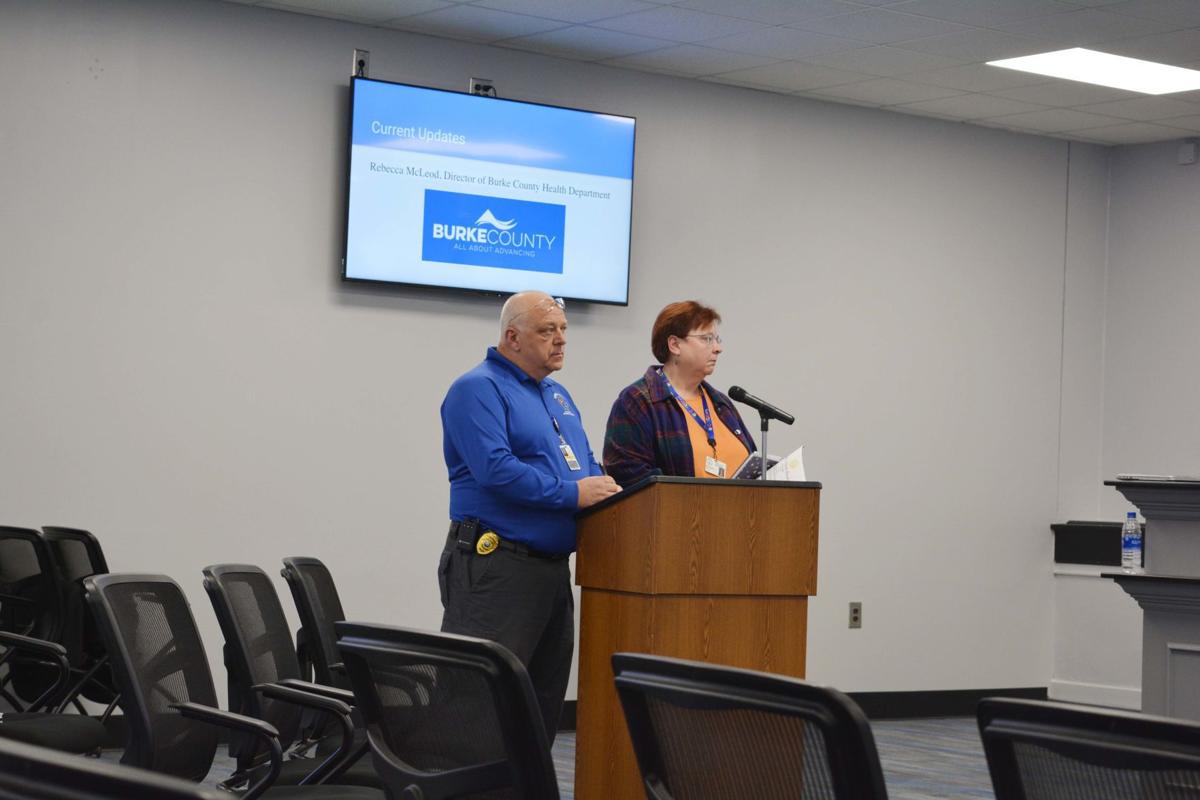 In the aftermath of the Burke County Board of Education's emergency meeting decision Monday to open schools remotely to start the school year, parents and community members were skeptical of the statistics board chair Buddy Armour presented to the board that factored into the board members' decisions.
It turns out these parents and community members' suspicions were warranted. On Thursday, Armour told The News Herald that the information he presented to the board came from Burke County Health Director Rebecca McLeod in an email Sunday night, but that McLeod warned him in the email that "her numbers didn't look right," according to Armour.
In the document, which The News Herald obtained Thursday, the county's daily positive rates of infection and the seven-day average positive rates of infection were listed dating from June 11-July 23. The two-week period from July 9-23 is also notated in the document in the email.
According to the document, from July 14-23, the percentage of positive rates of infection for each day was at least 20 percent, with the percentage increasing each day from July 14-23. Meanwhile, the seven-day average for the positive rates of infections from July 9-22 decreased from 14% to 3% during that time, according to the document.
During Monday's meeting, Armour presented the board with the information received from McLeod, including the July 23 rate of positive infection of 32 percent, and the July 14 positive rate of infection of 20 percent.
"When the high number (of COVID-19 cases) started being reported, that's why I asked Rebecca (McLeod) to see what the daily infection rates were, or the daily percentage of positive (tests)," Armour said. "She had this information and she sent it to me.
"She told me that her numbers didn't look right, but she sent it anyway. So, I gave copies of this to each board member. Whether it influenced their decision or not, you'd have to ask each board member, but I did what I thought was best for kids and in planning to deceive no one."
McLeod admitted to The News Herald Thursday that she had made an error in compiling the data Armour requested Sunday night. She said that some of the numbers used to calculate the percentages were put into the wrong column, causing the number for the daily percentage of positive cases to be higher than it actually was for the time range Armour requested.
Still, McLeod said she told Armour not to rely on the numbers listed in the daily percent rate of infection.
She said the health department never uses that data because a rolling seven day average is a more accurate measure of what's actually happening in the county, and that this average would better indicate what percentage of tests taken that week came back as positive for COVID-19.
"We don't look at the daily (averages) because that does not give you a true picture of what's going on in the county," McLeod said. "That's like a snapshot in time."
Testing data is loaded through an electronic service, but not all medical providers are part of that system, so test results are delayed in getting added. The county also discovers new cases while it's investigating known COVID-19 cases that can impact numbers, according to McLeod.
When she spoke with Armour about the data the night of July 26, McLeod said Armour did not mention he was planning to call an emergency board meeting the next day. Come Monday, she was not informed of the meeting or asked to come explain the data to the board.
Instead, she found out about the meeting after the fact when someone, who wasn't a school board member, texted her to ask why the board was using that data.
"If you're going to use data that I gave you, let me be there to defend it," McLeod said.
McLeod said as soon as she figured out what had gone wrong with calculating the data, she called Armour to let him know.
"It made me sick when I figured out I had done a calculation error," McLeod said.
People can also interpret data however they want, which is why she said she doesn't like to give out data.
"Especially with this virus when it's so fluid and the situation changes every day," McLeod said. "I try to look at the overall trend of what's going on, and we have been under 10 percent in this county since June."
Moving forward, she said she will be present at board meetings if the board wishes to use any more data.
Armour also said he did not inform McLeod of an upcoming emergency meeting.
"I didn't tell her I was going to have a board meeting," he said. "I just wanted some information. I was trying to decide whether to have a board meeting because I've had a couple board members express concern about how things were going.
"The big factor that helped pushed me into thinking we needed to revisit (Plan B), and the reason I was trying to get it done quickly, is that parents do have to make childcare decisions, and decisions based on what will happen with the whole family," Armour said.
Armour said he found out from McLeod on Wednesday that the information he received was incorrect. In a letter issued on the BCPS website Friday, Armour addressed the issue of his correspondence with McLeod and the email he received from her.
"On Sunday evening, July 26, 2020, I communicated with our county health director to inquire into whether testing in our county was showing an increase or decrease in the cases of COVID-19," Armour said in the letter. "In an email, she provided with numbers and admitted that her numbers seemed off to some degree. However, she did state '[t]he data is here by day and yes over the last two weeks, our percent positive has been increasing.' Based in part on what I clearly understood to be a trend in positive cases I called a meeting of the school board to consider Plan B versus Plan C to give parents and staff the maximum amount of time possible to plan for August.
"During the meeting on July 27 I did share the information from the health director without knowing that the numbers did not support an overall increase in the number of positive tests. It is my understanding that the health director realized that fact (Wednesday). Therefore, I did not intentionally mislead anyone and the health director is graciously working to assist me in gathering correct information."
Armour said that in talking with McLeod Wednesday that a number of factors make using recent COVID-19 statistics a complicated endeavor.
"I discovered (Thursday) that (countywide test results) information doesn't come quickly," Armour said. "You can figure out how many tests there have been today, but sometimes you have to wait 45 minutes, sometimes you have to wait four or five days to find out what the result is. So, (Thursday) being July 30, we'll know at the end of the day how many tests were completed, but we also have to include what tests have been administered at doctor's offices, (the local hospital facilities), the local health department, and all of that data ends up at the health department, and not necessarily (on) that day.
"Like today, I'd love to know how many tests were administered (Wednesday) and how many came up positive. But it could be two weeks before I know all that. But that data (that I receive) in two weeks, isn't what I would call real-time data."
In the meantime, Armour said he and McLeod maintain a strong working relationship despite the misunderstanding.
"I'm very encouraged that the health department wants to help us stay on top of this," he said. "We're trying our best to get what we can and make good decisions for kids, and make good decisions that work with parents."
Concerned about COVID-19?
Sign up now to get the most recent coronavirus headlines and other important local and national news sent to your email inbox daily.