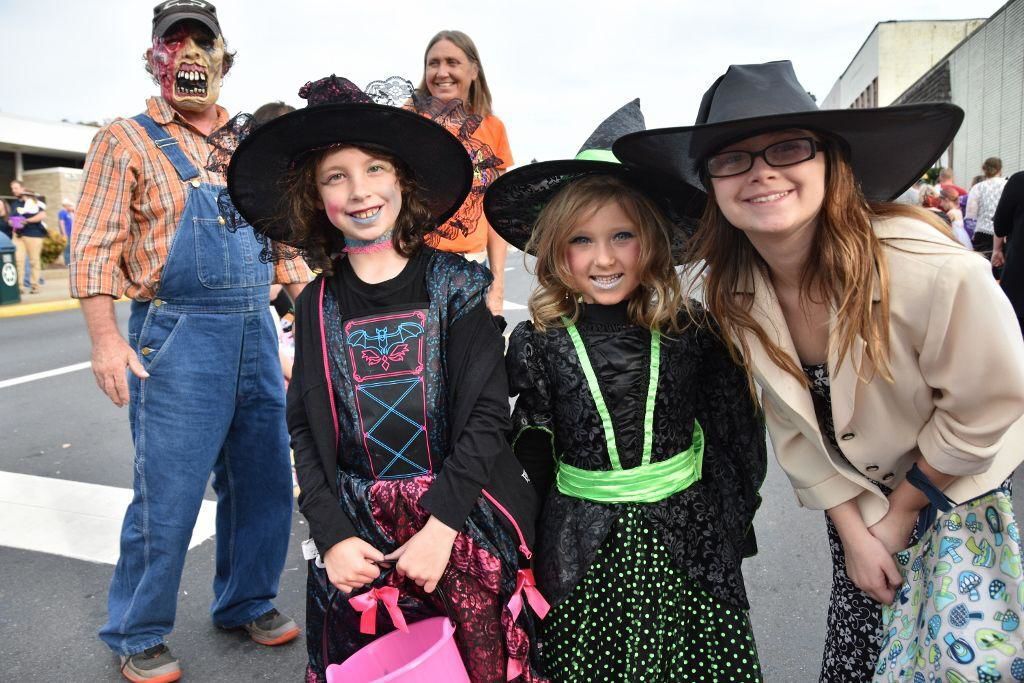 VALDESE — The town of Valdese is going all out for Halloween this year, offering a variety of events for all ages.
Kicking off the Halloween season is the search for the Old Rock School "Boos." When the cover of darkness falls, participants will see all sorts of creepy crawlies in the Old Rock School windows and, if they dare, find all of the Old Rock Boos.
Guests can gather the entire family for some spooky fun as they search for the 30 Halloween objects in the windows of the Old Rock School They can print off a list of hidden objects ahead of time or pick one up at the school side entrance and begin their hunt.
They can hunt by day or night as long as they bring a flashlight. Participants can take their time as the ghouls will be there all October long.
The Furrrocious Pet Costume Contest is currently ongoing. Participants can share their pet's Halloween costume photo to the "Town of Valdese" Facebook page for a chance for their pet to be pampered by the contest sponsor, Barkside Pet Grooming.
The prizes are a $50 gift card for first place, a free nail trim and file ($16 value) for second place, and a free nail trim ($8 value) for third place. Photos will be posted on the town of Valdese Facebook page for voting from Oct. 25-28. Everyone can vote for their favorite pet by giving the photo a "like." Winners will be announced shortly after noon on Oct. 29.
The annual "Treats in the Streets" event will take place on from 4-6 p.m. on Oct. 29 with more than 20 merchants and organizations participating. Main Street will close from Praley Street to Italy Street beginning at 3:30 p.m. Every year for Halloween, the local merchants of downtown partner with the town of Valdese to hold the community event.
Businesses will be handing out candy from 4-6 p.m. and candy goes fast. Participants should be sure to plan ahead and come early for plenty of treats. A special Halloween performance will be presented on Main Street near Rodoret Street by the Silver Sneakers Dancers. Guests should keep their eyes peeled for a special guest, Queen Elinor from "Brave" roaming on Main Street searching for the most creative costumes. Queen Elinor will offer those with the best costumes an official "Treats in the Streets" costume contest trophy or medal. There will be a total of 25 costume awards presented this year for those who come dressed to impress, and the more creative, the better.
"This is a safe and fun event for the entire family," said Morrissa Angi, community affairs director for the town of Valdese. "It is always exciting to see what the favorite character is for the year and I am always amazed at the creativity of the costumes. This event is only made possible by Valdese merchants and special organizations. I encourage everyone to shop local so that events like these can continue to make our small town a special place to call home."
The town of Valdese is home to a variety of local retail merchants offering specialty items that are perfect for day to day must haves and holiday gifts. Numerous other events will be offered to celebrate the upcoming holidays. Everyone should be sure to visit the town of Valdese website for further details on craft shows, movies, local shopping, concerts and much more.
For adults looking for a special way to celebrate the spooky season, they can get tickets to the Old Colony Players' production of "Rocky Horror Picture Show" at the Fred B. Cranford Amphitheater. The production will be held at 8 p.m. on Oct. 28, 29 and 30. The show is rated "R" for explicit content. Tickets are available for purchase at oldcolonyplayers.com or by calling 828-522-1150.
Everyone is invited to celebrate the cooler weather in Valdese with these special events. More information about "Treats in the Streets" and other Valdese events can found at visitvaldese.com or by calling 828-879-2129.