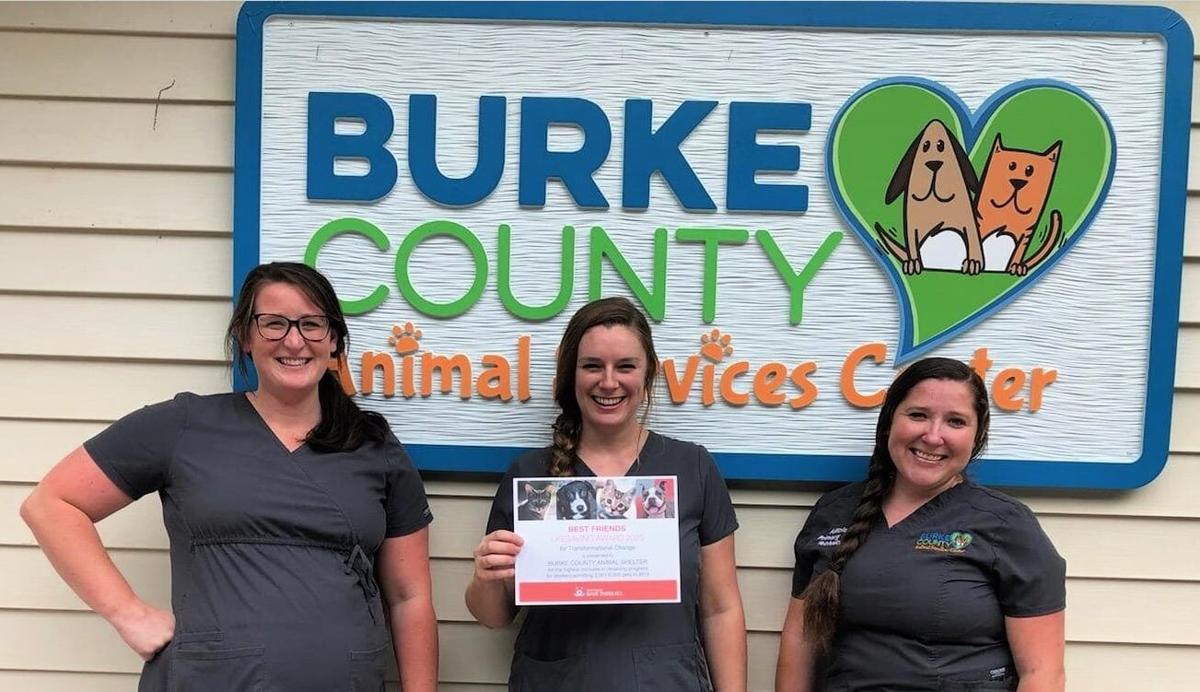 Burke County Animal Services has been awarded the Transformational Change Lifesaving Award from Best Friends Animal Society, a national animal welfare organization dedicated to ending the killing of dogs and cats in America's shelters.
Burke County Animal Services is an active partner in the Best Friends Network, which is comprised of 501(c)(3) public charity rescue groups, spay/neuter organizations and shelters actively working with Best Friends to save lives and reduce shelter deaths locally.
Animal Services was one of three shelters with an animal intake between 2,001-6,000 to be recognized with the award for highest reduction in shelter killing.
"When I first met the director at Burke County and her mighty team of two, the to-do list was long and the barriers to overcome were high," said Angela Rovetto, regional manager of Best Friends Mid-Atlantic. "But they put their heads down and their hearts out and made incredible change happen quickly. They increased lifesaving, reduced the number of animals pouring into their shelter and successfully overcame a parvovirus outbreak. They became a community resource and collaborator. The initiative and results this small but mighty team continues to make happen are truly remarkable."
Best Friends has set the goal of no-kill 2025, meaning that the organization aims to see every dog and cat in every shelter across the nation saved as long as it is possible. It means healing the animals who can be healed, treating behaviors that can be treated and prioritizing safety and a high quality of life for both pets and people in our communities. A no-kill community is a city or town in which every brick-and-mortar shelter serving or located within that community has reached a 90 percent save rate or higher and adheres to the no-kill philosophy of saving every animal who can be saved.
"It's incredible to see so many shelters around the nation taking dramatic steps to increase lifesaving," said Brent Toellner, senior director of national programs for Best Friends Animal Society. "Whether it be through new programming, progressive leadership or better collaborative partnerships, these groups are showing that lifesaving success is possible regardless of a shelter's size or location.
"It's going to take embracing all models of lifesaving, as well as maximizing collaboration with and support of each other to reach our goal of ending the killing of pets in shelters by 2025. But with so much progress being made, getting our nation to a point where it has finally put a stop to the unnecessary deaths of shelter animals not only seems possible, but inevitable."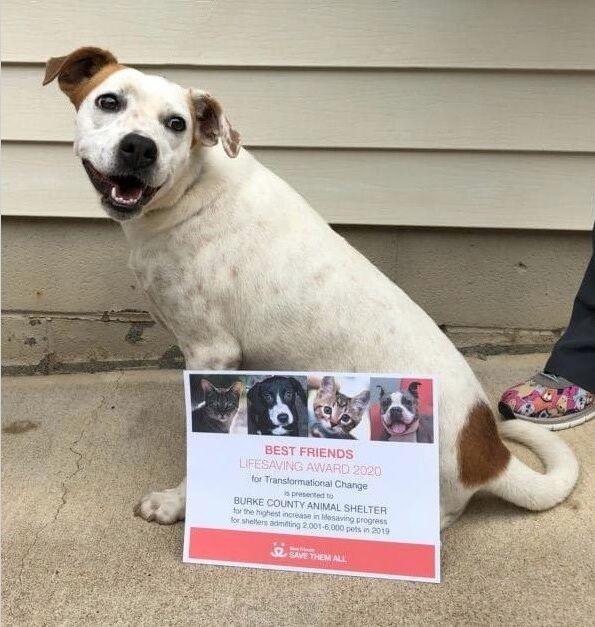 Burke County Animal Services has reached this lifesaving goal by utilizing a managed intake operational model and implementing a variety of programs and strategies including the utilization of social media platforms, development of a county webpage, implemented convenient operating hours, updating the county animal ordinance, Dog's Day Out, foster homes, foster-to-adopt home visits, holding adoption events, transporting dogs to northern partners, and networking with local rescue partners, just to mention a few.
County effort
Burke County Animal Services is a county-operated and taxpayer-funded department established by the county commissioners in August 2019 under the supervision of County Manager Bryan Steen.
Before then, the county's high-kill animal shelter was operated by the Burke County Sheriff's Office.
"I am very pleased to see the hard work of our county team: Kaitlin Settlemyre (Animal Services director), Lindsay Stump (Animal Services coordinator) and Alicia Grindstaff (Animal Services technician) with support from area rescue organizations, volunteers and the Animal Advisory Board be recognized by Best Friends, a national animal welfare organization, for turning a goal of the Burke County Board of Commissioners and animal advocates into a reality in such a short period of time," Steen said. "The dedication and commitment of our Animal Services team exceeds my wildest expectations. This achievement is consistent with Burke County's motto of 'All About Advancing' for both our 2-legged and 4-legged citizens and some might say our motto is also 'All About Adopting.'"
Settlemyre said she and her team were honored to receive the award.
"My team and I are truly humbled by this award and we could not have achieved this without the help of our fosters and volunteers, local rescues, our Animal Advisory Board, and all the community support we have received," she said. "We would like to thank Best Friends Animal Society for all the programs and trainings they have offered us to help reach our goals for Burke County.
"Our goal for owner surrendered pets is to have all adoptable dogs and cats placed into suitable, loving foster homes until they are adopted, or they are transferred to rescue groups where they may be adopted."
Find the shelter online at burkenc.org/animalservices or on Facebook at facebookcom/burkecountyanimalservices and on Instagram @burkecountyanimalservices.
Get Election 2020 & Politics updates in your inbox!
Keep up on the latest in national and local politics as Election 2020 comes into focus.