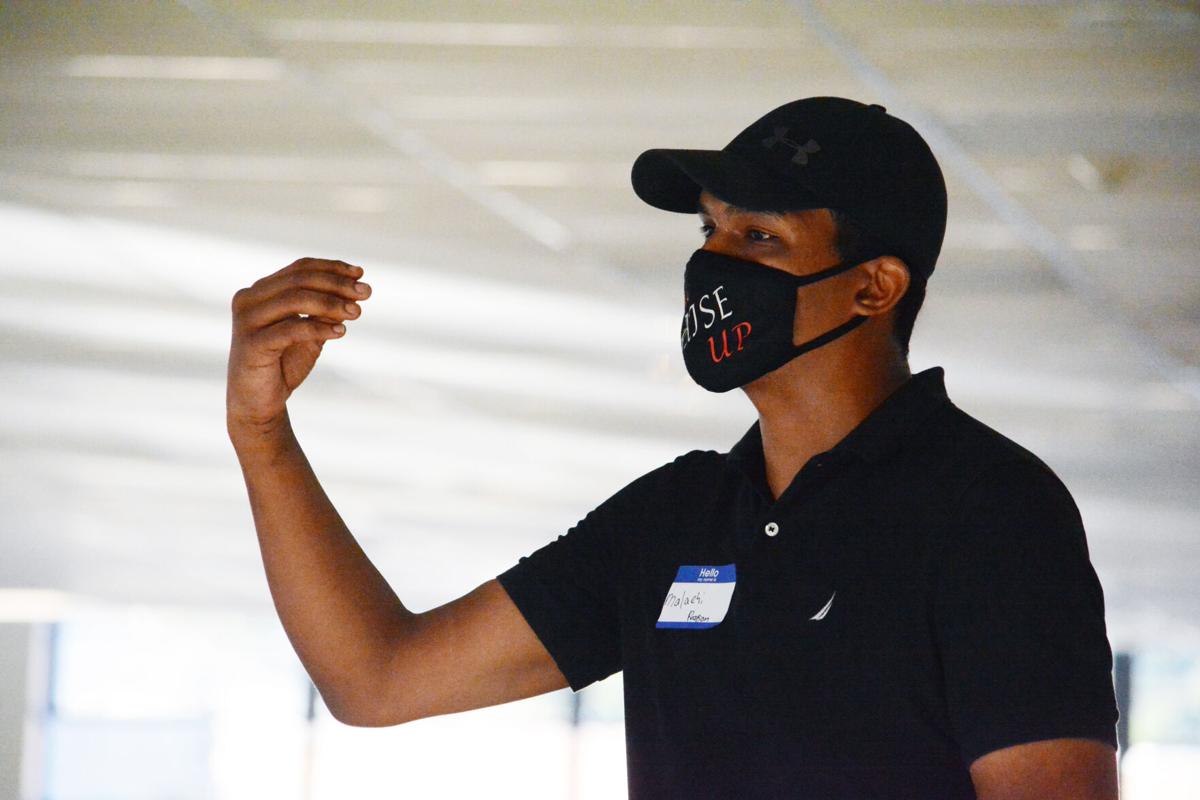 The lower level of Collett Street Recreation Center was full of socially-distanced city residents, staff and council members Tuesday night as the city council sought to discuss any issues that citizens wanted to hear about.
Councilman Chris Jernigan said that he hoped the town hall style meeting would become a regular occurrence, provided conditions remain safe to hold such gatherings.
Here's a look at what residents and the council discussed at the meeting.
Confederate monument and racial tensions
Even more prominent on the city square now that trees surrounding it have been cut down or trimmed, the Confederate statue remains a constant topic of discussion in the city.
That much was apparent as multiple citizens brought up their concerns about the statue and the June 27 demonstration that saw people with guns surround it.
"Is the monument going to stay there?"
The simple answer is yes, at least for now.
The council and city staff have said that, since they only lease that portion of the Historic Courthouse Square from the county, their hands are tied when it comes to the removal of the statue.
In July, the county told The News Herald that its hands were tied because of North Carolina General Statute 100-2.1, a law passed in 2015 that made it illegal for any objects of remembrance on public property to be permanently removed, except for instances where the monument is being cleaned or for construction, renovation, reconfiguration or transportation projects.
There is a clause of that law which would allow the removal of a monument if it is owned by a private party but located on public property. The private party would be responsible for the removal.
City Manager Sally Sandy said the city and city council have suggested to the county that a roundtable meeting of sorts be held, where those on all sides of the issue of the statue could come together and discuss possible negotiations, but that meeting hasn't happened yet.
Concerns also were expressed about the lack of charges pressed against those who showed up to the square in June with guns.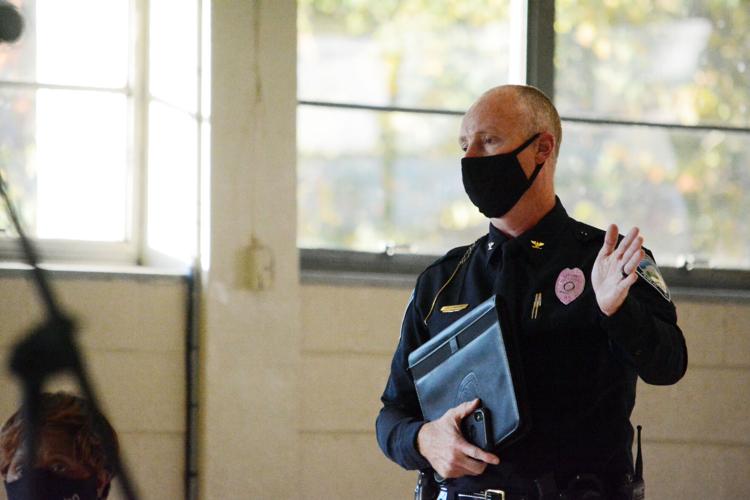 Morganton Department of Public Safety Chief Tony Lowdermilk addressed those concerns, and said that, with so many people present, there would not have been a way for investigators to make sure everyone present and violating the North Carolina General Statute that forbids carrying weapons at demonstrations were charged.
The News Herald spoke to MDPS about the decision not to disperse the crowd when it first formed at the protest in a July story, which can be read at https://bit.ly/3lQUpdH.
Lowdermilk did say that, moving forward, there would be no tolerance for anyone bringing weapons to a demonstration like the one in June.
He also said that he and his command staff all are willing to talk to people who are concerned or had information about white supremacy. 
Homelessness and housing
Concerns for the seemingly-growing population of homeless people in Morganton were brought up, with several suggestions from citizens on ways to help people get back on their feet.
Capt. Jason Whisnant with MDPS, who serve as a liaison between the police and the homeless community, said the population of homeless people in the area fluctuates since it is such a transient group. In the summer, the population rises, sometime as high as 40-60, but dropping down to 20 in the colder months.
He recalled, as a young officer, knowing members of the homeless population by their names and even their nicknames.
There also are a lot of homeless people who migrate through the area, something that Whisnant said the city and MDPS have been trying to address over the last couple of years.
"That is certainly a concern that we've been trying to address now on how best to serve that population and balance the humanity of helping an individual versus what the community expects out of their court," Whisnant said. "It is a challenge."
One of the main concerns brought up was the trash being left around town by some members of the homeless population.
Beverly Carlton suggested getting jobs and day programming for the homeless people, and also spoke about the lack of housing in Morganton. She said she often will pay homeless people to pick up some of the trash around the Olive Hill Community Economic Development Corporation office, or come into work in the office.
She also said that housing is an issue. Even with the couple of shelters available in Burke County, the people who can't get into the shelters because they either filled up or the person didn't meet the criteria are left with nowhere to go but outside.
Carlton also asked Alice Horton, executive director of Burke United Christian Ministries, if she had any ideas for handling the trash issue.
Horton said that BUCM does everything they can to pick up any trash they see and get those who get meals from their location to put their trash in a trash can, and not loiter around town, but that they can only do so much.
"That is not a one person or one agency solving," Horton said. "And honestly, housing is an issue in Morganton, but that's not gonna just solve the problem. It's not going to solve the problem just because someone gets a job. It's not going to solve the problem just because one person has an action that they want to make. It is a multi-faceted issue and it's going to take multiple people to solve it … until we decide that we want to get together and do something about it and come up with solutions, I don't know that anything's really going to happen."
Day programs for the homeless population to learn how to rebuild their lives also were suggested.
Carlton said that Olive Hill recently hasn't had that programming because the funding for it is hard to come by.
"The picture in my head is the 'Pursuit of Happyness' with Will Smith and Will Smith became homeless, and he had the desire to get back to work and house his son for them to have a home for their family," Carlton said. "How can we base a program on this movie, and help those people that cannot be housed to get housed some place?"
Councilmembers reminded the attendees that they always can put up a trespassing sign so that, if they don't want homeless people on their property, they can call MDPS to remove the people from their property.
Mayor Pro Tem Wendy Cato spoke about the mental health issues and addiction issues that plague the homeless population.
"We are rich and blessed with a mission to help people in this community, and that is why we are getting people from other issues," Cato said. "It's a mission that this community has taken on versus the negative part about people coming that don't know how to function in society."
Councilman Butch McSwain said there are some communities that have tried to make their areas uncomfortable for the homeless, and he's glad that Morganton is not one of them.
Recycling and roads
The city's decision in its fiscal year 2020-21 budget to eliminate the Shuey Park recycling center should save Morganton $60,000.
It came as the city said the recycling center, which did not have an attendant, had not operated effectively for years, with people putting the wrong materials in the bins.
The company the city contracted with to pick up the recycling often would refuse to pick it up because of contamination.
Still, several citizens spoke up about the lack of a recycling center in city limits.
"I pay city and county taxes and I just feel like we should have a recycling center, kind of like the ones outside of the city," one speaker said said. "We don't have to have the [place] where you take your trash, but I'd like to be able to take my recycling without driving 10 miles out of town."
Councilmember Butch McSwain said that the city has offered to work with the county multiple times in the past to come up with a solution, but it just hasn't been worked out yet.
Several solutions were offered up by citizens.
A woman recommended that a recycling center, even if it's in another location, be fenced in and only open for certain hours. 
The state of roads in the city also was brought up.
College Street and its lack of clear, noticeable striping was one of the roads brought up at the meeting.
An attendee said that she was almost hit by someone who was driving in a lane on the wrong side of the road.
Sandy said that College Street is on the cusp of a multi-million dollar renovation project that largely will be funded by a federal grant, but that the city will look into what it can do to get new stripes painted on the road in the meantime.
The dotted white lines on the four-lane section of College Street were repainted by Thursday afternoon.
She also explained that the city gets a finite amount of dollars, typically around $400,000, for road work. This year, that money is going to repave a large portion of Bouchelle Street and some of North Terrace Place.
Get Election 2020 & Politics updates in your inbox!
Keep up on the latest in national and local politics as Election 2020 comes into focus.