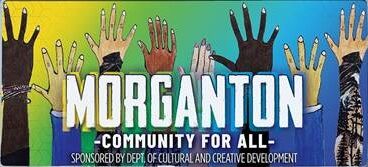 New billboards soon will flank Burke County in a hope to make people feel welcome and at ease.
Morganton Mayor Pro Tem Wendy Cato first called meetings with community leaders around the time of George Floyd's killing to discuss concerns and ways to address racial tensions locally.
"I called it initially as Wendy Cato then realized I can't call anything without being a councilwoman at the same time," Cato said. "It was a group of folks that were just concerned about what was happening. It was a combination of younger and older people … One of the … parts of the conversation was that we needed to present ourselves as a community that welcomes everyone."
At a July 2 meeting, city leaders and community leaders discussed ways that they could achieve that.
"We were all trying to figure out how can we get different messages out," Cato said.
She said she was talking to someone about a social media trend that started of people wanting to put up billboards near the Confederate flag on Interstate 40 as you enter Burke County from the west.
"I said, 'You know the city has some billboards,'" Cato said. "I said, 'Let me just let me look into this a little bit.'"
Cato said she wanted to have a visual to show to the city, so she had her daughter, Susan, mock-up a design for the billboard. Cato took that design to the city and City Manager Sally Sandy and Director of Cultural and Creative Development Sharon Jablonski worked together to come up with the wording for the billboard.
"Morganton, community for all," stands in bold lettering across a depiction of hands of different races raised with a colorful yellow to blue gradient for the background.
The billboards aren't up yet, but Sandy said she hopes they'll be going up in the next couple of weeks. There'll be one billboard on I-40 eastbound near Old Fort, another on I-40 westbound near Rutherford College, and one several miles north of Morganton on N.C. 181.
This is one step the city has taken after leaders held several meetings about racial tensions and how the city can make sure everyone feels welcome here.
It's clear that it will take more than a billboard to make sure people of all backgrounds feel welcome, which is why the city isn't stopping there.
Leaders at Western Piedmont Community College are working on a project to provide mentors to black students at the college to help make sure students not only start programs at the college, but go onto finish the programs at WPCC, Cato said.
The city also will be unveiling a commercial to encourage people of all walks of life to consider joining city boards and committees.
Typically, advertising for positions on city boards and committees is done just by putting an announcement in the newspaper, so this will be a more hands-on outreach than usual.
"It's a time of change," Cato said. "Regardless of how the committees ran prior, the members of the committee can make the change that needs to happen. But if the people aren't on that committee, then the change will not happen."
Some might not feel that participating in different committees will help get change accomplished at the city, but Cato wanted to remind people that's not the case.
"What comes out of a committee is totally dependent on what the members put into it," Cato said. "So it can be a rubber stamp committee, or it can be an extra committee. The choice is within its membership. So if you're willing to serve and be a part of a change, that takes effort and it takes time."
"If you want your community, if you want the city of Morganton and where you live to look like you, to represent what you think and what you believe, then you have to step up and put forth the energy and the time to be a part of things and to help make a difference," Jablonski said. "Your voice can be change."
Get Election 2020 & Politics updates in your inbox!
Keep up on the latest in national and local politics as Election 2020 comes into focus.