Right now, Morganton's Historic Courthouse Square is bustling with the sounds of construction.
Soon, though, the city hopes it will again be a hub for Friday night concerts and music.
Sharon Jablonski, director of cultural and creative development for the city of Morganton, addressed the city council at its meeting Monday night to give an update on the renovations taking place at the square.
"This is exciting," Jablonski told the council at the start of her presentation. "I've taken a number of phone calls from people who are just really blown away by it."
The stage structure is up, sitting catty-corner on the square in the area that formerly housed the old jail building.
Flooring soon will be installed on the stage, Jablonski said, and the roof line will go up to give performers protection from the elements.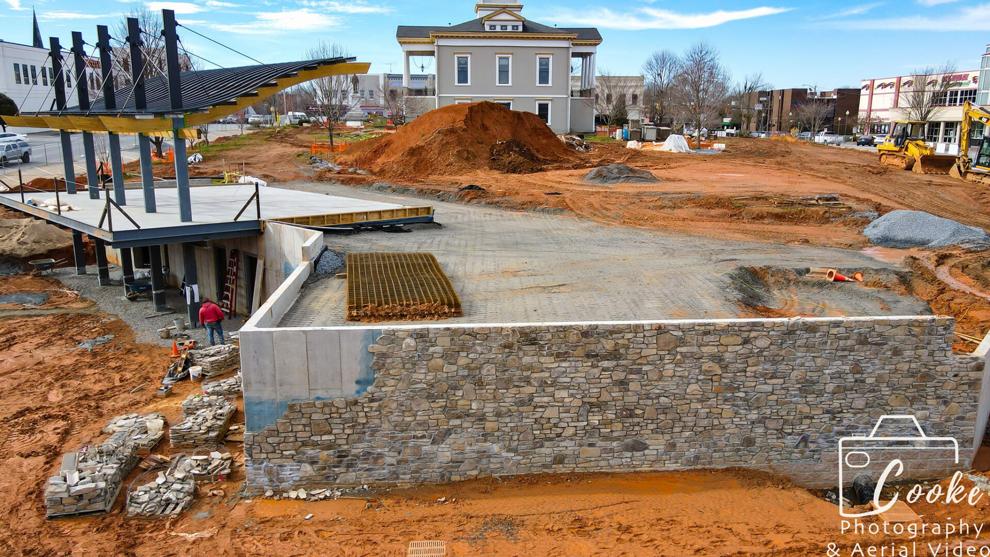 Facing the stage and looking left, crews are working to create a paved seating area, Jablonski said.
But rain has dampened construction efforts, at least in part. Construction for the stage building is on track, but the lawn itself is a different story.
"I asked them the other day in our construction meeting could they realistically tell me our timelines," Jablonski said. "Basically, they're 30 days behind on the site, which is to be expected."
Crews have been working hard any time they can to finish construction on the square, and still are able to work on the building components. But rain forced delays on work on the lawn.
"They are making hay," Jablonski said. "We can really make some time up [when it doesn't rain]. Every time it doesn't rain, they're out there killing themselves trying to make it work."
Jablonski told The News Herald that the city originally expected to have the property handed back over to them June 14, but if the rain keeps pouring, it might not happen until late June or early July.
Still, she told the newspaper she felt confident that there would be some concerts at least in September, and maybe some in August.
"We're trying to work all that out," Jablonski said. "We're very blessed that our TGIF is very well attended, but that's a double whammy. But I'm still feeling good about it. I think we have a plan in place right now that, if I have to make it socially distanced, then we've come up with a way we can do that and control the numbers. If that's lifted and we don't have to worry about it, then obviously we are golden."
Some have complained that the city tore down the large shade trees that were planted around the courthouse square, but Jablonski told the council those trees had lived their lifespans and were dead, with limbs frequently dropping onto the ground. She said the city would be planting more trees on the square as soon as possible.
"We want to put in something that's going to grow to be as beautiful as what was there and hopefully will last a good 50 years," she said. "So we're working on that. There will be absolutely gorgeous landscaping, some beautiful artwork that's going to go in, so just keep watching."
People can always check on construction on the square through a 24/7 livestream on the city's YouTube account at https://bit.ly/2OkGUaI.