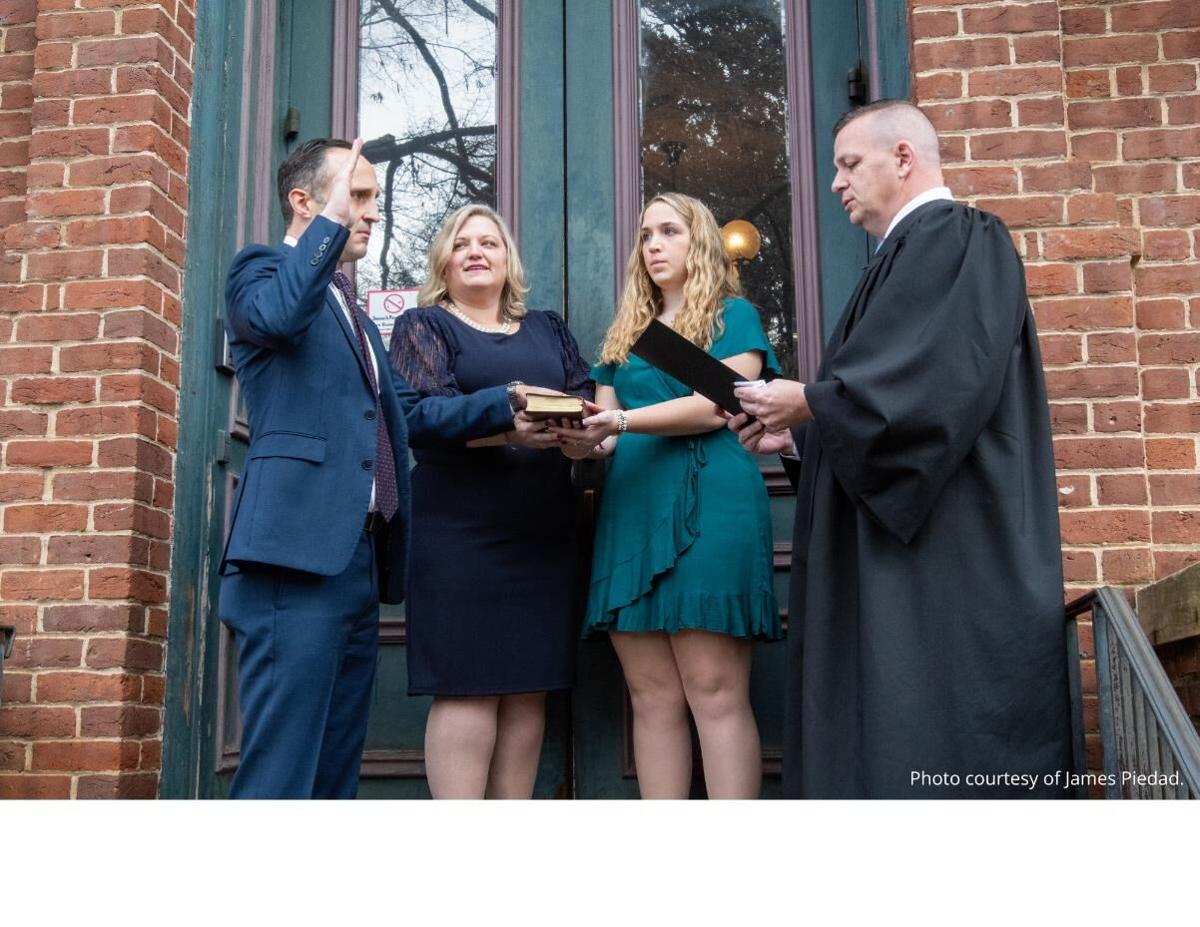 RALEIGH — McDowell County residents have a new claim to fame with the recent swearing-in of state Labor Commissioner Josh Dobson, who lives in Nebo with his wife, Valerie, and daughter, Kennedy.
Dobson, who was elected in November as the state's 18th labor commissioner, was sworn into office Saturday, Jan. 2, on the front steps of the historic Labor Building. N.C. Supreme Court Justice Phil Berger Jr. administered the oath of office.
"It is an honor and a privilege for me to represent the western part of the state in Raleigh as labor commissioner," Dobson said. "As a McDowell County native and an Appalachian State University graduate, my roots in the western part of the state run deep. I look forward to visiting with the many employers and employees in the area to learn more about their needs and how we can help."
This was Dobson's first statewide campaign for political office, and the win gives him a seat on the Council of State, the collective name for the 10 statewide elected officials who consider matters that affect the state. As labor commissioner, his constitutional mission is to protect the health and safety of the state's workforce.
In keeping with recent tradition, his photo also will eventually appear on all elevator certificates statewide.
"Given the recent political division in our state and country, I look forward to bringing a level of civility and bipartisan spirit in my approach to governing," Dobson said. "With so many workers' lives and health at stake, my role here at the N.C. Department of Labor is a great place to start with that approach."
Dobson also announced 11 appointments that will make up his leadership team at the Labor Department.
Dobson brings three new faces to the department:
Susan Floyd Mullins will serve as Dobson's executive assistant. Mullins previously worked at the N.C. General Assembly as a legislative assistant for several state representatives.
Julie Ryan will serve as the director of governmental affairs. Ryan previously served as then-Rep. Dobson's legislative assistant for eight years at the N.C. General Assembly. She attended Rochester Institute of Technology, where she obtained a bachelor's degree in applied science.
Erin Wilson will serve as special assistant for governmental and constituent affairs under the direction of Ryan. Wilson attended N.C. State University where she earned a bachelor's degree in political science and a master's degree in international studies.
Dobson also appointed the following individuals from the Berry administration to round out his leadership team:
Art Britt will serve as chief of staff. Britt is a 20-year veteran of the Labor Department and served as Berry's chief of staff from 2013 until she left office last month.
Jennifer Haigwood will serve as the director of communications and policy development. Haigwood formerly served as the director of administration and governmental affairs under the Berry administration.
Jill Cramer will serve as general counsel. Cramer has served as general counsel since 2017.
Renathe Cotten will serve as director of human resources. Cotten has been with the Labor Department for 20 years and has served as human resources director since 2014.
Jennifer Stackpole will serve as chief financial officer. Stackpole has served the state for 25 years and was named chief financial officer for the department in 2017.
Kevin Beauregard will serve as deputy commissioner of occupational safety and health. Beauregard has been with the department nearly 30 years and has served in his current position since 2016.
Scott Mabry will serve as assistant deputy commissioner of occupational safety and health. Mabry has nearly 10 years of service with the department.
Phil Hooper will serve as deputy commissioner of standards and inspections. Hooper is a 24-year veteran of the department and has been deputy commissioner since 2015.