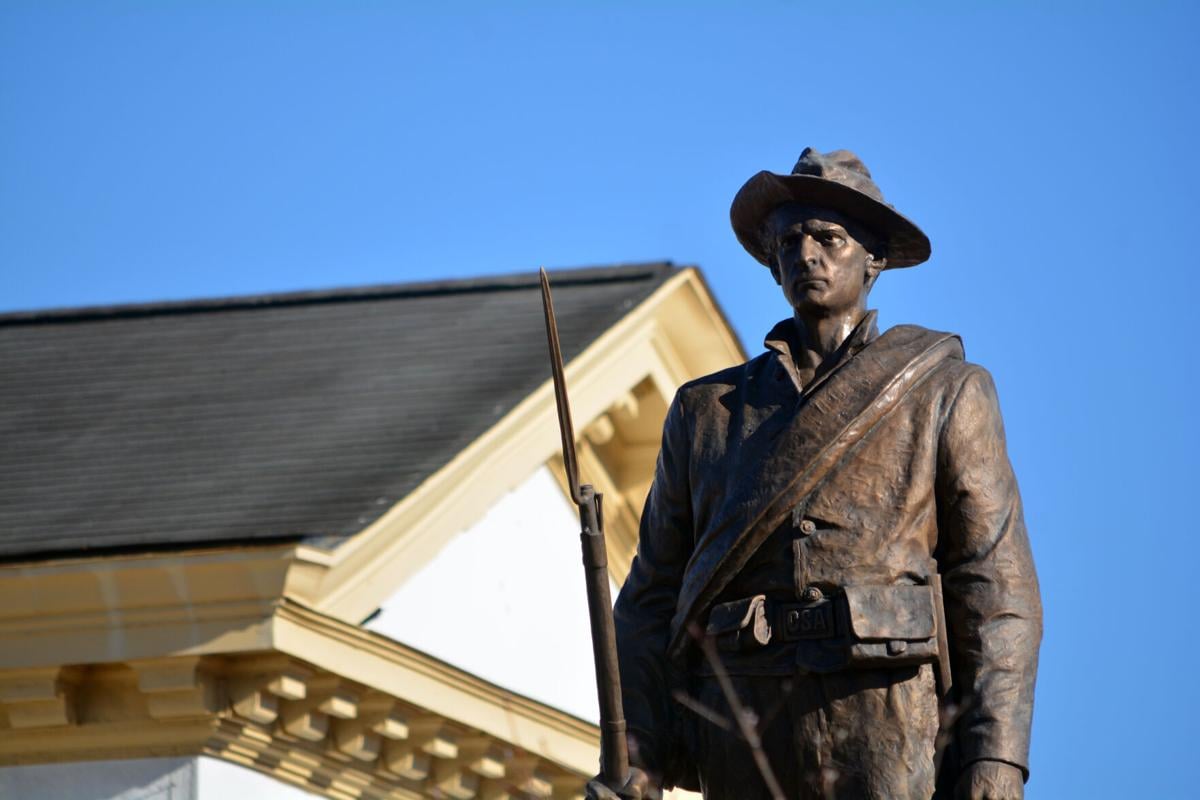 The Morganton City Council is throwing the Confederate statue back into Burke County's court.
Councilman Chris Jernigan moved at the end of Monday night's regular council meeting to get the community closer to an open dialogue about the statue.
"In light of the ongoing discussions about the Confederate statue on county property within the downtown area of Morganton, and after hearing from constituents on both sides, I'd like to offer a motion," Jernigan said. "My motion is to authorize city staff to write a letter to the Burke County commissioners encouraging them to facilitate discussion between parties who want to see the Confederate monument and statue remain on the courthouse square, and those who would like to see it removed.
"And to further offer the monument and the statue in part or in whole to be relocated on property in Forest Hill Cemetery should the county commissioners decide to remove it from the courthouse square."
Mayor Pro Tem Wendy Cato seconded the motion, which passed unanimously. The News Herald has requested a copy of the letter once it is finalized and sent to the county commissioners.
Mayor Ronnie Thompson called on City Attorney Louis Vinay to address concerns about North Carolina General Statute 100-2.1, a law adopted in 2015 that limits what actions can be taken regarding the movement or removal of statues and monuments in the state.
"You hear it talked about a lot," Vinay said. "It basically says that an object like the Confederate monument here, that certainly fits within their definition there, if it's on public property, can only be moved under extremely limited circumstances, and if it is, it can only be moved to a place … of similar prominence, honor, visibility, availability and access."
The law specifically says a monument can't be moved to a cemetery, mausoleum, museum or similar place unless it already was in one of those places, he said.
However, there are loopholes to be found, Vinay said. It wouldn't be the first time a Confederate statue or monument was moved since the law came into existence.
Most recently was the city of Asheville, which decided to remove and destroy the Vance Monument on March 23, the Asheville Citizen-Times reported.
The city was sued the same day by the Society for the Historical Preservation of the North Carolina 26th Troops Inc. A Buncombe County Superior Court Judge denied a motion for a temporary restraining order March 29 to keep the city from removing the statue, according to The Citizen-Times.
The Burke County commissioners already had a discussion about the law on statues and monuments listed as a topic for their pre-agenda meeting Tuesday afternoon. The board will have its regular meeting April 20.
Rezoning legislation
Vinay also briefed the council on a state Senate bill, which has a companion bill in the state House, that would make some changes to rezoning laws.
With claims to encourage affordable housing, the bills aim to require zoning authorities to include duplexes, triplexes, quadraplexes and townhouses in single-family zoning, along with several other changes to zoning laws, he said.
The N.C. League of Municipalities strongly opposes the bill, Vinay said, and encourages local governments to contact their legislators to express opposition to the bill.
"I've talked about it both with (city manager) Sally (Sandy) and with Phillip Lookadoo, of development and design," Vinay said. "We feel this is a, how can I best put it, a blunderbuss approach, to say the least, to a problem. We all agree we need more affordable housing, but this seems more taking a sledgehammer to the problem and also doing away with local authority over zoning matters, a lot of important zoning matters."
Vinay was seeking the council's guidance on whether the city should advise its lobbyists to work against the bill, to which the council agreed.
Other business
Council members also agreed to refinance the city's loan for renovations at the Community House.
The original loan, worth $1.29 million with an interest rate of 3.23%, started in 2017 through Truist, formerly BB&T.
The council voted to refinance the remaining $946,000 for 11 years at a 2.25% interest rate. That will save the city about $50,000 in interest.
It also was decided that the city would contract with two companies as development at the Burke Business Park gets underway.
The council awarded contracts worth $293,511.37 to Carolina Power & Signalization of Fayetteville for power line construction and for $181,071.72 to Wolf Tree for tree removal and clearing services at the business park.
Also approved by the council Monday night were:
Minutes for a regular meeting held March 1 and a special meeting held March 22.
Tax releases worth $320.81.
The downtown calendar of events and an ordinance scheduling temporary road closures for 2021.
Routine revisions to water line and sewer line standards and specifications.
A $4,469.34 budget amendment for public works from insurance reimbursement for a vehicle.
A dedication by Airlie for a new Beach Street right-of-way.
Resolutions allowing the city staff to apply for grants and low- or no-interest funding through the N.C. Department of Environmental Quality.
The council will meet again at 6 p.m. May 3 at Morganton City Hall.